The Edge: Obama Insists on Doing His Job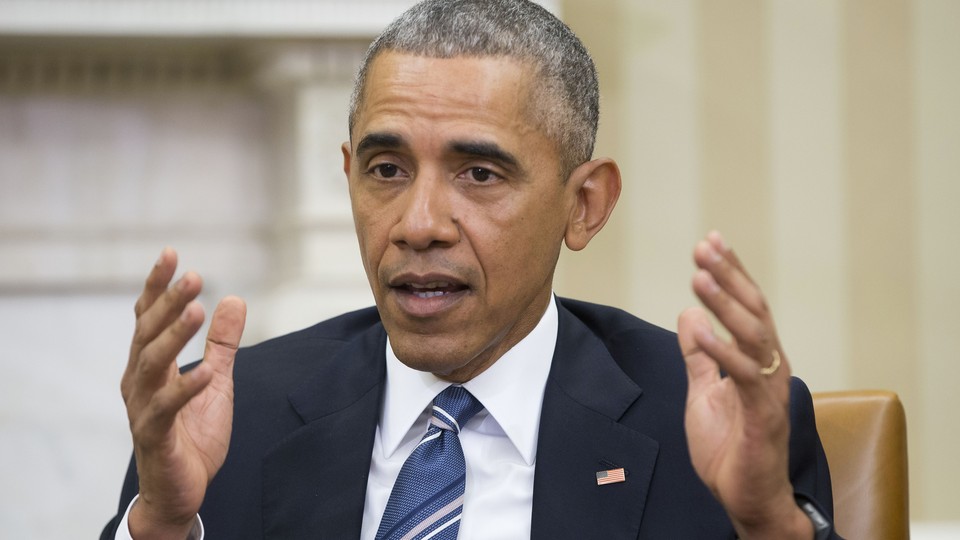 Today in One Paragraph
President Obama announced he is nominating Carla Hayden to be the new head of the Library of Congress, and, separately, repeated his promise to nominate a Supreme Court justice in a blog post. Donald Trump earned his first two Congressional endorsements, and Senate Minority Leader Harry Reid announced he's backing Hillary Clinton. U.S. Attorney General Loretta Lynch said that Obama can't legally bring Guantanamo detainees into the country. And Republican Governor Brian Sandoval is reportedly being vetted for a potential Supreme Court nomination.
---
Top News
Now Hiring. President Obama pushed back against Senate Republicans who have said they will block the president's Supreme Court nomination, saying "I'm going to do my job." The president also outlined what he'd be looking for in a nominee—"A sterling record. A deep respect for the judiciary's role. An understanding of the way the world really works"—in a blog post. (Mary Clare Jalonick and Josh Lederman, Associated Press)
Obama Selects New Librarian. The White House announced that the president will be nominating Carla Hayden, current CEO of the Enoch Pratt Free Library in Baltimore, to be the new head of the Library of Congress. Hayden, who would replace James H. Billington, would be the first African American to hold the position, if confirmed by the Senate. (John Fritze, The Baltimore Sun)
A Day for Endorsements. Republican Representatives Chris Collins of New York and Duncan Hunter of California backed Donald Trump, giving him his first Congressional supporters. And Senate Minority Leader Harry Reid is endorsing Hillary Clinton for president, saying, "I think the middle class would be better served" by her. (Politico, CNN)
'This is the State of the Law.' U.S. Attorney General Loretta Lynch said that it's still legally prohibited to bring Guantanamo Bay detainees into the country, a day after the president sent his proposal to close the detention facility to Congress. (Julian Hattem, The Hill)
Nevada Governor Considered for Supreme Court. Republican Nevada Governor Brian Sandoval is being considered by the White House for a possible Supreme Court nomination, according to Washington Post sources. Some Democrats are hopeful that the Senate Judiciary Committee might consider the former federal judge despite their vow to ignore a nominee. (Mike DeBonis and Juliet Eilperin)
Tomorrow in One Paragraph. The Republican presidential candidates go head-to-head in Houston at a debate hosted by CNN starting at 8:30 p.m. ET. Hillary Clinton is campaigning in Florida, and Bernie Sanders is in Chicago.
---
Follow stories throughout the day with our new Politics & Policy page. And keep on top of the campaign with our 2016 Distilled election dashboard.
---
Top Read:
"Attendees said over and over that they were supporting Clinton in large because of her long familiarity with the black community. They said they felt she knew them and their people—not just the statistics, but the people. Sanders speaks to racism; Clinton speaks to black people." The Atlantic's David Graham with a dispatch from South Carolina on how Hillary Clinton and Bernie Sanders are courting black voters.
---
Top Lines
John Lewis Talks Civil Rights With Kids. The Democratic Representative spent the day with 20 incarcerated teenagers at a D.C. correctional facility to discuss his graphic novel March, which includes personal anecdotes and the history of the Civil Rights movement. (Meredith Shiner, Yahoo! Politics)
Why the Snake People Matter. Here are 10 states where targeting young people could significantly affect the outcome of an election. (Asma Khalid, NPR)
Trump Shatters the GOP. The real-estate mogul's victory in the Nevada Republican caucuses has splintered the party into three strands—Ted Cruz's traditional conservative purists, Marco Rubio's mainstream conservatives, and Trump's alliance of angry populists. (Shane Goldmacher, Politico)
Top Views
Zoom In on Nevada. Want to see the results of Tuesday's Republican caucus in detail? Click here for an interactive graphic. (The New York Times)
We want to hear from you! We're reimagining what The Edge can be, and would love to receive your complaints, compliments, and suggestions. Tell us what you'd like to find in your inbox by sending a message to newsletters@theatlantic.com.