The Edge: Man Who Coined 'Berniebro': I'm Sorry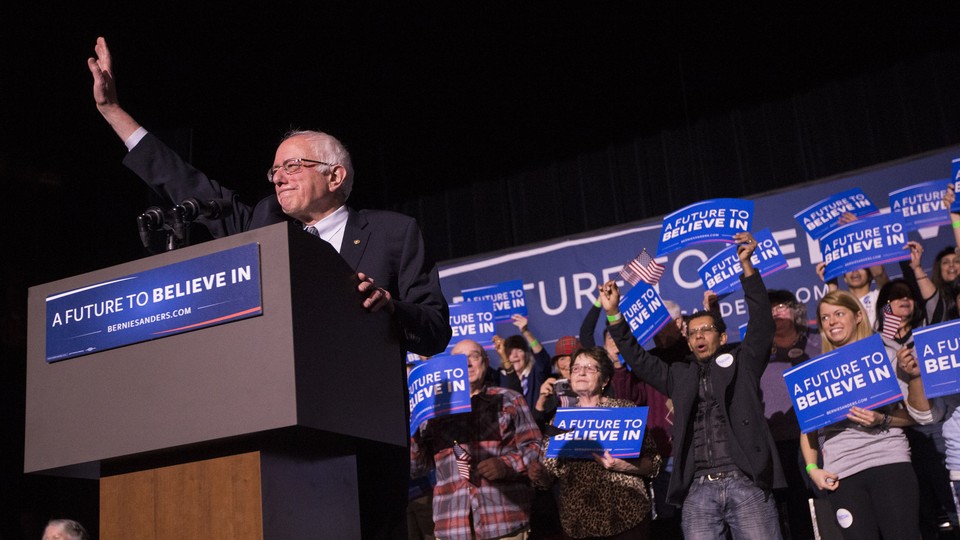 Today in One Paragraph
Twitter shut down more than 125,000 accounts primarily related to ISIS. The Labor Department said the U.S. economy added 151,000 jobs last month. Abroad, the pope announced that he will meet with the head of the Russian Orthodox Church, and a non-binding United Nations panel ruled that Julian Assange is being "arbitrarily detained."
---
Top News
Twitter Suspends Terror-Related Accounts. The social-media giant is expanding its anti-terror teams, relying on a "mix of human judgement and technology" to combat extremists who use the site to promote threatening rhetoric. The announcement also offers insight into how the tech industry is collaborating with western governments to fight the Islamic State. (Danny Yadron, The Guardian)
The Jobs Report. The unemployment rate hit 4.9 percent—the lowest level since February 2008—and hourly earnings jumped 0.5 percent, according to the U.S. Labor Department. "This progress is finally starting to translate into bigger paychecks," said President Obama in a White House briefing. (Lucia Mutikani, Reuters)
A Historic Meeting. Pope Francis will meet with Patriarch Kirill of the Russian Orthodox Church in Havana on February 12 as part of an attempt to heal a 1,000-year-old rift in the Christian faith. Francis will stop in Havana en route to Mexico, while Kirill will be on an official visit to Cuba. (Krishnadev Calamur, The Atlantic)
'Arbitrarily Detained.' The Wikileaks founder, Julian Assange, has been unlawfully detained and should be compensated for the time, a UN panel investigating his case found. The UK foreign secretary labeled the ruling "ridiculous," and the London police said that Assange, who has claimed asylum in London's Ecuadorian embassy since 2012, will be arrested if he leaves. (BBC)
The Weekend in One Paragraph: The Republican presidential contenders will battle it out Saturday night in the last debate—airing on ABC—ahead of the New Hampshire Primary. Carly Fiorina, who didn't make the cut, will also be in New Hampshire, along with Hillary Clinton. Bernie Sanders is expected to make a stop in New York for "Saturday Night Live."
---
Follow stories throughout the day with our new Politics & Policy page. And keep on top of the campaign with our 2016 Distilled election dashboard.
---
Top Read:
"'They told their candidates to support a pathway to citizenship for illegal immigrants as a way to increase outreach to Hispanics,'' said Mr. Fehrnstrom, who also advised Mitt Romney in the 2012 presidential race. 'And candidates who followed that advice are struggling. Donald Trump went in the opposite direction and he has total command of the 2016 field.'" The New York Times' Maggie Haberman on why Donald Trump's immigration rhetoric may resonate in New Hampshire.
---
Top Lines
The 'Berniebrosplosion.' The Atlantic writer who coined the term "Berniebro" returns to offer his condolences—and some additions. (Robinson Meyer)
The End Chelsea of Clinton's 'Easy Ride'? She's a wealthy, 35-year-old political operative, yet she's often treated by the press as if she's still a White House child. (Jack Shafer, Politico Magazine)
Banned From Their Homes. ProPublica and the New York Daily News reviewed 516 residential-nuisance abatement actions in the supreme courts between 2013 and 2014, and found that New York police are kicking people out of their homes—even if they haven't committed a crime. (Sarah Ryley)
---
Top Views
How Is the Economy Doing? This Washington Post graphic visualizes the progression of the U.S. economy's health dating back to 2009.
---
We want to hear from you! We're reimagining what The Edge can be, and would love to receive your complaints, compliments, and suggestions. Tell us what you'd like to find in your inbox by sending a message to newsletters@theatlantic.com.