The Edge: Francis Throws Papal Shade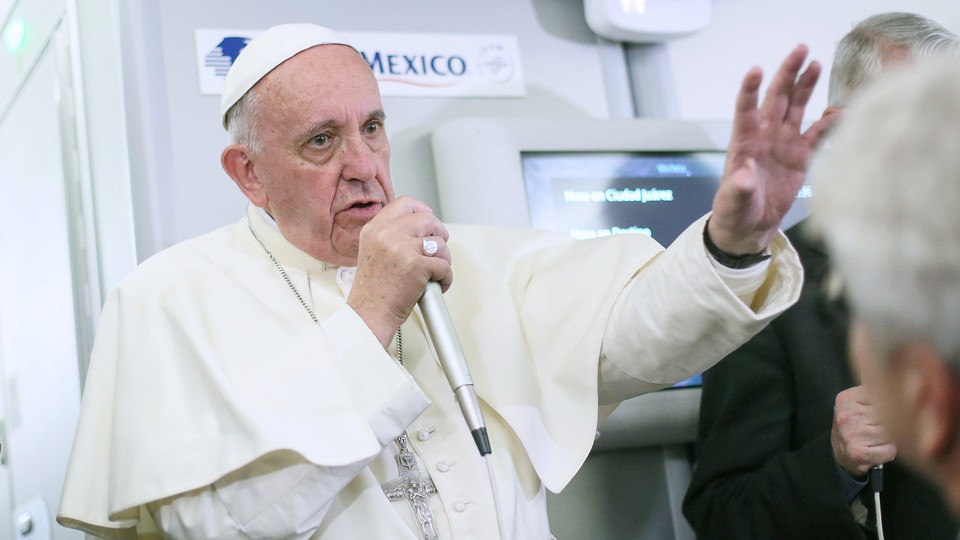 Today in One Paragraph
Pope Francis inserted himself into the U.S. presidential race, telling reporters that Donald Trump "is not Christian." The pope also suggested that using contraception to prevent the spread of the Zika virus might be acceptable. President Obama announced that he is visiting Cuba next month—the first sitting U.S. president to do so in decades. And Turkey blamed Wednesday's deadly car-bombing on a U.S.-allied Syrian Kurdish group.
---
Top News
Pope vs. Trump. Asked about the Republican presidential candidate's proposal to build a wall between the U.S. and Mexico, Pope Francis told reporters that "a person who thinks only about building walls, wherever they may be, and not building bridges, is not Christian." Trump quickly fired back, calling the pope's comments "disgraceful." (Daniel Burke, CNN)
Pope Takes on Contraception. In the same in-flight press conference, the pope also suggested that, in order to prevent the spread of Zika—a virus possibly linked to birth defects—avoiding pregnancy is the "lesser evil" in comparison to abortion. (Emma Green, The Atlantic)
Obama Headed to Cuba. When the president visits Cuba on March 21, he'll be the first sitting U.S. president to do so since Calvin Coolidge in 1928. In a series of Twitter posts, Obama said he's traveling to the country "to advance our progress and efforts that can improve the lives of the Cuban people." He will also be traveling to Argentina. (BBC News)
Turkey Accuses Militia. The Turkish Prime Minister Ahmet Davutoglu said that Wednesday's car bombing that killed 28 people in Ankara was carried out by a Syrian Kurdish militant linked to People's Protection Units. Turkey cited the attack as evidence that the group—which is supported by the U.S. in the fight against ISIS—is a terrorist organization. (Ceylan Yeginsu, The New York Times)
Tomorrow in One Paragraph. The Republican presidential candidates will be campaigning in South Carolina ahead of Saturday's GOP primary, and both Hillary Clinton and Bernie Sanders will be rallying voters in Nevada in time for the the state's Democratic caucus—also on Saturday.
---
Follow stories throughout the day with our new Politics & Policy page. And keep on top of the campaign with our 2016 Distilled election dashboard.
---
Top Read:
"Despite boasting a police force that comes as close as any in the nation to representing the city it serves, community policing in Baltimore might always have its limits. In fact, it might be impossible, because the police cannot alleviate longstanding problems like joblessness and poverty, and because the institution itself remains marred by substantive — and repeated — accusations of carelessness and brutality, and the ethnic composition of the force has done nothing to change that." BuzzFeed's Joel Anderson on the challenges faced by black police officers in Baltimore.
---
Top Lines
What Will John Kasich Do Next? After his second-place finish in the New Hampshire primary, the Ohio governor will now have to prove to skeptical donors that he's the right establishment candidate to take on Donald Trump and Ted Cruz. (Alexis Levinson, The National Review)
Bernie's Tech Movement. Behind Bernie Sanders's growing support in his bid for the presidency is an equally fast-growing network fueled by more than 1,000 volunteers app designers, web developers, and innovators. (Darren Samuelsohn, Politico Magazine)
Tell Your Story, Jeb! The New Yorker's Leon Krauze explores why Jeb Bush hasn't talked more about his "bicultural, binational, and bilingual family"—a rarity in the Republican establishment—when it would likely strike a chord with Hispanic voters.
---
Top Views
Upsetting the Power Balance. This graphic shows how adding a new justice to the Supreme Court could herald a significant shift in the court's ideological center. (Alicia Parlapiano and Margot Sanger-Katz; The New York Times)
'I'm Bernie Sandahs.' For a linguistic breakdown of the Vermont senator's thick, New York accent—and how it harkens listeners back to another time—check out this Vox explainer. (Joss Fong)
We want to hear from you! We're reimagining what The Edge can be, and would love to receive your complaints, compliments, and suggestions. Tell us what you'd like to find in your inbox by sending a message to newsletters@theatlantic.com.