The Edge: Debate in the Badger State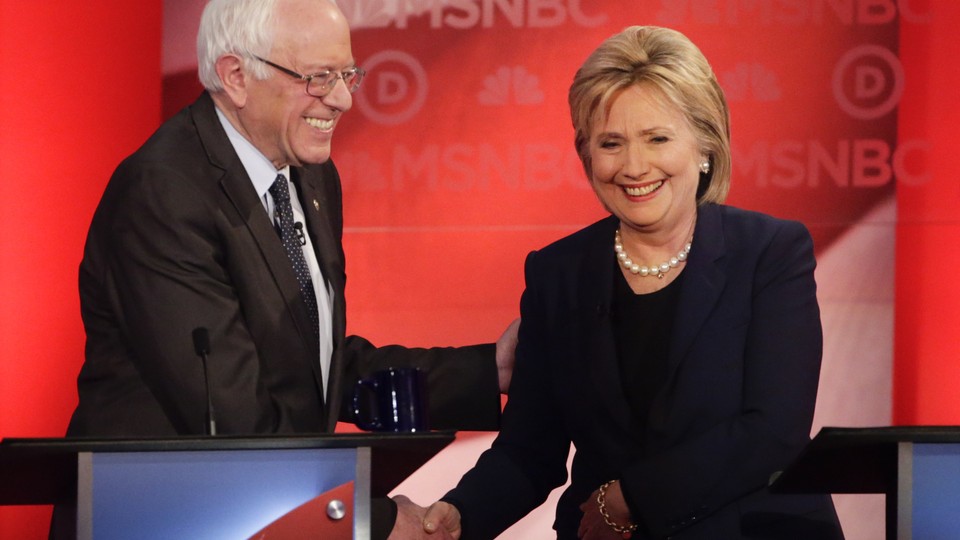 Today in One Paragraph
Bernie Sanders, coming off a victory in New Hampshire, will face Hillary Clinton tonight at the University of Wisconsin-Milwaukee for the Democratic debate. Scientists announced the first detection of gravitational waves. The armed occupation of a wildlife refuge in Oregon ended. NATO is sending warships to the Aegean Sea to aid the refugee crisis. The Congressional Black Caucus political action committee backed Clinton. And a judge ordered more releases of the former secretary of state's emails.
---
Top News
Ding Ding Ding. Hillary Clinton and Bernie Sanders will go head-to-head in their last meeting until after Super Tuesday on March 1 in Milwaukee. The debate, hosted by PBS, airs at 9 p.m. ET. We're covering it live here. (Russell Berman, The Atlantic)
RE: Emails. U.S. District Court Judge Rudolph Contreras has ordered the State Department to disclose more of Hillary Clinton's emails in four additional releases scheduled for February 13, 19, and 26. (Josh Gerstein, Politico)
'Cosmic Breakthrough.' Researchers with the Laser Interferometer Gravitational-Wave Observatory announced that they have detected gravitational waves of energy emitting from a collision between two black holes in space—a phenomenon Albert Einstein predicted a century ago. Check out this video to see how they heard "a ripple in space-time." (Washington Post; New York Times)
The End of the Oregon Standoff. After 41 days, the armed occupation of the Malheur National Wildlife Refuge in Oregon by antigovernment militants came to end, with the four remaining occupiers surrendering to the FBI. (Rebecca Boone and Martha Bellisle, Associated Press)
Clinton Snags a Key Endorsement. The Congressional Black Caucus PAC endorsed Hillary Clinton at the Democratic National Committee headquarters. "(Clinton's) been our partner a long time. We believe she's made a difference and she's helped us and helped this country," said chairman Gregory Meeks.(Rebekah Metzler and Eugene Scott, CNN)
Patrolling the Aegean Sea. NATO Secretary-General Jens Stoltenberg announced that they will be sending ships and aircraft to the area in an effort to prevent the smuggling of migrants between Turkey and Greece. Stoltenberg said at a news conference in Brussels that the mission will not be "about stopping or pushing back refugee boats." (Bill Chappell, NPR)
Tomorrow in One Paragraph:  Ted Cruz, Jeb Bush, John Kasich, and Ben Carson will be campaigning in South Carolina, while Donald Trump hosts a rally in Tampa, Florida. Hillary Clinton begins her post-debate fundraising blitz in Wisconsin and Florida. And President Obama will be meeting with Southeast Asian leaders at a summit at the Sunnylands estate in Rancho Mirage, California.
---
Follow stories throughout the day with our new Politics & Policy page. And keep on top of the campaign with our 2016 Distilled election dashboard.
---
Top Read:
"But the birth of Big Solar poses a grave threat to those who profit from burning fossil fuels. And investor-owned utilities, together with Koch-brothers-funded front groups like American Legislative Exchange Council (ALEC), are mounting a fierce, rear-guard resistance at the state level." Rolling Stone's Tim Dickinson on the Koch brothers' war on solar initiatives in Florida.
---
Top Lines
'The Science is Ready.' Vice President Joe Biden visited Duke University on Wednesday to preview his "cancer moonshot" initiative. But how much can it actually achieve? (David Graham, The Atlantic)
Republican Priorities. Exit poll data from Iowa and New Hampshire shows that the GOP electorate is far more concerned about the state of the economy than illegal immigration, and many voters have only recently decided on a candidate. (Tim Alberta, The National Review)
The Trump Appeal. John Cassidy writes that, "to ascribe Trump's rise entirely to his independent status and his political incorrectness would be a mistake, however. The message that he is delivering—a mélange of American nativism, conservative politics, and populist economics—is also falling on receptive ears." (The New Yorker)
---
Top Views
An Emoji Worth a Thousand Words. Find out how the rest of America feels during tonight's Democratic debate with The Atlantic's real-time ticker of the emojis used to refer to candidates. (Andrew McGill)
---
We want to hear from you! We're reimagining what The Edge can be, and would love to receive your complaints, compliments, and suggestions. Tell us what you'd like to find in your inbox by sending a message to newsletters@theatlantic.com.