The Edge: Cruz Pulls a Trump: 'You're Fired'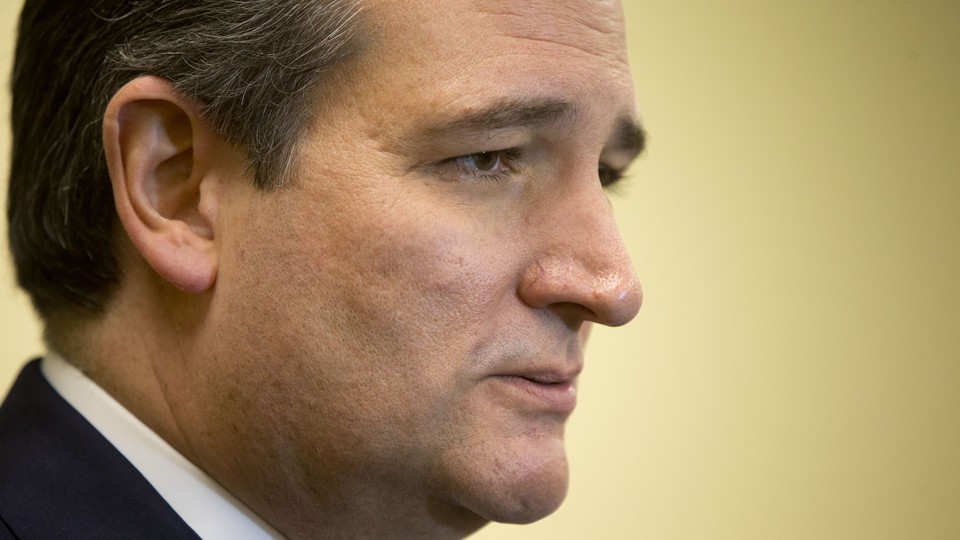 Today in One Paragraph
Ted Cruz fired his communications director, Rick Tyler. Missouri Senator Claire McCaskill announced she was diagnosed with breast cancer. Jason Dalton, the Uber driver accused of killing six people in a random shooting spree this weekend, was charged with six murder counts. Russia and the U.S. agreed on a cease-fire plan in Syria set to take effect on Saturday. Apple suggested that Congress form a new committee to discuss the relationship between national security and privacy, and the U.S. Supreme Court is back in session—with only eight justices—after the death of Justice Antonin Scalia.
---
Top News
Tyler Out. Ted Cruz asked for the resignation of his communications director Rick Tyler, after Tyler shared an "inaccurate" video of Marco Rubio appearing to disparage the Bible on his Facebook page. In a statement, Tyler said that Rubio had actually "made a friendly and appropriate remark" and that he should have verified the audio before posting. (David Wright, Tal Kopan, and Theodore Schleifer, CNN)
McCaskill Diagnosed with Cancer. Democratic Senator Claire McCaskill announced that she has been diagnosed with breast cancer. The 62-year-old politician will take a three-week absence from the Senate in order to seek treatment. "It's a little scary, but my prognosis is good and I expect a full recovery," McCaskill said in a statement. (Daniel White, Time)
Uber Driver Charged with Murder. Jason Dalton, who is accused of killing six people this weekend in Kalamazoo, Michigan, was charged with six counts of murder and two counts of attempted murder. President Obama, in his address at the National Governors Association, said he called local officials on Monday, saying they "did an outstanding job in apprehending the individual very quickly. But you've got families who are shattered today." (CBS News)
Apple vs. FBI Cont'd. The tech company asked the U.S. government to withdraw its court order to help unlock the iPhone of one of the San Bernardino shooters, and called for Congress form a committee of intelligence and security experts to discuss privacy and personal freedoms. The move comes a day after the FBI's director released a statement saying litigation over the phone isn't about trying to set a precedent. (Ville Heiskanen, Bloomberg)
Russia Agrees to Ceasefire. U.S. officials announced that both the U.S. and Russia have agreed on a plan for a "cessation of hostilities" in Syria beginning Saturday. The plan doesn't include ISIS or other terrorist organizations. (Maeva Bambuck and Bradley Klapper, Associated Press)
'Irrepressible Spirit.' The U.S. Supreme Court began a new session—the first after the death of Justice Antonin Scalia earlier this month. Chief Justice John Roberts paid tribute to Scalia in his opening remarks before hearing arguments for two cases, calling him "our man for all seasons" and adding that the remaining eight justices "shall miss him beyond measure." (Lawrence Hurley, Reuters)
Tomorrow in One Paragraph. Donald Trump, Ted Cruz, and Ben Carson are campaigning in Nevada in preparation for the Republican caucus, which begins between 5 and 7 p.m. PT, based on county. Marco Rubio will be on the trail in Minnesota and Michigan, and John Kasich will be rallying voters in Georgia. On the Democratic side, Hillary Clinton is returning to South Carolina ahead of Saturday's Democratic primary, and Bernie Sanders will be hosting a rally in Norfolk, Virginia.
---
Follow stories throughout the day with our new Politics & Policy page. And keep on top of the campaign with our 2016 Distilled election dashboard.
---
Top Read:
"Yet six years later, many of those same Republicans are leaving, departing Washington right alongside the man they had come to fight. More than a dozen are leaving the House in 2016—four are giving up their seats to run for the Senate, and nine more are simply heading home." The Atlantic's Russell Berman on the exodus of some members of the Tea Party from Congress.
---
Top Lines
Where'd All the Money Go? Despite a strong financial backing, Jeb Bush suspended his presidential campaign over the weekend, categorizing it as possibly one of the "least successful campaign spending binges." Here's why. (Nicholas Confessore and Sarah Cohen, The New York Times)
BernieSingles.com. A new dating site for Bernie Sanders supporters has garnered overwhelming interest, with more than 9,000 registrations and hundreds of thousands of visitors crashing the site within the first hour of its launch. (Rebecca Nelson, GQ)
'Mothers of the Movement.' Mothers of children who were victims of gun violence or police brutality—and whose deaths sparked the Black Lives Matter movement—are coalescing behind Hillary Clinton. (Lauren Gambino, The Guardian)
---
Top Views
The End of an Era. From George H. W. Bush's Iowa caucus victory in 1980 to his son Jeb Bush's exit from the 2016 presidential race, this collection of photos and videos documents the decades-long legacy of the the Bush family in American politics. (Arnie Seipel and Don Gonyea, NPR)
We want to hear from you! We're reimagining what The Edge can be, and would love to receive your complaints, compliments, and suggestions. Tell us what you'd like to find in your inbox by sending a message to newsletters@theatlantic.com.