The Edge: Countdown to the Iowa Caucuses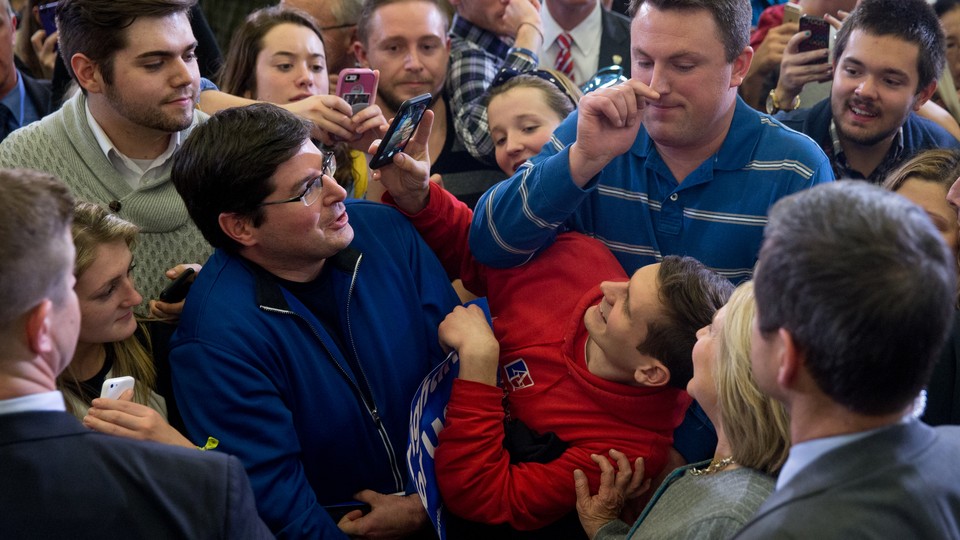 Today in One Paragraph
All eyes are on the Hawkeye State as voters head to their caucus sites. The World Health Organization declared the Zika virus a "public health emergency of international concern." A suicide bomber killed at least 20 people at a police headquarters in Kabul. And the National Transportation Safety Board released a report that rules out some potential factors of last year's deadly Amtrak derailment.
---
Top News
And We're Off. The nation's first nominating contest gets underway in Iowa at 7 p.m. local time, following months of campaign rallies, a flurry of ads, and notable surprises in both parties. Donald Trump and Hillary Clinton go into tonight with slight edges over their closest competitors—Ted Cruz and Bernie Sanders, respectively—in the latest polls. Check out our live coverage, and real-time dashboard tracking the Iowa returns tonight. (The Atlantic)
A Global Health Emergency. At an emergency meeting on Monday, the WHO said the Zika virus—and its suspected link to a birth defect—is a public-health emergency of international concern because of the fast rate at which it is spreading. The virus, which is transmitted by mosquitoes, was detected in Brazil last May and has moved to more than 20 countries and territories in the region. (Michael Pearson, CNN)
Terror in Kabul. At least 20 people were killed and an additional 29 injured by a suicide bomber who attacked the headquarters of the National Civil Order Police in Afghanistan's capital. The Taliban claimed responsibility for the attack. (BBC)
The Amtrak Derailment. The NTSB ruled out some potential causes of Amtrak train 188's wreck that killed eight and injured hundreds last year, in the second of three reports it will issue on the incident. The engineer said his memory of the incident is "very vague," according to the documents. (Ashley Halsey, Michael Laris, and Lori Aratani; The Washington Post)
Tomorrow in One Paragraph: Some of the presidential candidates will take a breather after Iowa, while others proceed full steam ahead into New Hampshire. Donald Trump, Marco Rubio, Jeb Bush, and Chris Christie all have events scheduled in the Granite State, along with Hillary Clinton and Bernie Sanders. Ted Cruz will make his way to South Carolina.
---
Follow stories throughout the day with our new Politics & Policy page. And keep on top of the campaign with our 2016 Distilled election dashboard.
---
Top Read:
"If Trump does win Iowa, the fear—of the other candidates, of the Republican establishment that sees him as a potential destroyer of the party—is that he will then become impossible to stop. Trump's campaign may appear to be a wing-and-a-prayer affair, but it is actually quite calculated, with a strategy and an infrastructure whose depth might surprise the casual observer who thinks of him as a mere bloviator." The Atlantic's Molly Ball on how Donald Trump has come so close to victory in Iowa.
---
Top Lines
'A Security Election.' As the threat of terror puts defense at the forefront of the 2016 race, Democratic leaders are scrambling to strengthen the party's message on national security. (Lauren French, Politico)
Hillary's Shifting Defenses. The Democratic frontrunner continues to assure her supporters not to worry about the email controversy that has haunted her campaign, but her defenses are evolving as the allegations become more serious. (Shannen W. Coffin, National Review)
---
Top Views
Kids on the Candidates. The Washington Post captured the reactions of 6-, 7-, and 8-year-old children when presented with videos of presidential hopefuls. Take a guess on who this quote is referencing: "He looks like a tomato."
ICYMI. Today marks the beginning of Black History Month. The New York Times highlights some previously unpublished images from its archive in this gallery, which will be updated daily.
---
We want to hear from you! We're reimagining what The Edge can be, and would love to receive your complaints, compliments, and suggestions. Tell us what you'd like to find in your inbox by sending a message to newsletters@theatlantic.com.