The Edge: Clarence Thomas Has Spoken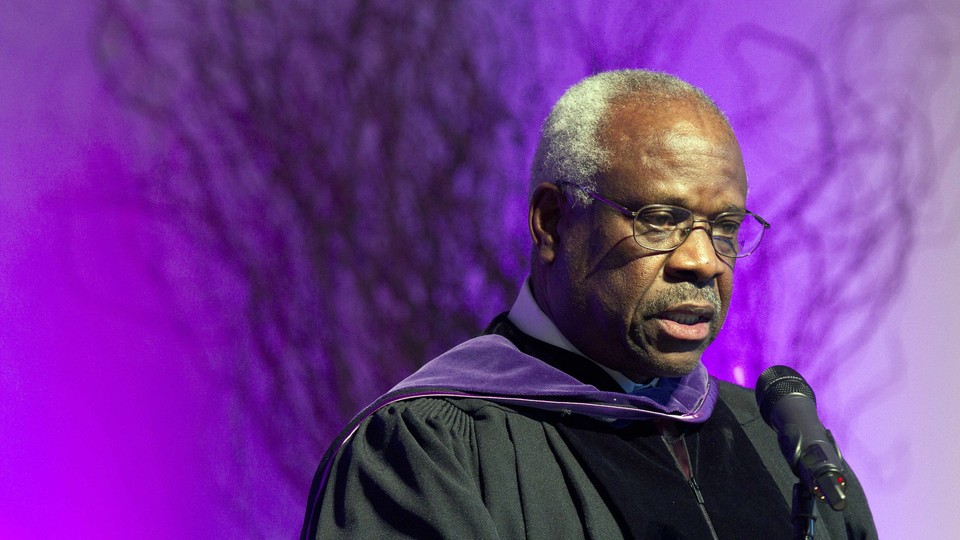 Today in One Paragraph
President Obama awarded the Medal of Honor to U.S. Navy SEAL Edward Byers. Supreme Court Justice Clarence Thomas asked a series of questions during oral arguments for the first time in 10 years. A U.S. student detained in North Korea publicly apologized after being accused of trying to steal a political banner. And the death toll from a suicide bombing outside of Baghdad has risen to 38.
---
Top News
Number Six. Edward Byers, 36, was recognized for his heroic actions during the rescue of an American hostage in Afghanistan in 2012, making him the sixth Navy SEAL to receive the Medal of Honor. "Today's ceremony is truly unique—a rare opportunity for the American people to get a glimpse of a special breed of warrior that so often serves in the shadows," President Obama said. (Ryan Browne, Barbara Starr, and Mark Morgenstein; CNN)
Thomas Breaks His Silence. Supreme Court Justice Clarence Thomas directed his questions at a government attorney, Illana H. Eisenstein, during oral arguments in Voisine v. United States. Thomas's remarks reveal the shifting dynamics of the Court since the passing of Antonin Scalia earlier this month. (Garrett Epps, The Atlantic)
North Korea Airs Apology of American Student. University of Virginia student Otto Warmbier, who was arrested by North Korea last month, apologized at a news conference aired on North Korea's official media for allegedly trying to steal a banner with a political slogan. "I have made the worst mistake of my life, but please act to save me," he said. (James Pearson and Jack Kim, Reuters)
Bombing in Muqdadiyah. Thirty-eight people are dead and another 58 are wounded after an Islamic State suicide bomber struck an Iraqi funeral in Muqdadiyah, north of Baghdad. (Qassim Abdul-Zahra and Sinan Salaheddin; Associated Press)
Tomorrow in One Paragraph. Twelve states hold their nominating contests on what is known as Super Tuesday, as presidential candidates rotate through to make their last pitch.
---
Follow stories throughout the day with our new Politics & Policy page. And keep on top of the campaign with our 2016 Distilled election dashboard.
---
Top Read
"So why has Trump found so much traction here? Possibly because no presidential candidate has so perfectly channeled the voice and spirit of a loudmouthed Massachusetts sports fan calling into WEEI to tell the world what's what." The Washington Post's Ben Terris on why Donald Trump has gained traction in Massachusetts.
---
Top Lines
Breaking Down the Numbers. Compared with 2008, Democratic turnout has dropped in the early-voting states, but increased on the Republican side. Here's why. (Emily Schultheis, CBS)
The Liberal Millennial Revolution is Here. The Atlantic's Derek Thompson asks: "Why are young people so liberal; what's behind their revolutionary spirit; and how close are they to ushering in a true liberal political revolution?"
What's Next in Apple vs. FBI? Apple and the FBI are preparing to garner support ahead of the March 22 hearing. The case may have little to do with law enforcement's right to search the phone of one of the San Bernardino attackers, "but how much help it can ask Apple for in the process." (Alyssa Bereznak, Yahoo! Politics)
---
Top Views
Forecast for Super Tuesday. The Washington Post calculated delegate expectations based on a collection of data. See who they predict to be the presidential nominees here. (Aaron Williams, Kennedy Elliott, Scott Clement, and Kaeti Hinck)
We want to hear from you! We're reimagining what The Edge can be, and would love to receive your complaints, compliments, and suggestions. Tell us what you'd like to find in your inbox by sending a message to newsletters@theatlantic.com.