The Edge: Christie and Trump Bridge a Friendship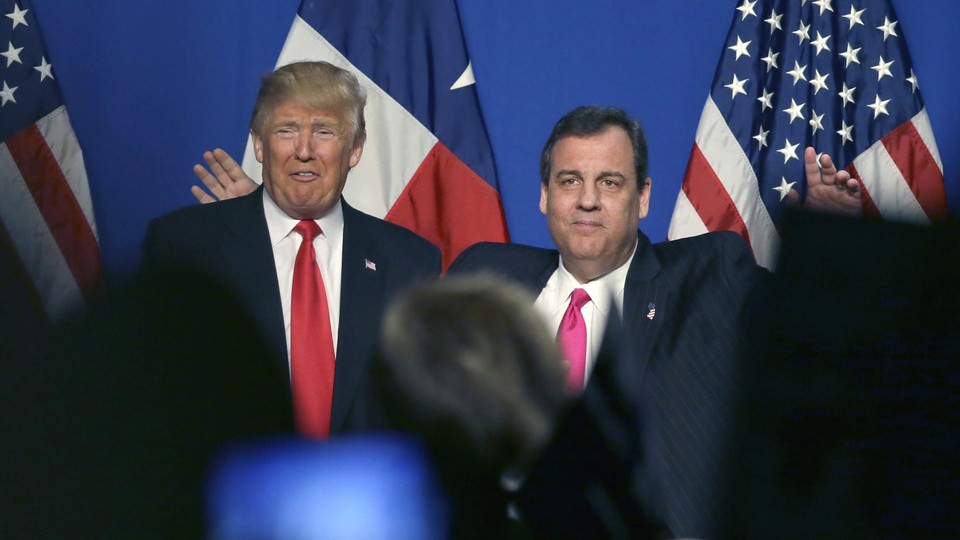 Today in One Paragraph
New Jersey Governor—and former presidential candidate—Chris Christie endorsed Donald Trump for president. Authorities said the gunman who allegedly killed three people and injured 14 in Kansas was served a restraining order shortly before he opened fire. Gianni Infantino was elected to be the head of FIFA. Iran held its first parliamentary elections after the nuclear deal and lifting of sanctions.
---
Top News
Christie Backs Trump. The New Jersey governor's announcement is a boost for Donald Trump, who fielded blows from Marco Rubio and Ted Cruz on the debate stage Thursday night. During a press conference, Christie said Trump is "rewriting the playbook of American politics" and is the best choice "to take on the D.C. establishment." (Russell Berman, The Atlantic)
Restraining Order May Have Set Off Gunman. Authorities said Cedric Ford, the gunman who is suspected of killing three people in Kansas on Thursday, was served with a temporary order of protection from abuse just 90 minutes before he opened fire. The Harney County Sheriff said, "I believe that probably is the trigger, and it went from there." (Greg Botelho and Joshua Berlinger, CNN)
FIFA Has a New President. Gianni Infantino was elected as the new head of soccer's governing body, replacing Sepp Blatter who was suspended for six years amid a corruption scandal. The 45-year-old lawyer said he hopes "to restore and rebuild a new era of FIFA." (BBC Sport)
High Voter Turnout. Iranians went to the polls to elect a new parliament and Assembly of Experts, the body that selects a Supreme Leader. The results of the high-turnout vote are expected to reflect public mood following the recent nuclear deal and the lifting of sanctions. (BBC News)
The Weekend in One Paragraph. South Carolinians will cast their votes in the Democratic primary on Saturday, with polls opening at 7 a.m. ET. Bernie Sanders and Hillary Clinton, along with the Republican presidential candidates, will be making the rounds in several Super Tuesday states ahead of the nominating contests on March 1.
---
Follow stories throughout the day with our new Politics & Policy page. And keep on top of the campaign with our 2016 Distilled election dashboard.
---
Top Read:
"For certain Republican voters, it simply makes sense. Even if they don't see Trump as the perfect candidate, and even if he wasn't their first choice, they believe he may be the best hope to win back the White House." The Atlantic's Clare Foran on why Jeb Bush supporters are defecting to Donald Trump.
---
Top Lines
Voting in Iran. As Iranians head to the polls to elect a new parliament and Assembly of Experts, Haleh Anvari grapples with a difficult question—to vote or not to vote?—in a country that she says provides only the "decorative features" of democracy. (The New Yorker)
Calling All 'Bernie-Crats.' The Vermont Senator is calling for a "political revolution"—but so far the supporters waging it aren't having the most successful campaigns.  (David A. Fahrenthold, The Washington Post)
Top Views
What's the Deal With Super Tuesday? A series of nominating contests are fast-approaching and each state's results will have an impact on the 2016 presidential race. Here's how. (The New York Times)
We want to hear from you! We're reimagining what The Edge can be, and would love to receive your complaints, compliments, and suggestions. Tell us what you'd like to find in your inbox by sending a message to newsletters@theatlantic.com.