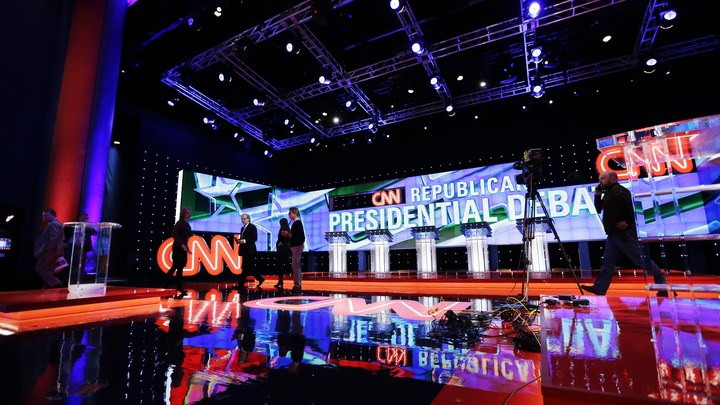 Today in One Paragraph
The Republican presidential candidates will debate in Houston. Apple formally responded to a court order asking the company to help unlock the iPhone of one of the San Bernardino attackers. Separately, James Comey, the FBI director, defended the government's approach before a House panel. Nevada Governor Brian Sandoval asked to be taken out of consideration for the Supreme Court nomination. And abroad, Greece recalled its ambassador to Austria, where Balkan States discussed the migrant crisis in the region.
---
Top News
Showdown in Texas. The remaining Republican presidential candidates will face off in Houston at 8:30 ET in a debate hosted by CNN. It's the last debate before Super Tuesday on March 1, and a chance for Ted Cruz and Marco Rubio to knock off front-runner Donald Trump. We're covering it live here. (Russell Berman, The Atlantic)
Apple vs. FBI. Apple filed to dismiss a court order to unlock the iPhone of one of the San Bernardino shooters, and is expected to take the fight with the FBI to Congress. FBI Director James Comey said during a House Intelligence Committee hearing that the situation is the "hardest question I've seen in government." (Kim Zetter and Brian Barrett, Wired; Eric Tucker and Tami Abdollah, Associated Press)
Thanks, but No Thanks. Nevada Governor Brian Sandoval has taken himself out of the running for the Supreme Court nomination—just one day after it was reported he was being vetted. The White House still hasn't officially released any names of potential nominees. (Rebecca Shabad, CBS News)
Greece Recalls Ambassador. Nikos Kotzias, the Greek foreign minister, said the action is "to preserve friendly relations between the states and the people of Greece and Austria." The rift comes as a result of a meeting convened by Austria over the migrant crisis, which excluded Greece. (Helena Smith and Ian Traynor, The Guardian)
Tomorrow in One Paragraph. Ben Carson and Ted Cruz are attending the International Christian Media Convention Presidential Forum in Nashville, and John Kasich is in Memphis. Both Donald Trump and Marco Rubio are campaigning in Texas. And Bernie Sanders and Hillary Clinton will be returning to South Carolina ahead of Saturday's Democratic primary.
---
Follow stories throughout the day with our new Politics & Policy page. And keep on top of the campaign with our 2016 Distilled election dashboard.
---
Top Read:
"In any event, once the "short list" is complete, based on past practice, Obama will pare that list down to four people who he wants to meet with in person. Then, a few days after those in-person interviews, effectively, Obama will call one of them up to offer the person a Supreme Court nomination. The next day, if the person accepts, Obama will announce his selection." BuzzFeed's Chris Geidner on what to expect during the Supreme Court nomination process.
---
Top Lines
Tackling Trump. If Marco Rubio and Ted Cruz don't attack the real-estate mogul in Thursday night's debate, the "Trump train" might never be derailed. (Mark Antonio Wright, National Review)
When Is a Migrant a Refugee? The fates of thousands of Central Americans who crossed the U.S.-Mexico border in 2014 rely on the answer. (Eyder Peralta, NPR)
Top Views
Mean Tweets. Watch comedian-turned-senator Al Franken read some of the meanest social media reactions to his support for Hillary Clinton. (Rebecca Savransky, The Hill)
The Rosa Parks Papers. The Library of Congress has digitized thousands of photographs and letters from the civil-rights activist's personal collection. View it here. (Jennifer Schuessler, The New York Times)
We want to hear from you! We're reimagining what The Edge can be, and would love to receive your complaints, compliments, and suggestions. Tell us what you'd like to find in your inbox by sending a message to newsletters@theatlantic.com.
We want to hear what you think about this article. Submit a letter to the editor or write to letters@theatlantic.com.
Elaine Godfrey
is a staff writer at
The Atlantic
, where she covers politics.