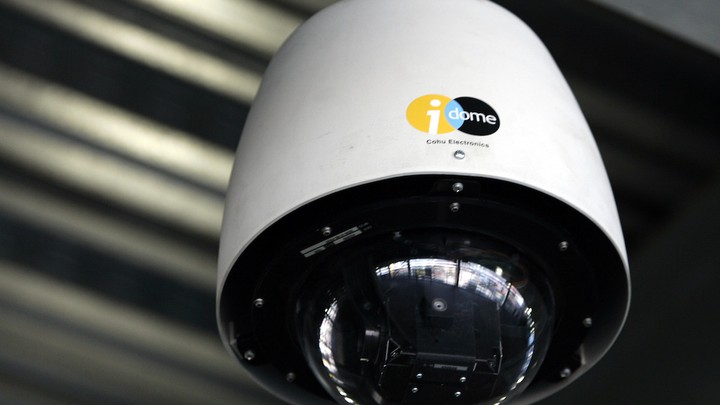 In the summer of 2014, an article on a drug bust in Florida's Ocala Post noted the arrest of Derrick Price, 43, on charges of armed drug trafficking, drug possession, and resisting arrest. The accompanying photograph showed a table full of drugs and guns. It's the sort of case where few are inclined to question the official narrative, and body-camera footage seemed to confirm that the suspect had resisted. It's very shaky and doesn't quite capture the man on the ground, but there's a lot of commotion and a bunch of cops repeatedly shouting, "Stop resisting! Stop resisting!"
Now watch the mashup below. The first video is from that police officer's body camera. Afterward is the same incident as captured by a private surveillance camera:
The cops engaged in fakery.
The suspect's peaceful surrender was clear as could be. The shouts about resisting arrest were misdirection, whether for potential bystanders or for whoever might review the body camera footage. Absent the private video, a conviction on the charge of resisting arrest would've been a real possibility––most juries tend to believe police, particularly when five cops tell the same story and video footage appears to back it. The cops certainly wouldn't have been charged with crimes.
Yet they were lying criminals. Four pleaded guilty to federal charges of violating Price's civil rights. "The abusive and unprofessional actions they displayed shocked me to my core," Marion County Sheriff Chris Blair told Reuters. A fifth, indicted for standing by during the incident, claims that he is innocent and is fighting in court. All five officers were veterans. What are the odds that this is the first time a cop in that department needlessly brutalized a suspect or allowed a colleague to do so?
State Attorney Brad King thinks that they're slim, despite the fact that Sheriff Blair quickly fired the offending cops and reported them to the FBI in this instance.
As the local newspaper puts it:
King is alleging that... there are other cases of suspected abuse, falsified reports and other improprieties… Certainly this is a problem for Blair, who has been accused of cowboy tactics in the past by King and others. But it is also a problem for King, who must prosecute the cases Blair's deputies bring to his office, and if there is reasonable doubt as to not only the suspect's guilt, but the integrity of the investigation itself, getting criminals off the street permanently is at risk.
The two reportedly don't get along. "While Blair was head of the Major Crimes Unit under former Sheriff Ed Dean, King protested his tactics and techniques to the point he insisted Dean allow one of his assistants to monitor Blair's cases," the Ocala Star Banner editorializes. "When Blair ran for sheriff in 2012, the normally reticent King came out and questioned his fitness to be sheriff based on that history."
The lessons are the same ones that video footage has taught in police departments around the country: Neither the truthfulness nor the good behavior of police officers can be presumed; some number of cops will perpetrate criminal assaults if they aren't watched closely, and many of their colleagues would sooner bite their tongues or lie to cover up for criminal misbehavior than violate the blue code of silence. Body cameras aren't a cure-all, but they help, especially if all officers are wearing them and the full footage is reviewed closely by overseers whenever force is used. And when flagrant abuse is discovered, there have almost always been warning signs along the way.
We want to hear what you think about this article. Submit a letter to the editor or write to letters@theatlantic.com.
Conor Friedersdorf
is a California-based staff writer at
The Atlantic,
where he focuses on politics and national affairs. He is the founding editor of
The Best of Journalism
, a newsletter devoted to exceptional nonfiction.