A Poll-Tested Message for Criminal-Justice Reform
As the Senate weighs a legislative push, new survey results from swing states shows that support for a sentencing overhaul depends on how you pitch it.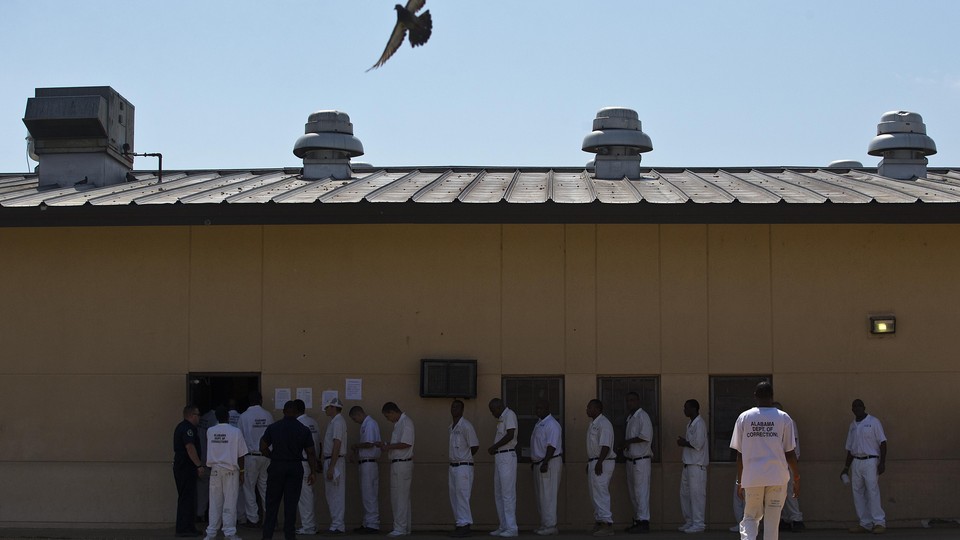 Just how popular is criminal-justice reform with swing-state voters? It depends on the message.
Strong majorities in four purple states and Republican-leaning Kentucky and Missouri seem to agree with the premise of reform that both parties have been promoting: Federal prisons house too many non-violent criminals, the government spends too much money incarcerating them, the main goal of prison should be rehabilitation, and Washington shouldn't make it so hard for inmates to find jobs after they're released. At least three-fifths and as many as three-quarters of voters surveyed agreed with those statements, according to new polling released Wednesday by a coalition urging Congress to overhaul sentencing laws to reduce the incarcerate rate. A similarly high percentage of voters agree with giving judges more discretion in doling out punishments, as opposed to the minimum sentences that are currently mandatory for many crimes.
But what happens when pollsters touch on a more delicate topic—the possibility that changes to sentencing laws will allow criminals currently behind bars to go free? A majority of voters across Florida, Wisconsin, North Carolina, Missouri, Nevada, and Kentucky still support "applying sentencing changes to all federal prisoners, even those who have already been sentenced." The margin, however, is much closer, and it suggests that reformers could be vulnerable to exactly the attack that conservative, tough-on-crime senators like Tom Cotton of Arkansas and Jeff Sessions of Alabama are now making. Those criticisms—that the current bipartisan proposal before the Senate would let violent criminals out of prison—are threatening to derail the legislation before it comes for a vote.
The group behind the polling is the U.S. Justice Action Network, a coalition of organizations from the left—including the ACLU and the Center for American Progress—and the right—FreedomWorks and Americans for Tax Reform, among others—that is lobbying lawmakers to pass criminal-justice reform. Their chief goal at the moment is to persuade Senate Majority Leader Mitch McConnell that bringing up a bipartisan bill will not jeopardize the GOP majority this fall, and so they hired a Republican polling firm to test messages among voters in states where key Senate races will be fought. (They added Kentucky so McConnell could see results in his "own backyard," said Holly Harris, the network's executive director.)
Asked to explain the drop in support when the question turned to reducing sentences for current inmates, Harris said they believed it was because the pollsters didn't specify that only "non-violent offenders" would be eligible. That, of course, will be a key point of debate if the bill moves to the Senate floor. The network didn't initially break out the data by party in its public release, but a closer look at the results shows that Democrats, and to a lesser extent independents, were significantly more likely to support reforms affecting "all federal prisoners" than were Republicans. In each of the states except Florida, GOP voters were evenly split on the statement, compared to the 60-70 percent of Democrats who backed it. Brian Nienaber, vice president of the Tarrance Group, said there was support across the political spectrum for most of the policies, but he acknowledged that there "certainly was a little bit less intensity among Republican voters in a couple of these states than there were other places." That, too, will be an important detail for Republican lawmakers weighing whether to support legislation in an election year.
Naturally, the network and its coalition members were encouraged by what they found—they wouldn't have trumpeted the results to reporters if they weren't. But the findings also point to the fragility of the coalition and underscore the importance of which message wins the day. The support for change is strongest when the arguments emphasize the fiscal and social-justice aspect of the reforms, but the vulnerability to a law-and-order message is also apparent. And that's precisely where critics of the Senate bill plan to target.