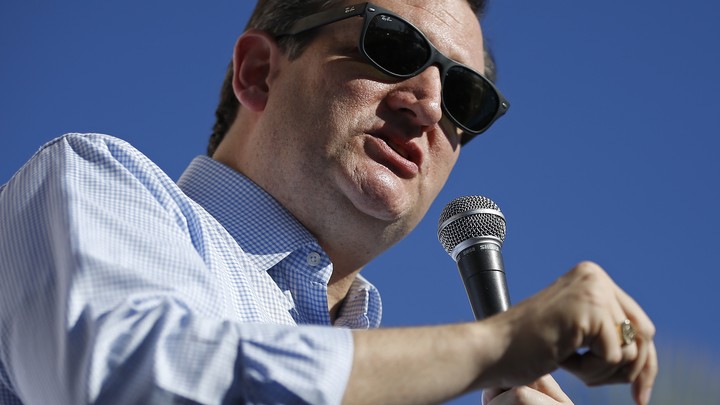 Ted Cruz just fired his top national spokesman for spreading a false story about Marco Rubio.
Citing "a grave error in judgment," the Republican presidential candidate told reporters Monday afternoon that he had asked for the resignation of his campaign's communications director, Rick Tyler. On Saturday, the day of the South Carolina primary, Tyler had posted on social media a link to a story with a video of Marco Rubio making a comment to a Cruz staffer who was reading the Bible. The audio on the video was unclear, but the transcript that accompanied it showed Rubio making a disparaging remark to the staffer about the Bible, saying there were "not many answers in it."
Rubio said he was in fact praising the Bible—that he'd said, "All the answers are in there"—and on Monday, the newspaper that made the original transcription updated its story to say that the audio was unclear. Rubio's campaign promptly accused Tyler and Cruz of playing dirty tricks. Tyler apologized on Facebook for posting "an inaccurate story" about Rubio:
Tyler later went on Fox News to amplify his apology, but it apparently wasn't enough for Cruz. "I had made clear in this campaign that we will conduct this campaign with the very highest standards of integrity," Cruz told reporters, according to The Daily Beast's Gideon Resnick.
That has been how we've conducted it from day one. It is why when other campaigns attack us personally, impugn my integrity or my character, I don't respond in kind. None of you have heard me throw the kind of insults at Marco Rubio that he throws at me every single day. If other candidates choose to go into the gutter, we will not do the same. Rick Tyler's a good man. This was a grave error of judgment. It turned out the news story he sent around was false, but I'll tell you, even if it was true, we are not a campaign that is going to question the faith of another candidate.
Cruz made the decision rather abruptly. Tyler, who hasn't commented yet, was tweeting on behalf of his campaign as of an hour before the announcement and was reportedly about to go on MSNBC just before Cruz told reporters of his sacking. Campaign staffers have been spared for doing a lot worse than spreading false stories about opponents, and the Rubio-Bible flap arguably wasn't even the most problematic thing Cruz's campaign has done in the last few weeks.
The Rubio campaign insisted that the issue wasn't Tyler—but rather his boss. "Rick is a really good spokesman who had the unenviable task of working for a candidate willing to do or say anything to get elected," said Alex Conant, Rubio's communications director. "There is a culture in the Cruz campaign, from top to bottom, that no lie is too big and no trick too dirty. Rick did the right thing by apologizing to Marco. It's high time for Ted Cruz to do the right thing and stop the lies."
So what is this really about?
Cruz's statement offers a few clues. "If other candidates choose to go into the gutter, we will not do the same," he said. Some of those other candidates believe that he already has. In Iowa, Cruz was accused of scaring Republicans into caucusing for him by sending them a mailer masked as an official government communication warning of a "voter violation." He then seized on an erroneous report that Ben Carson was dropping out of the race, angering Carson and his campaign. In South Carolina, Cruz sent out a mailer morphing Rubio's face with President Obama's that some suggested was racially charged.
Cruz finished a disappointing third behind Rubio in South Carolina, a state that figured to be strong for him given its large share of evangelical voters. The accusations of "dirty tricks" have piled up, and over the last two days, so have endorsements—for Rubio. Cruz needed both to grab back some of the spotlight and turn around the perception that his campaign was sliding into sleaziness.
Then there's also the nature of the specific charge. Evangelical voters are the crucial constituency for Cruz heading into the March 1 "SEC Primary" in the Bible-belt states, and falsely accusing an opponent of disrespecting the Bible is not likely to go over well. Or perhaps he just wanted to shake up his campaign, and this controversy gave him a reason to do so.
Of course, it's entirely possible that Cruz was simply angered by Rick Tyler's Facebook post about Rubio and considered it a fireable offense. Chances are, though, there was a bit more to it than that.
We want to hear what you think about this article. Submit a letter to the editor or write to letters@theatlantic.com.