Ted Cruz's Alamo?
Conservative activists are making their stand in South Carolina, as Trump's supporters swarm at the gates.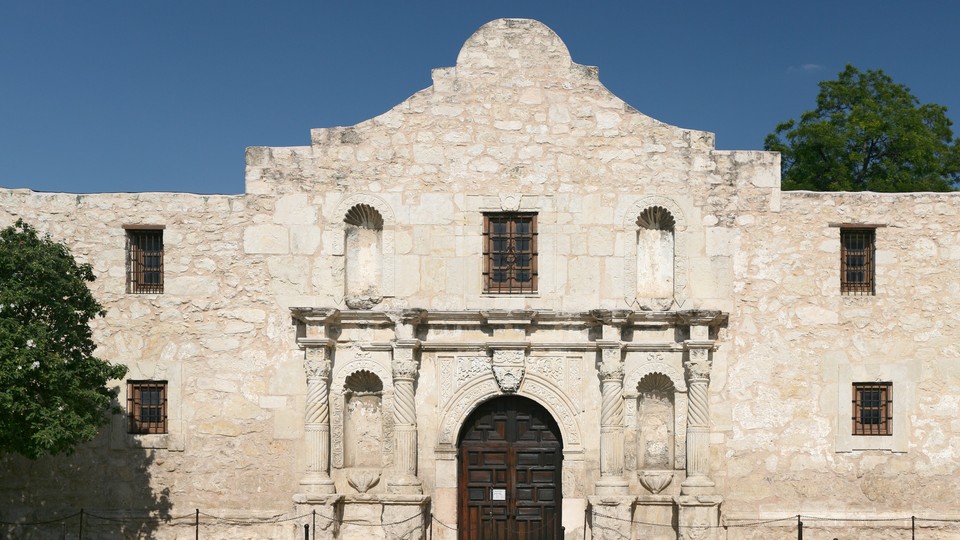 GREENVILLE, S.C.—The first broadsides against the Republican presidential front-runner were fired from the stage even before the large crowd had fully settled into its seats at a raucous conservative convention in a basketball arena here Thursday night.
Without mentioning Donald Trump by name, Iowa talk show host Steve Deace repeatedly mocked his credentials as a true conservative. "It is not conservative to be Planned Parenthood's favorite Republican," Deace insisted. "It is not conservative to be for single payer health care. It is not conservative to go 9/11 'truther' on George Bush. That's not conservative."
By the time Utah Republican Senator Mike Lee picked up the thread a few speakers later, over 5,000 people had filled the stands. Lee never mentioned Trump's name, either—but also left no doubt about his target. "Don't settle for hope and spin," Lee cried. "Don't settle for a candidate who thinks he's a king … don't settle for promises of 'big deals.'"
In his closing remarks, popular conservative-radio talk-show host Mark Levin, whose Conservative Review website sponsored the event, crystallized the evening's jittery mix of incredulity and alarm. "This is not a time to take chances," said Levin, who, like Deace, is supporting Texas Senator Ted Cruz. "We have a conservative [in the race], don't we? It's time for all conservatives to come home now and do the right thing. And if you are a conservative, you know what the right thing is."
For local and national conservatives skeptical that Trump truly shares their beliefs, the final hours before Saturday's traditionally pivotal South Carolina Republican primary feels something like the Alamo. All recognize that a Trump victory in this bellwether conservative state could provide him a clear pathway to the GOP nomination—despite opposition from virtually all of the major organizations and media outlets that have traditionally functioned as the gatekeepers for conservative support. Simultaneously, a disappointing finish Saturday could cripple Cruz, the candidate who has worked hardest to consolidate support from economic and cultural conservatives. It seemed oddly apt when Cruz began his own warmly received speech at Thursday's rally by thanking, somewhat belatedly, the South Carolina volunteers who "bled and died" at the actual battle of the Alamo in 1836 "so that Texas could be free."
There are many points of friction between Trump and organized conservatives. They are suspicious of his history of supporting Democrats and liberal causes, like abortion rights and single-payer health care. They find his current agenda alarmingly heterodox, with conservative positions on immigration, climate change, taxes, and gun control jostling with ideas more often associated with Democrats, particularly opposition to free trade, to cuts in entitlement programs for the elderly, or to the complete defunding of Planned Parenthood. (Trump sometimes seems not only indifferent, but oblivious, to conservative doctrine: In his final New Hampshire rally, he somewhat offhandedly endorsed the notion that Medicare should negotiate with drug companies to drive down the price of pharmaceuticals, a Democratic priority that Republicans have bitterly fought since George W. Bush's presidency.) National-security hawks bristle at his fervid denunciations of the Iraq War. Many religious conservatives recoil from his personal history (three marriages, acknowledged affairs) and style (blasting vulgarities from the stage). Others fear, with good reason, that a Trump nomination would transform the GOP into something akin to a European nationalist party united more by racial identity and hostility to elites than by consistent commitment to limited government, cultural conservatism, or, for that matter, any other intellectual principle.
The result is an imposing roster of conservative leaders and institutions that have either criticized Trump or collided with him. Even a partial list includes the Club for Growth, perhaps the leading voice of economic conservatives; the leaders of major social conservative groups including Concerned Women for America and the Susan B. Anthony List, and the founders of Focus on the Family and the Family Research Council. They're joined by other top conservative opinion leaders, including National Review and Weekly Standard magazines; the RedState website; columnists Charles Krauthammer, George Will, and Karl Rove ("they are really dishonest people," Trump insisted at a rally in North Augusta earlier this week); and even Fox News Channel, the undisputed 800-pixel gorilla of conservative media.
Trump, for his part, has attracted only a handful of conservative defenders including author Ann Coulter, talk show host Laura Ingraham, and the Breitbart web sites. Trump also was the runner-up for the endorsement of the Tea Party Patriot Citizens Fund, which ultimately went to Cruz. Even Rush Limbaugh, who has criticized but not ostracized Trump, found himself fending off complaints from callers this week disappointed he has not done more to rally conservative opposition to the businessman.
Despite this phalanx of organized resistance, exit polls in New Hampshire showed Trump comfortably carrying not only moderates, but also voters who described themselves as somewhat and even very conservative. Trump also narrowly carried the one-fourth of New Hampshire Republicans who self-identified as evangelical Christians. In Iowa, the entrance poll showed that Cruz did beat Trump among evangelicals and very conservative voters (many of whom are also evangelicals).
But conservative anxieties have spiked this week because of the flurry of South Carolina polls consistently show Trump leading in the state whose past winners have captured the GOP presidential nomination in every contested race since 1980 except 2012. Most surveys here have shown Trump holding a double-digit lead and winning comfortably among conservatives and evangelical Christians, who comprised about three-fifths of GOP primary voters both in 2008 and 2012. The exception could be significant: The latest poll, an NBC/Marist survey released Friday morning, showed Trump only leading Cruz by five percentage points overall, by three points with evangelicals, and just running even with conservatives.
South Carolina is not the most right-leaning state on the GOP landscape and it has usually favored mainstream contenders (like George H.W. Bush, Bob Dole, George W. Bush and John McCain) over the most conservative alternatives. Yet ever since moving into its privileged position as the third contest on the Republican primary calendar in 1980, the state has proven a telling microcosm of the entire GOP primary electorate. And in 2012 very conservative voters constituted a larger share of the vote in South Carolina than in such other key tests as Ohio, Florida, Michigan, Illinois, Wisconsin, and Arizona. If Trump can win here—and particularly if he can reprise his New Hampshire success at capturing the plurality of blue-collar evangelicals without college degrees—he will be well positioned to threaten Cruz across the Southern, border and Midwestern states that vote in early March, potentially crushing the Texan's candidacy. Even if another candidate—Marco Rubio, John Kasich, or less likely, Jeb Bush—could eventually unify the remaining voters resistant to Trump, that might well happen too late to stop him.
That prospect underscores the import of Trump's success among conservatives in general, and evangelicals in particular, despite steady criticism from institutions that have long been viewed as influencing their preferences. The dynamic has many scratching their heads here in "the upstate" of South Carolina along the I-85 corridor around Greenville, the conservative counterweight to the more moderate Lowcountry centered on Charleston.
Sarah Hughes, a mother of two from Inman, South Carolina, now studying radiology at a community college, sounded almost distraught this week about the prospect of a Trump victory. Hughes attended a presidential forum on Wednesday night at the huge First Baptist North church in nearby Spartanburg sponsored by the Faith and Freedom Coalition, the organization founded by veteran social conservative leader Ralph Reed. While Cruz spoke at the event, and several other candidates sent surrogates, Trump did neither. "I do not believe you can be a religiously devout person and be for Trump; that's an oxymoron," Hughes said, as a crowd of several thousand filed out of a soaring sanctuary whose sound and lighting system would not have seemed insufficient for a rock concert. "Trump is not a conservative person. This is an evangelical state! If he wins the state, I would be ashamed, dispirited." She's for Rubio, but open to Cruz.
Keith Appell, a long-time conservative communications consultant, who has worked with many of the right's leading lights, says he believes conservative resistance to Trump could still coalesce if the field narrows to either Cruz or Rubio as a single alternative. But he nonetheless views the mercurial businessman's inroads among rank and file conservative voters as a warning signal to conservative leaders about the depth of frustration over the GOP's failure to more deeply roll back government since the "Republican revolution" in 1994.
"When you break your promise, over and over and over again, it boils over," said Appell. "And so perhaps what we are seeing the grassroots are fed up with the groups, with the organizations, are fed up with anybody who has to a connection to Washington because it hasn't worked. Perhaps too many leaders of too many organizations have more valued their positions at the table with the Congressional leadership than [representing] their membership. And what you have is people are finally looking for an outlet, and they are going to Trump."
Carrie Williford, a mother of four from Greer, South Carolina, who attended a Cruz rally at a Christian school in Spartanburg this week, holds a similar view. Williford is a staunch Cruz supporter and says she believes a Trump nomination would amount to "putting a final nail in the coffin of what we want this party to be. Trump's foundation is not the Constitution; his foundation is himself." Yet she acknowledged she is "surprised" by Trump's support among fellow evangelicals in her neighborhood and church. "I think many evangelicals like myself are frustrated in Washington; they want somebody to shake it," she said. "And he is the loudest and squeakiest wheel."
Williford's comments capture the irony in the heightening conflict between Trump and the institutional right. For years, many of the groups now condemning him have helped to seed these attitudes among grassroots conservatives.
Most of the leading conservative media outlets now criticizing Trump also emboldened the party's nativist elements by denouncing any effort to produce a comprehensive immigration reform plan. And almost all of the Trump critics have contributed brushstrokes to the picture of the GOP Congressional leadership as spineless appeasers of first Bill Clinton and then Barack Obama—ignoring the limits of either party's ability to impose their agenda while control of government is divided.
Many conservative leaders seem genuinely horrified that Trump may soon complete a hostile takeover of the Republican Party they have worked for so long to defend. But they helped to open the gates that Trump is now storming through.