Can Democrats Get Republicans to Move on Scalia's Replacement?
Their PR campaign hit the steps of the U.S. Supreme Court this week.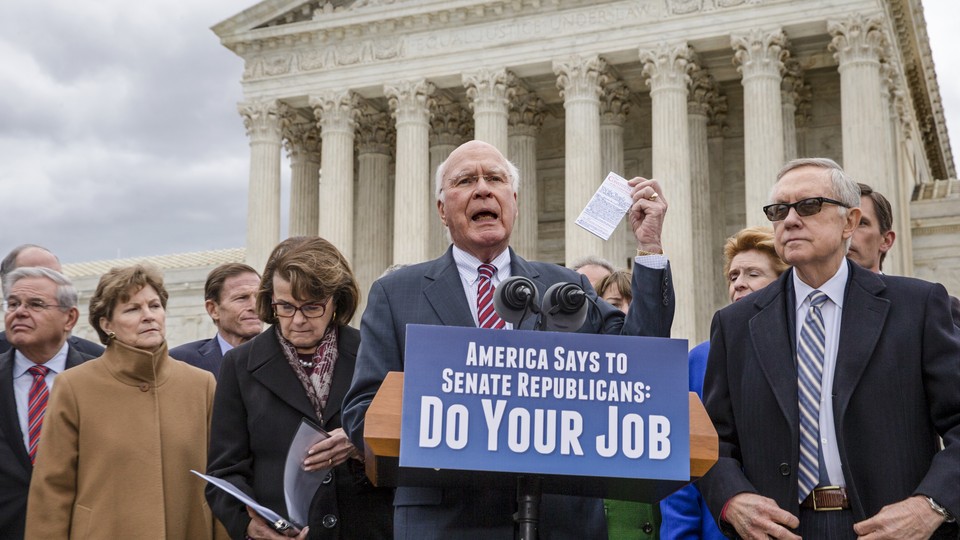 Democrats took their case to the U.S. Supreme Court: The U.S. Senate mustn't delay on finding a replacement for Justice Antonin Scalia, they say.
Well, maybe not inside the court, but at least to its First Street steps. An event on Thursday was the latest in a series Democrats have organized to make their case that Republicans are neglecting the Constitution. On Tuesday, Republicans in the Senate Judiciary Committee formally confirmed that they won't hold a hearing or a vote on any Obama nominee; Republican leadership doesn't plan to meet with the nominee, either.
"We have obstruction on steroids," Senate Minority Leader Harry Reid said from a lectern outside the Court on Thursday. "We want them to do their jobs. That's all we ask."
Senate Democrats have repeatedly framed their argument as nonpartisan: Senators are elected to perform certain duties, including considering Supreme Court nominees, they say, and each and every one should fulfill those obligations. They maintain that Republicans are ignoring the Constitution and historical precedent in postponing consideration of any nominee until a new, potentially Republican, president is in office. Those assembled Thursday—more than 20, or roughly half the caucus—seemed to bristle at a reporter's suggestion that they've got self-interested motivations: that they want to confirm a nominee under a Democratic president, just as the GOP wants to wait and gamble on the possibility of a Republican pick. Reid denied this, saying flat-out that this isn't a partisan issue.
But Democrats certainly seem to want voters to remember this fight come November. Swing-state Senate Republicans—like Pennsylvania's Pat Toomey and New Hampshire's Kelly Ayotte—are facing an offensive from liberal interest groups about the nomination fight; according to CNN, these senators are seen as "potential Republican converts to [the idea of] at least convening hearings." A story published Thursday in Talking Points Memo has more details on Democratic thinking going into the fall election:
While Republicans say they have the winning argument in pointing to November's election as reason to not consider Justice Scalia's successor, Democrats think that pressure will mount and voters will side with them in the fall. …

Now that McConnell has drawn a line—no hearings, no votes, no meetings—that couldn't be clearer, the challenge for Democrats is to keep the story alive. Part of the GOP strategy in not going through the confirmation process is that Republicans can starve the story of oxygen.

When asked if the only tool Democrats had right now was public pressure, Sen. Dianne Feinstein (D-CA) responded, "That's the biggest tool of them all. It works."
Earlier this week, Senator Amy Klobuchar, who is a member of the Judiciary Committee, assembled a forum of law professors to argue that historical precedent is on Democrats' side. And at a separate press conference on Wednesday, several senators and progressive group leaders presented a million-signature-strong petition to suggest that the American people agree with them as well. At Thursday's presser, Judiciary Committee Chairman Patrick Leahy said, in his growling voice, that he's never seen "this total abrogation" of Senate duties in his 41 years on the job. He compared the 60 nominees a Democratic-led Senate confirmed in George W. Bush's last years in office to the 16 Obama picks that this Republican-led Senate has confirmed. "That shows where the partisanship is," he said.
The fighting was temporarily put on hold on Thursday as the Senate voted on a resolution to honor Scalia as "one of the great Justices of the Supreme Court of the United States." Ninety-nine senators were co-sponsors, and it passed overwhelmingly with a vote of 93-0.
But soon after, Senator Barbara Mikulski had some choice words for her Republican colleagues. "The Constitution doesn't say that in an election year, 'Delay, delay, delay,'" she said, raising her voice. "The word delay doesn't even appear in the Constitution, that in the hope that one day you'll get your way."