Is Sanders Writing Off South Carolina?
Thousands of adoring fans came to see Bernie Sanders on Sunday, but his challenge with black voters—and in the state overall—remains daunting.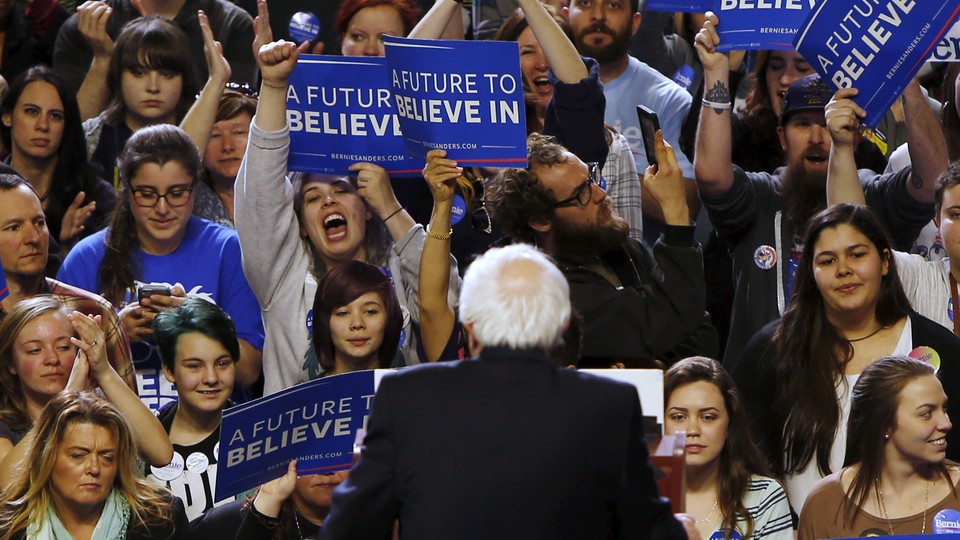 GREENVILLE, S.C.—There's no chance to lick your wounds in a presidential campaign. It doesn't matter how disappointing your results were on Saturday, you've got to be out there again on Sunday, stumping for votes. The question is how you pull it off.
On Sunday in upstate South Carolina, Bernie Sanders was, as usual, in fighting fettle. The Vermont senator arrived in the state Saturday night after a loss in the Nevada caucuses, where he finished more than five percentage points behind Hillary Clinton, despite hopes a last-minute surge might overtake her. Though many analysts are now predicting Clinton is past the worst threat Sanders posed to her, he admitted to no discouragement.
"We have taken on the political establishment, we have taken on the media establishment, and we are gaining momentum every day," Sanders said. Alluding to Donald Trump's massive victory in the Palmetto State, he said, "If you look at national polls, and you want a candidate who's going to defeat Donald trump, you're looking at him. And there is nothing that would give me greater pleasure than beating Donald Trump."
Sanders mentioned Nevada only in the context of the huge gains his campaign had made on Clinton over a short period of time, nearly winning Iowa, crushing her in New Hampshire, and narrowing the gap in the Silver State.
There were more than 5,000 people at the Bon Secours Wellness Arena, home of the Swamp Rabbits, a minor-league hockey team. That figure is especially impressive because this region is deep Republican red, though the area's several universities seemed to deliver a number of younger, more liberal attendees.
The first thing you notice at a Sanders rally is the kids. Not the college kids, though there are plenty of those. It's the little kids in families: fathers carrying Bernie-buttoned kids on shoulders, mothers shepherding kids who wave handmade signs that suggest either parental involvement or extremely precocious concern about tuition bills. The second thing you notice is the gear. Few candidates inspire such clothing devotion as Sanders.
You also notice the demographic make-up pretty quickly—even in the absence of the questions about African American voters that face the Sanders campaign. Clinton's so-called firewall is built largely of black voters, a group with which she leads Sanders by 30 to 40 points in recent polls. Overall, she leads by more than 20 points in recent South Carolina polls. The Sanders crowd Sunday wasn't as uniformly Caucasian—or as uniformly 20-something—as some accounts might suggest, but it also falls well-short of the 55 percent of Democratic voters who were black in the 2008 primary.
Sanders's campaign is well aware of the gap. In Greenville, the first speaker was Garrett McDaniel, a black county councilman from next-door Laurens County. After him came Ben Jealous, the former NAACP president and one of Sanders's most prominent African American backers. Jealous, in turn, brought out the actor Danny Glover, who delivered a fiery exhortation on Sanders's behalf. In his stump speech, Sanders talks repeatedly about issues of racism—police violence, mass incarceration, unequal arrest rates for marijuana use, and so on. But these causes often come within the context of the economic issues dearest to Sanders's heart.
For all the black faces on stage, however, there still aren't that many in the crowd. Sanders and Jealous also stopped by a black Baptist church in West Columbia earlier in the day, where The New York Times described the response as "muted."
Standing in line to get into the event, I spoke with Ralph Morton, who was anything but muted—he sported a twinkle in his eye and a gray fu-manchu. "Bernie seems to be a cool guy, straightforward and honest. I say burn, Bernie, burn!" he said. "Hillary thought she had a shoo-in. He got under her skin a couple times." Morton discounted Clinton's chances with black voters, noting that she'd let the African American vote escape her once before, in 2008, and drew an analogy with another dynastic candidate who just left the race. "It's just like Jeb Bush thought he was going to be a shoo-in because of past support. He got toasted."
Monteith Phillips, who wore an Assata Shakur t-shirt to the rally, hadn't decided whether he was backing Sanders or not. "I just want to see him," Phillips said, adding that he didn't know how to guess what would happen on Saturday. "It's hard to tell. It's just politics. Anybody can win. It's totally different from last time, when Obama was running."
Unsurprisingly, black Bernie voters tend to sound pretty much the same as white Bernie voters: What matters most to them is not his views on any so-called black issue, but that they see in Sanders a guy who has had a consistent message for decades, is a paragon of honesty, and is looking out for the little guy.
"He seems like a candidate that's for the middle American more than the other candidates," said Anthony W. Rice. "It's not that I'm not a Hillary fan, but she tends to have more of the political rhetoric. She says what she thinks people want to hear. Bernie says what he thinks."
While the Sanders rally was overflowing with enthusiasm, many attendees had more tempered expectations for South Carolina itself. "It's hard to tell," said Nikki Lee, who had brought her children to see Sanders. "People here are a little more close-minded. They hear 'socialist,' and they close their minds to it."
Jonathan Bussey said he felt good about Sanders's chances in the nomination battle overall, but he didn't think there was time for him to introduce himself to South Carolina Democratic voters before Saturday. His friend Shannon Gillespie complained that Sanders wasn't getting enough media attention in the region, especially compared to the wall-to-wall coverage Donald Trump had received from local reporters.
The truth is Sanders doesn't seem that optimistic about his chances here, either. His campaign has been emphasizing Super Tuesday rather than the South Carolina primary, and he is headed out of the state Monday morning. As Sanders likes to point out, he sees his run as a political revolution, and a smart revolutionary leader has to choose his battles carefully.