An Election Rick Santorum Couldn't Win
With voters seeking a fresh face, the 2012 Republican runner-up never had a chance.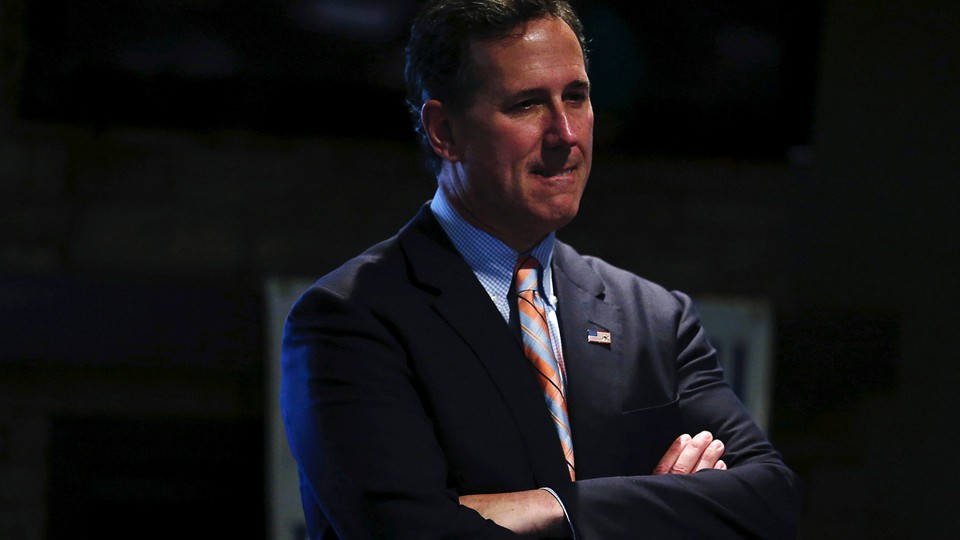 In 2012, Rick Santorum won the Iowa caucuses, the first contest of the presidential primary. Now, just a few days after he barely registered in the 2016 Iowa vote count, he's dropping out of the presidential race.
CNN is reporting that Santorum is expected to make his formal announcement on Wednesday evening.
Santorum ran an old-school campaign in an election year where voters have shown that they are sick of the past and want to look forward to a more hopeful future. The candidate invested heavily in Iowa, promising to glad-hand voters in every corner of the state. It was a strategy that paid off in the past, but proved non-viable amid a primary season in which conventional wisdom has been upended by Donald Trump's White House bid.
Evangelical voters abandoned both Santorum and Mike Huckabee, who won in Iowa in 2008 but dropped out of the race on Monday. Social conservatives instead flocked to Trump and to Ted Cruz, the victor in this year's Iowa vote count. Perhaps that's because voting for Santorum and Huckabee hadn't gotten evangelicals much in the past; despite their early wins in 2008 and 2012, both candidates ran aground as those primaries progressed.
Santorum's lackluster performance in national polls disqualified him from participating in a series of primetime Republican debates. Instead, he was relegated to earlier undercard events, a clear demotion for the one-time Iowa winner.
As it became clear that the support for Santorum simply wasn't there, the candidate followed Trump around in an effort to grab a bit of the spotlight. Santorum appeared alongside Huckabee at a veterans' fundraiser Trump hastily organized in January after a spat with Fox News. He looked uncomfortable as Trump called him up on stage. "I'll stand a little bit over here so I'm not photographed with the Trump sign," Santorum said awkwardly, drawing jeers from the crowd.
Evidence that Santorum was yesterday's news could be found nearly everywhere you looked this primary season. At times, the candidate's angst showed through. "It's very frustrating for a lot of us. But I can't really blame a lot of the media for focusing attention on somebody who's going to make them money," Santorum lamented in Iowa.