Will Republicans Target Trump in Texas?
The chances are dwindling for Ted Cruz or Marco Rubio to knock off the front-runner, but they'll have at least one in the Republican debate Thursday night.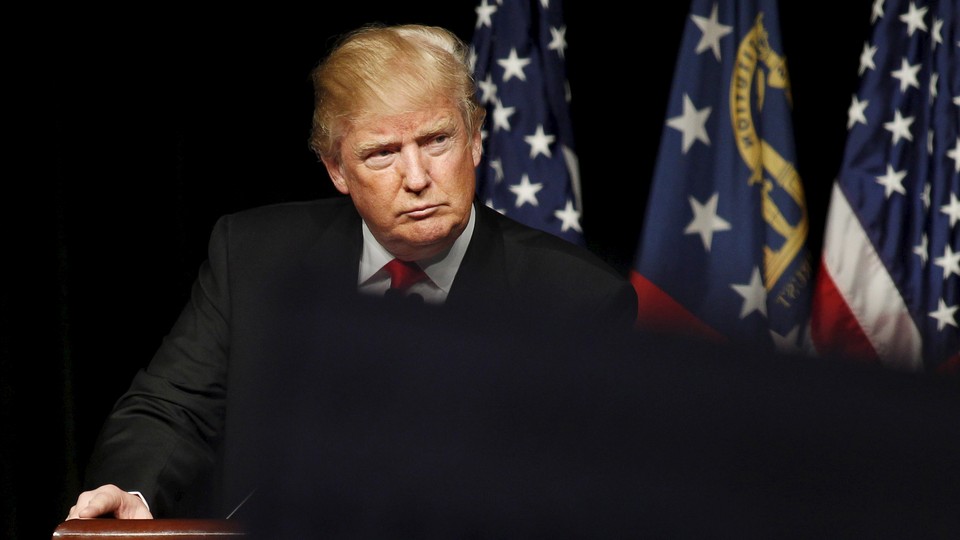 Day by day, week by week, and debate by debate, the chances for Republican presidential contenders to stop Donald Trump's march to the nomination are slipping away. One of their final opportunities could be Thursday night, when the five remaining GOP candidates face off in Texas in the last debate before voters in 12 states cast their ballots on Super Tuesday.
Conventional wisdom would hold that both Marco Rubio and Ted Cruz should have their rhetorical knives out for Trump during Thursday's debate, which CNN is televising beginning at 8:30 p.m. Eastern. Rubio and Cruz have been locked in a tight battle for second place in each of the last two contests, and both need to knock Trump off-kilter to have a chance. Yet when has conventional wisdom actually carried the day in 2016? If past debates are any indication, Rubio and Cruz will expend more energy going after each other than taking on Trump. And to the consternation of the established Republicans who have been so frequently humiliated during this election season, that is precisely what has allowed Trump to pull away from the field.
For those party bosses, what's most frightening about the current state of the race is not merely that Trump has won three of the first four states in commanding fashion. His delegate lead—81 compared to 17 each for Cruz and Rubio—is significant but not insurmountable. It's that Trump  is also leading in a majority of the states that vote on Super Tuesday and many that hold their primaries and caucuses after that. While there has been scant recent polling in a few of the March 1 states, like for the Alaska and Colorado caucuses, the only state where Trump is clearly an underdog is Cruz's home state of Texas (which is probably a win-or-stay-home state for the senator). Republicans opposed to Trump's nomination are waiting for Cruz or Rubio to take him on, but they are busy trying to torch each other instead.
The one Republican who has gotten under The Donald's skin in recent days is none other than Mitt Romney, who has suggested there's a "bombshell" in Trump's tax returns—an odd version of the gambit Harry Reid pulled on Romney in 2012. Trump has responded in his typical style, unleashing a string of tweets attacking Romney as a weak nominee four years ago, and "a dope."
John Kasich and Ben Carson are both wild cards on the debate stage. Neither candidate fared well in Nevada or South Carolina, but nor have they made a habit of going after their rivals much so far. Will that change on Thursday? Carson will likely be pressed on why exactly he is remaining in the race, given his disappointing finishes and reported money problems. Kasich is trying to hang on until Michigan, Ohio, and other Midwest states vote later in March, but he could face attacks from Rubio, who wants him gone so he can consolidate both the money and support of the GOP establishment. As the governor of a crucial swing state, however, Kasich is also a potential running mate for any of the front-runners, and that could mean they more or less ignore him in Houston.
The last GOP debate in South Carolina was a slugfest, with Trump making a risky bet by going hard after George W. Bush on 9/11 and Iraq. Like so many of his previous scuffles, it had no discernible effect on his standing, and he won South Carolina and Nevada easily. Cruz and Rubio have at least one more shot at him on Thursday—if they choose to take it.