The Republicans Rumble in South Carolina
The GOP field is down to six ahead of Saturday's debate in Greenville, as Marco Rubio tries to rebound from his debacle in New Hampshire.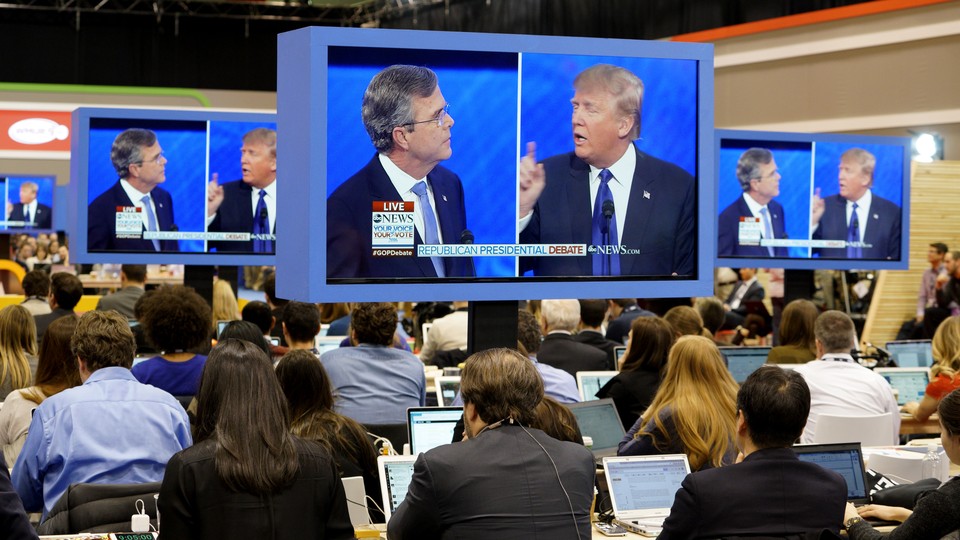 The Republican presidential field gathering in Greenville, South Carolina, on Saturday night is down to six, and it's shrinking fast.
The New Hampshire primary culled another two candidates—Chris Christie and Carly Fiorina— from the race, and chances are that one or more of the hopefuls on stage Thursday night won't make it to the next debate in Houston on February 26. But who's next to go? Barring a big surprise, the winners of Iowa and New Hampshire, Ted Cruz and Donald Trump, should be safe until Super Tuesday at the beginning of March. Ben Carson is struggling to stay afloat as it is. The three candidates in the middle—Jeb Bush, Marco Rubio, and John Kasich—may have the most to lose. (Obligatory Jim Gilmore disclaimer: The former Virginia governor finally suspended his campaign on Friday afternoon after he was not invited to participate in the debate.)
The spotlight in Saturday's 9 p.m. debate in CBS will undoubtedly shine brightest on Rubio. By now, everyone knows what happened to him in the last debate a week ago: He robotically repeated the same talking point about President Obama over and over again, became an instant butt of jokes, and sunk his chances for a strong second-place finish in New Hampshire. Rubio dropped to fifth and vowed that such a debate debacle "will never happen again." The best thing the Florida senator has going for him is that his nemesis, Christie, will not be in South Carolina after suspending his campaign on Wednesday. Expect a self-deprecating joke or two from Rubio, who turned to humor a couple years ago when he was mocked for taking big gulps of water during his speech responding to the State of the Union address in 2013.
At this point, Rubio's chief rival is probably his fellow Floridian, Jeb Bush, who might not have made it out of New Hampshire had Rubio not stumbled. It's conceivable that only one of them will make it past the South Carolina primary on February 20, although the more bunched-up the candidates are, the more likely it is that they'll both press on until March. Both Rubio and Bush have taken aim at Trump this week, and Jeb is bringing in big brother George to campaign for him in the Palmetto State. The occasionally over-candid former Florida governor also admitted to a radio host that a big part of his debate strategy was, "Don't let Trump bully me." Sounds about right.
Kasich could be the wild card in the debate. He put all of his chips on New Hampshire and "won" by finishing second. Yet now he really has to start all over in the rest of the country. South Carolina does not profile as the strongest state for him, and the limited polling that's been done has him in the single digits. He could benefit from the low expectations, however, as he tries to hang in the race until Republicans vote in the big Midwestern states (like Michigan and his home state of Ohio) later in the spring.
As for the two front-runners, their on-again, off-again bromance is decidedly off as the campaign heads to South Carolina. Cruz has been hammering Trump over his support for eminent domain, airing a pair of ads attacking him on the issue. One is a traditional negative ad accusing him of "a pattern of sleaze," while another, more light-hearted spot ends with a group of children destroying a toy house while shouting "eminent domain!" Trump has responded by reviving his questions about Cruz's eligibility to be president, even threatening a lawsuit.
If @TedCruz doesn't clean up his act, stop cheating, & doing negative ads, I have standing to sue him for not being a natural born citizen.

— Donald J. Trump (@realDonaldTrump) February 12, 2016
If that's any indication, Saturday's debate should be as lively as usual.