Obama Sends a 'Progressive Manual' to Congress
Derided by Republicans, the president's final budget proposal is his contribution to the Democratic Party platform of the future.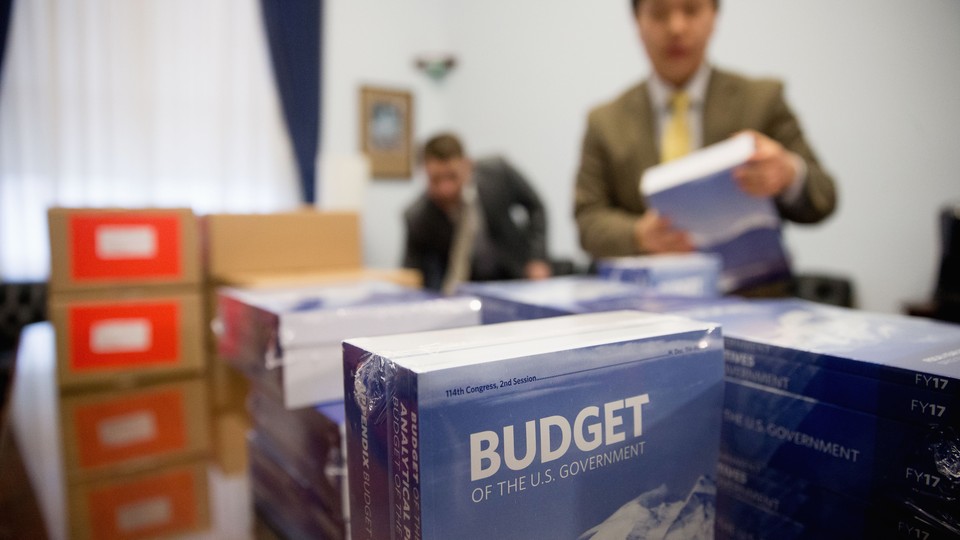 President Obama on Tuesday delivered his $4.1 trillion annual budget proposal to Congress, and he immediately found a startling point of agreement with the top Republican on Capitol Hill.
"President Obama's Budget Is A Progressive Manual," read the title of House Speaker Paul Ryan's statement in response. His aides and allies promptly circulated #progressivemanual as a Twitter hashtag. To which the president's top White House aides probably murmured, "Thanks for noticing."
It wasn't meant as a compliment from Ryan, who went on to criticize the proposal for "growing the government at the expense of hardworking taxpayers." But at least the two parties won't be haggling over the definition of terms. Obama's budget is, on one hand, a traditional opening bid in the annual negotiations over spending, a long wish list of requests that, for the most part, will go unfilled by a Congress controlled by the opposing party. But it is also very much intended as a roadmap for the candidate that Obama hopes will take his place next year. A $10 per-barrel tax on oil companies? More taxes on big banks and the wealthy? A costly new program providing wage insurance to U.S. workers? Comprehensive immigration reform?
Obama knows all of those proposals are "dead on arrival" in an election year—to use another of Ryan's more derisive descriptions of his budget. But as a president freed from the political constraints of seeking re-election or even leading his party in the fall, Obama is making his contribution to the Democratic Party platform of the future. The White House acknowledged as much on Tuesday, even as the president's aides argued that this year's budget proposal wasn't quite as unrealistic as everyone thought.
"It's tempting to adopt the conventional wisdom that a president's final budget isn't relevant, but I think the conventional wisdom is wrong," said Shaun Donovan, Obama's budget director. "With many final-year budgets, you either see an administration dramatically trim its sails and dials back on ambition, or use a budget that is solely a vision document with little that's relevant to the debate. This budget falls into neither of those camps."
With its release coming on the day of the New Hampshire primary, it's a stretch to say the Obama budget was eagerly anticipated. Republican committee chairmen went so far as to decline an invitation for Donovan to formally testify on the proposal—a breach of four decades worth of tradition that Democrats complained demonstrated an astonishing lack of respect for the president.
Yet some parts of Obama's budget stand a decent chance of making it through Congress. Those include proposals to boost spending on cancer research and efforts to prevent opioid addiction, as well as a significant expansion of the government's cybersecurity programs.
The White House also is entering its last dance with Congress in a more confident place than it was a year ago, when it presented a budget just a few months after a Republican sweep in the midterm elections. "The pessimism was well-founded," press secretary Josh Earnest recalled. 2015, however, turned out to be a surprisingly productive year, with Obama signing a bipartisan budget and significant bills on education, infrastructure, trade, and Medicare financing. The administration succeeded in getting Congress to loosen the spending caps from sequestration, and job creation continued at a steady clip. "Most of those were things that Republicans were strongly opposed to—at least things they said they were opposed to," Earnest said. "Our experience last year gives us some optimism about what is possible this year."
Then again, 2015 wasn't an election year. Republican leaders will be lucky to pass a budget of their own that matches the spending levels agreed to last year, much less take action on the few areas ripe for bipartisan legislation. And Obama's budget may turn out to be more relevant a year from now, if Hillary Clinton or Bernie Sanders wins in November. "We may not get bipartisan support," Donovan said of the more "progressive" proposals, "but the president isn't going to shy away from proposing solutions that are both good for our economy and address major challenges that we face. Those proposals may not be enacted this year but they lay the groundwork for reaching solutions in the long run."
Don't tell Paul Ryan, but that sounds an awful like he was describing a manual.