How Obama and U.S. Governors Are Taking on the Opioid Epidemic
The president has announced multiple initiatives in the last year to combat the scourge. Now, governors from both parties want to work together to help their communities.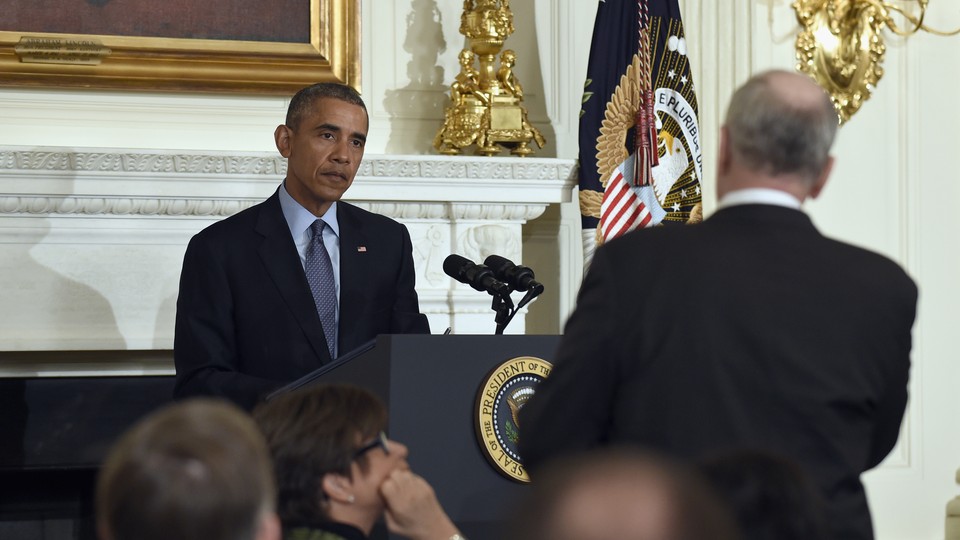 Democratic and Republican governors across the country are moving to quell the nation's still-growing opioid epidemic. And they've got President Obama in their corner.
At a White House meeting Monday with members of the National Governors Association, the president identified two bits of "good news" to be found in the battle against opioid abuse: that the "broader society" thinks a public-health approach—not only one focused on law enforcement—is needed to stanch the bleeding; and that there's bipartisan support around the effort.
"This is an area when I can get agreement from Bernie Sanders and Mitch McConnell," Obama said, identifying senators from two states hit hard by the epidemic, Vermont and Kentucky. "That doesn't happen that often," but "it indicates the severity of the issue."
The president isn't exaggerating when he identifies the strange bedfellows this scourge has created, nor is he embellishing the gravity of the crisis. Efforts to fight the still-growing epidemic are found on both sides of the aisle and at multiple layers of government. It has even been a campaign issue in the 2016 primary cycle, particularly leading up to the contest in New Hampshire, where voters made it a central issue. Over the weekend, the opioid-abuse epidemic "unexpectedly dominated" discussions among governors meeting in Washington, D.C., for their winter convention. The NGA plans to devise "protocols to ensure safer prescribing of opioid pain relievers," according to a report in The New York Times.
When lawmakers and other stakeholders talk about the opioid crisis, they aren't just focused on prescription painkillers, which were cited in more than 70 percent of all drug-overdose-related deaths in 2013, according to the Centers for Disease Control and Prevention. They're also focused on the link between painkillers and heroin, both of which are addictive opioids. Four out of five "new" heroin users turn to the street opiate because they have already abused prescription opiates—and those prescriptions have either dried up or the users' habits have become prohibitively expensive. Obama himself has called prescription painkillers a "gateway to heroin." Rural areas have been hit particularly hard, and the epidemic is mostly affecting white Americans.
In a letter issued Saturday, representatives from the NGA and the American Medical Association wrote that "governors and physicians find it unacceptable that nearly 30,000 Americans die each year" from prescription-painkiller and heroin abuse. They described ways forward to combat the epidemic: long-term education for physicians about addiction; prescription-drug-monitoring programs; an emphasis on treatment; and widespread access to naloxone, a life-saving drug that can reverse the effects of opioid overdose if administered in time.
During the White House meeting, Vermont's Peter Shumlin—who co-led the governors' push to "take action" on the epidemic, according to the Times—spent several minutes identifying the problems and solutions as he and other governors see them. Referencing the NGA's forthcoming protocols, Shumlin asked Obama if he could take steps to limit how many pills doctors can prescribe to a patient after a minor procedure. (These everyday prescriptions, given to dull chronic pain or after outpatient procedures, are at the root of the epidemic.) Obama didn't answer the question specifically, but he identified work by the heads of the Justice and Health and Human Services departments as evidence that his administration is working on this issue at the national level. He emphasized that some steps—including "big push[es]" for improved addiction and mental-health treatment in rural communities—are "most profitably done" with bipartisan backing from governors. Then, "by the time it gets to the national level, there is consensus and there's not a lot of politics involved," Obama said, as if acknowledging how initiatives he leads so often inspire knee-jerk partisanship.
The emphasis on state-level action makes sense on a practical level. Whole communities have been swallowed up in the crisis, and it will need to be combated as diligently by local medical professionals and law enforcement as it is by governors implementing tailored-to-their-state programs. In its 2017 budget proposal, the Obama administration included millions in funds to help the states treat abuse in their jurisdictions. It also included $500 million to, in part, beef up "overdose-prevention strategies" at the state level. The new funding allocations followed on several administration initiatives announced back in October. Those programs aim to improve access to medication-assisted treatment, called MAT, and to require federal agencies to train health-care workers on the proper prescribing of pain medications—efforts the Associated Press has called "relatively modest."
When he was announcing his new initiatives in October, Obama identified race and income as two factors that contribute to how well communities can handle drug problems. On Monday, he took it a step further, implicitly suggesting that bias against certain communities has affected how American society handles addicts. Unlike other drug crises America has seen, the public face of the opioid epidemic is a white one, and the number of high-income Americans affected is growing.
"When it was isolated to certain low-income communities or minority communities, the tendency was [that] jail was a sufficient deterrent or approach," Obama said, in a nod to the role he believes criminal-justice reform plays in helping addicts. But "as it has affected a broader and broader cross section of America, people start realizing [that] this is a complicated problem. There has to be a law enforcement element, but there also has to be a public health element to it."