Obama's Last Guantanamo Pitch to Congress
The president has outlined his plan for closing the U.S. military prison for suspected terrorists.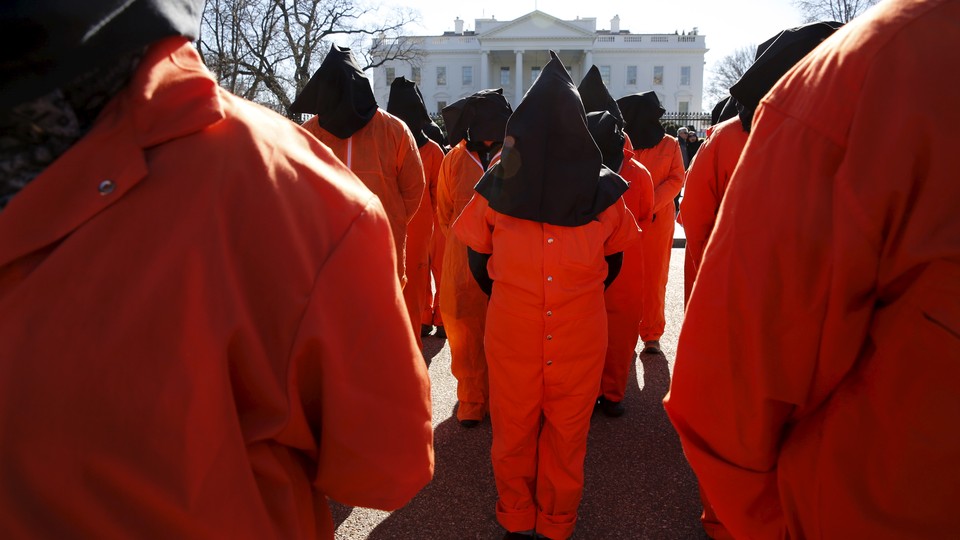 Updated on February 23 at 11:26 a.m. EST
In his first week as president, Barack Obama ordered his new administration to close Guantanamo Bay, the prison whose operation he once described as a "a sad chapter in history." Now, with a few months left in office, Obama is making one of his final attempts to convince Congress to close the book on the facility for good.
"For many years, it's been clear that the detention facility at Guantanamo Bay does not advance our national security," Obama said Tuesday in remarks from the White House. "It undermines it."
Obama on Tuesday sent Congress a plan outlining the closure of the prison in Cuba, established in January 2002 to house suspected foreign terrorists detained in the war on terrorism. According to a New York Times database, there are 91 detainees remaining at Guantanamo. Of the roughly 780 people who have been detained there, 680 have been returned to their home countries or resettled in countries that were willing to take them—in all, 57 nations. The majority have gone to Afghanistan and Saudi Arabia. Last month, the prisoner population dipped below 100 for the first time since the facility opened.
Obama said he wants that number to reach 60 or fewer in the coming months. He proposed transferring detainees to a detention site in the United States, but did not name a particular location.
Current law prohibits the use of government funds to transfer prisoners to American soil and the construction of facilities to house them, and the Republican-controlled Congress has shown no interest in relenting on the matter. While Obama has an ally in former presidential rival Senator John McCain, who has long called for the closure of Guantanamo, congressional leaders have vowed to keep the prison open. Days after taking office last fall, House Speaker Paul Ryan said Guantanamo prisoners should remain there, and Senate Majority Leader Mitch McConnell last month called Guantanamo "the perfect place for terrorists."​ The most recent polling on public sentiment on Guantanamo, from 2014, shows most Americans don't want the prison to close.
The administration has hoped that as the prisoner population dwindles, the annual cost to taxpayers of maintaining a facility built to house hundreds—which in 2013, was $454 million—would convince lawmakers that keeping it open isn't worth it. Indeed, the remaining prisoners at Guantanamo are outnumbered by the 2,000 or so guards and prison staff at the facility, according to The Miami Herald. Obama's proposal calls for housing detainees in a U.S. facility that would require up to $475 million in construction costs and would save as much as $180 million per year in operating costs, according to the Associated Press.
Obama said Tuesday that for the American public, "the notion of having terrorists held in the United States rather than in some distant place can be scary." But, he said, "we're already holding a bunch of really dangerous terrorists here in the United States … we've managed it just fine." Federal prisons currently hold several hundred inmates convicted of domestic and international terrorism, including Richard Reid, the convicted shoe bomber, and Faisal Shahzad, the convicted Times Square plotter.
The plan met a provision in the current National Defense Authorization Act, approved in November, which directed the administration to send lawmakers within 90 days a "comprehensive strategy" for holding current and future detainees. The defense legislation also imposed new restrictions on transfers to countries whose security situations are considered unstable to accept former suspected terrorists, including Libya, Syria, Yemen and Somalia.
Of the prisoners remaining at Guantanamo, 35 have been cleared for release, deemed to no longer be a threat to national security. Obama said his administration will accelerate the review process for the others, and improve the military commissions system, the legal process by which several detainees have been tried.
Last year, the Pentagon scouted federal prisons in Fort Leavenworth, Kansas, and Charleston, South Carolina, as well as state and federal facilities in Florence, Colorado, as potential sites to house detainees.
To his Republican critics, Obama pointed that more than 500 detainees were removed from Guantanamo under the previous administration. In 2006, President George W. Bush said he wanted to close the facility.
Mac Thornberry, the Texas Republican who chairs the House Armed Services Committee, has said his panel would hold a hearing on a closure plan. Some Republican lawmakers feel Obama will act unilaterally to close the prison in the coming months as the president enters legacy mode, trying to check off the boxes on his list of campaign promises. The administration has taken minimal pains to assuage those concerns, and Obama may have stoked them Tuesday when he vowed to keep making his case to Congress.
"The fact that I'm no longer running, Joe [Biden] is no longer running, we're not on the ballot—it gives us the capacity to not have to worry about the politics," he said.
But legacy mode is a busy season. The closure plan faces stiff competition for attention with the debate over the nomination of a Supreme Court justice and the presidential race, where Republican frontrunners have suggested adding prisoners to Guantanamo, not emptying it.