Just How Ubiquitous Are Campaign Ads?
At the peak of caucus fever, Iowans saw a political TV ad every 45 seconds. Why is it quieter in New Hampshire?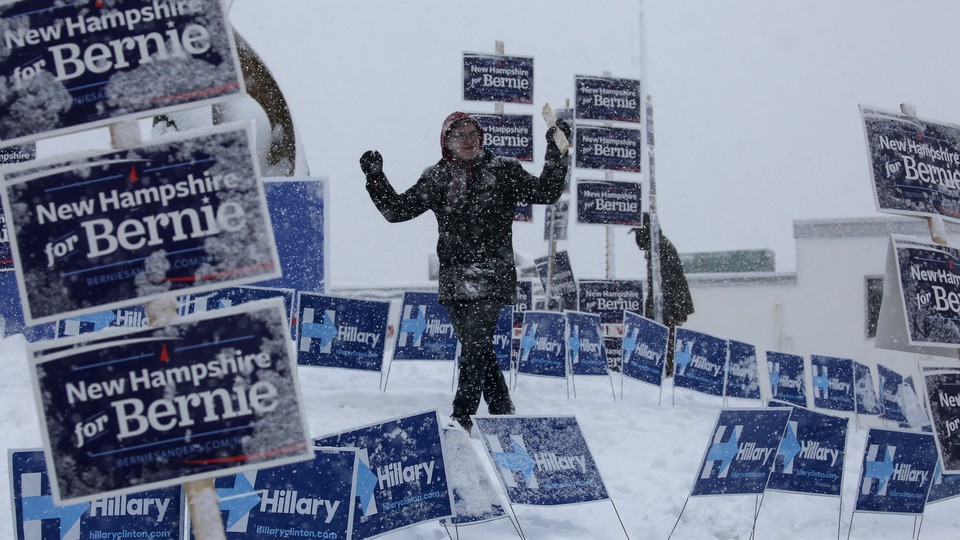 If someone ran a nationwide favorability poll—and tis the season to do so—I'm guessing political ads would probably rate below actual politicians. They may be the most nakedly manipulative form of advertising in existence (with the possible exception of perfume commercials, which I've always assumed are secretly relaying government orders to my subconscious).
No one understands this better than Iowans, who for months were force-fed a monotonous diet of flag-waving, baby-kissing, and veteran-hugging, and who were allowed only a few cut-ins from their usual friends at local car dealerships.
The Republican field is far wider than expected, a fleet of super PACs has millions to burn, and Hillary Clinton actually has competition: All that has led to a deluge of political ad buys that will likely make history. Some reports say total television spending alone will hit $4.4 billion in 2016. To put that in perspective, the entire cost of the 2012 campaign cycle —ads, travel, salaries, you  name it—was around $7 billion.
In Iowa, that sometimes resulted in absurdity. According to records gathered by the Political TV Ad Archive, a Knight Foundation-funded project that algorithmically tracks advertisements as they air across battleground states, political commercials aired at nearly comedic levels in the days before the Democratic and Republican caucuses.
In Iowa's final week, a whopping 11,000 ads aired on 12 stations. On Friday, January 29, the most saturated day recorded, a political ad aired every 45 seconds. Here's what an Iowan's television would have looked like on that day around 11 p.m, as candidates fought to fill airtime during late-night shows:
"It was beyond what we expected," said Dale Woods, the general manager of WHO-HD Channel 13 in Des Moines, which aired thousands of ads. "We never expected 15 candidates to be on the Republican side. That was a surprise of the whole campaign for us."
His staff has earned a well-deserved rest. But while the candidates have since surged into New Hampshire, the ad volume hasn't followed. In the final week before the caucuses, Iowa television stations routinely aired 100 to 150 ads a day, with some reaching as high as 250. In New Hampshire, only one broadcaster has aired more than 100 in one day.
Yes, that's still a lot. And yet, more than a few candidates—Jeb Bush, John Kasich, Chris Christie—have staked their campaigns on performing well in moderate New Hampshire. So why not match Iowa?
Part of it could be the maddening inconvenience of the New Hampshire television market, which doesn't really exist. Only one network affiliate, ABC's WMUR, is geographically based there. Many residents get their news from the Boston stations or from Burlington, Vermont.
And the Boston stations are notoriously expensive, a big concern for super PACs, which don't get a candidate's preferential rate. So while campaigns and their allies have already spent $100 million on New Hampshire, they've gotten far less bang for their buck.
"You just get a lot of waste there," said Nick Stapleton, research director at Smart Media Group, a media-buying and intelligence firm in Alexandria, Virginia. "You're hitting all kinds of people that aren't going to be voting in New Hampshire. It's kind of a necessary evil."
Despite their ubiquity, tracking campaign commercials is hard. By law, television stations must file reports listing campaign ad buys, but this paperwork varies in specificity and often surfaces as crudely scanned PDFs.
Enter the Political TV Ad Archive. Using each ad's "audio fingerprint," the project digitally monitors broadcasts and records airtimes. Since December, the project has recorded more than 75,000 commercial airings in 22 television markets.
Its numbers aren't foolproof. While the archive has nearly all of Iowa covered, it isn't monitoring Vermont or Maine, which make up a portion of the New Hampshire ad buys. And the archive only began keeping records in December, with some stations coming online more recently. As more ads are fed into the algorithm, past numbers will almost certainly increase as the code combs backward in time for commercials.
But their numbers are solid enough to show that Iowa, the unshakeable first test for a candidate, could very well be the biggest advertising spectacle of 2016. And if it's not—well, those people have my sympathy.