Nevada's Coveted Latino Voters
Bernie Sanders and Hillary Clinton are vying for the support of young minority voters in the final days ahead of the caucus.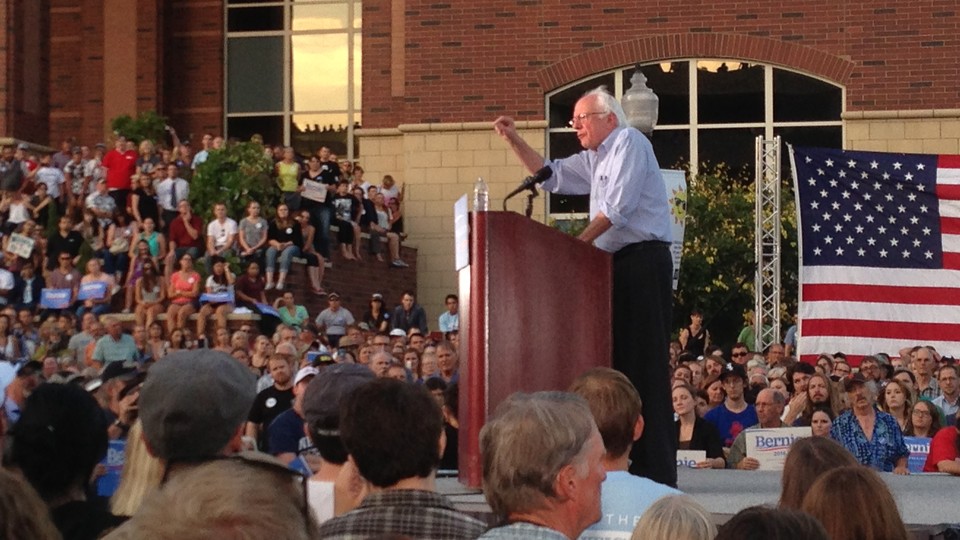 RENO, Nevada—Young Latinos in this college town could help decide the way their state swings in the Democratic caucus. But exactly who they will choose to support remains unclear, which has made the University of Nevada at Reno a stop for both the Hillary Clinton and Bernie Sanders campaigns.
"I feel like we're very lucky," says Alejandra Hernandez Chavez, a 22-year-old student. "Because we're a swing state, county, and city, we kind of get all that attention."
Although young voters in the first primary states of Iowa and New Hampshire overwhelmingly backed Sanders, less than 5 percent were Latino. Nevada marks the first contest that involves a swing state with a sizeable Latino voting population; Latinos represent a little more than a quarter of the state's population, and about 17 percent of its eligible voters, up from around 5 percent in 1994.
One recent national survey suggests that Latinos support Hillary Clinton, which is in line with how they voted in 2008. That year, Latinos of all ages selected Clinton over Barack Obama. Those under 29 cast votes for Clinton 62 to 37 percent, while their white and black counterparts were more likely to back Obama.
Will that pattern play out again this year, too? Or does Sanders have enough momentum to siphon some of their support? There is very little polling on Nevadans in this election (where it exists, Clinton is ahead of Sanders).
Jannet Roman, the 22-year-old head of the university's Latino Student Advisory Board, expresses views more in line with other young people than with the broader Latino community. She personally will be backing Sanders because of his "progressive" ideas on reproductive rights and immigration reform. Jackeline Durón, 23, agrees. "He's been consistent," she says, "on civil rights, tackling economic inequality, protecting women's rights, and LGBT rights." But Hernandez Chavez seems to be leaning toward Clinton, in part because her mother is inspired by the candidate. "Sanders looks great," she says, "but you have to think about, is he going to appeal to our swing voters, our undecideds."
Who these voters, and Latinos more broadly, decide to back may come down to which campaign knocks on the most doors.
"Grassroots efforts really matter in Nevada because it's still a relatively small state," says Eric Herzik, the chair of the university's political science department.
Sanders held a widely attended rally on campus and will be back later this week, but Clinton has had an operation up and running for longer, drawing in part on the networks she developed in 2008. Hernandez Chavez has volunteered at Clinton's Reno office, making phone calls to fellow Spanish speakers. But the more time candidates spend courting Latinos, the more room there is for error.
"I think locally they do great," Hernandez Chavez says of the Clinton camp. "But I think at the national level, outreach to Latinos is a disaster."
Clinton's attempt to appeal to young Latinos with her "7 things Hillary Clinton has in common with your abuela" post rubbed Durón the wrong way. Clinton, a wealthy white woman in a position of power, Durón argues, cannot possibly know what it's like to be an immigrant struggling to support her family.
"I think she's taking voters of color for granted because she thinks she has them in the bag," she says. And Durón is quick to point toward Clinton's changing views on gay marriage as a sign that she is pandering to her audience. She is less swayed by the idea that the shift, as Clinton has argued, reflects an evolution of her opinion.
The divide among so-called DREAMers--young undocumented immigrants eligible for the Obama administration's deferred-action program--also hints at the broader tension among young Latinos. Several in Nevada recently announced they would back Clinton, drawing criticism from Erika Andiola, a nationally prominent DREAMer who is part of the Sanders team. Hernandez Chavez acknowledges that she feels "weird pressure being a millennial and not instantly supporting Bernie Sanders."
What will matter most for both Clinton and Sanders is how many people actually turn out. Roman's group has participated in caucus trainings to encourage members to register to vote and weigh in. But Latinos in general, and particularly young Latinos, vote at lower rates than their white and black peers. While more than 60 percent of white and black millennial eligible voters say they are registered, according to the Pew Research Center, just 50 percent of Latino millennial eligible voters say the same.
Eligibility is a factor that will also give non-Latinos an edge. Just 42 percent of the state's Latino residents are eligible to vote, while more than 80 percent of its white residents can cast ballots.
Still, Latinos made up about 15 percent of caucus goers in 2008, a figure that is high enough to make a real difference in a closely contested race. And Latino voters are young. According to Pew, 44 percent of eligible Latino voters in Nevada are millennial, which, if Roman and Durón are any indication, could make Sanders competitive.