How the Mortgage Crisis Affects Nevada's Caucuses
All eyes will be be on how the state's Latino population votes. But the lasting effects of the financial collapse may be a bigger factor than expected.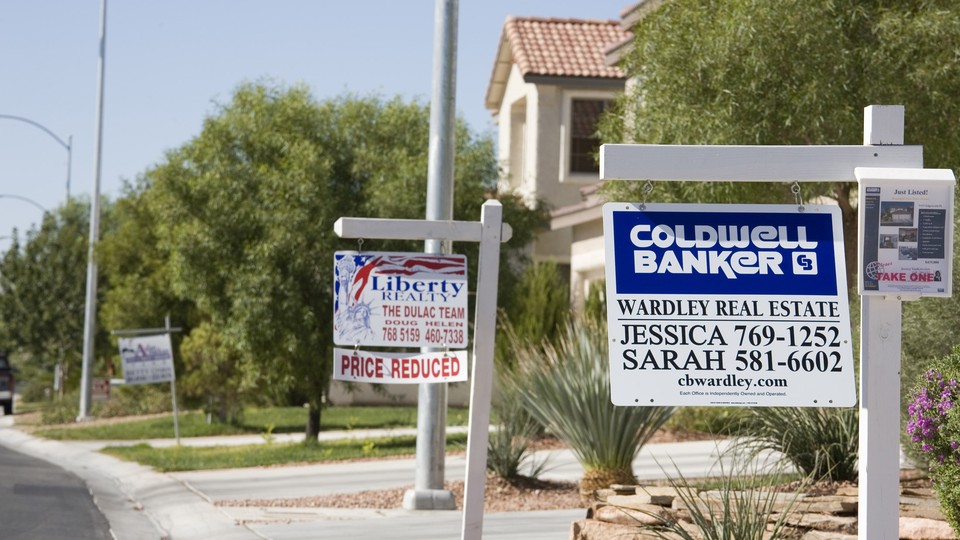 Early primary states are like Judy Garland, John Wayne, and Zach Galifianakis: They're typecast. They have their roles, and campaigns and political media tend to stick to them. In Iowa, you find out how a candidate fares with evangelicals. In New Hampshire, moderates. In South Carolina, African Americans. And in Nevada, as of late: Latinos.
But while all of these states are evolving—how about Donald Trump and those New Hampshire moderates?—nowhere has the narrative shifted more than Nevada.
OK, that may be putting it a bit strongly. Nevada is the first primary state with a sizable Latino population, which accounts for 17.2 percent of voters there. Compare that to between 2 and 3 percent in Iowa, New Hampshire, and South Carolina; no other state comes close until after Super Tuesday. Candidates know this well and target accordingly; see Hillary Clinton's latest campaign video for proof.
But Nevada has another distinction: It was one of the states hardest hit by the subprime-mortgage foreclosure crisis, a continuing concern that's left a mark on the housing market as big as the Las Vegas Strip.
Eight years after the Great Recession, the state's foreclosure rate is still more than twice the U.S. average. More than a fifth of Las Vegas-area homeowners are underwater, meaning they owe more on their mortgages than their homes are worth. And Nevada's 6.4 percent unemployment rate ranks it 47th out of the 50 states, quite a ways from New Hampshire (4) or Iowa (6).
All this would seem to favor Bernie Sanders, or perhaps Donald Trump, who have centered their campaigns on messages of economic justice and reclaimed greatness, respectively. Both messages would certainly be well-received in Nevada.
But while the present housing market will spark a stump speech or two, the financial collapse has cost campaigns dearly in different way: It forced a lot of people out of their homes, and campaigns don't know where they've landed.
Between 2003 and 2008, hundreds of thousands of people moved to Nevada, as the state's population ballooned. During those years, the state saw a net increase of 220,000 people, even after accounting for folks who moved out.
Then the bubble burst. Over the next five years, Nevada had a net increase of only 3,000 people, which sounds bad enough. Then consider that 100,000 people left during that time, according to the American Community Survey, and it sounds even worse.
To this day, Nevada has some of the highest housing turnover in the country, with nearly 20 percent of residents reporting they moved in the past year. This roiling population wreaks havoc with campaigns, which rely on dependable voter lists to coordinate canvassing.
Jorge Neri, Hillary Clinton's organizing director in Nevada, said as much in an interview recently with Reuters:
Clinton staffers first arrived in Nevada last April, campaign officials said, targeting the state early because it has the third nominating contest in the presidential race for the Democrats.

But because so much of the file was out of date, the Clinton campaign had to work harder just to find voters and make sure their information was correct. Door knocking, for example, was often much more time consuming: People listed at certain addresses might have moved, requiring volunteers to engage with new residents from scratch and, perhaps, find out where the previous occupants had gone.

…

The problem complicated normal operations, Neri said. "Had we had cleaner lists, had we had not such a transient population, we would be focused more on the volunteer recruitment," he said.
Housing turnover can also affect polls, which often use voter files to predict turnout. Indeed, few outfits have fielded polls in Nevada compared to South Carolina, though both have contests on the same day.
The Silver State is in no danger of losing its status as the bellwether of the Hispanic vote. That's its role. But behind the scenes, the financial collapse may play more than a bit part in the outcomes of its caucuses.