What Makes Nevada's Caucuses Distinctive?
The most recent addition to the roster of early voting states is establishing its own electoral identity.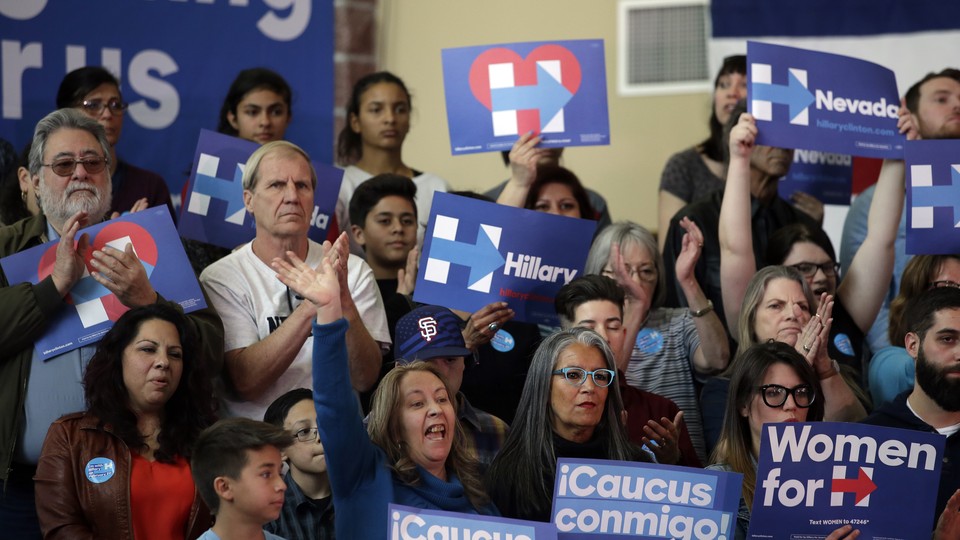 Iowa has cornfields and must-get evangelicals. New Hampshire has erratic independents and teeny towns casting midnight ballots. South Carolina has infamously down-in-the-dirt politicking. Nevada has … Vegas?
The reputations of some early primary states are firmly established. But Nevada, whose Democratic caucuses will be held on Saturday, hasn't yet developed a full identity. Nevada isn't a make-or-break contest for Bernie Sanders or Hillary Clinton, but the state's distinctive composition could provide clues as to how other states' voters will lean.
Nevada became an early voting state when both Democrats and Republicans decided to bump up their contests ahead of the 2008 election. This year, the caucuses in Nevada are the third contest for the Democrats and the fourth for Republicans, who are competing in South Carolina on Saturday. Proponents of the schedule shift argued that Nevada is more representative of the country than Iowa and New Hampshire, the states that always vote first. Jon Ralston, a veteran Nevada journalist and political observer, told PBS NewsHour's Judy Woodruff in 2007 that the state's voters aren't as used to politics as those in Iowa and New Hampshire, and candidates can't use identical approaches. "Las Vegas is not like Concord or Des Moines. It's a very diverse, different urban environment," he said. "You can't go and have a cup of coffee with people here at the little coffee shop. You have to do it in a much different way."
The argument that Nevada is more representative of the country as a whole is rooted in its demographic makeup, which is more diverse than overwhelmingly white Iowa and New Hampshire, or South Carolina, with its mostly black and white voters. The pie of eligible voters looks like this, according to 2014 data from the Pew Research Center: 62 percent white, 17 percent Hispanic, 9 percent black, and 7 percent Asian American. Clinton has typically seen support among African American and Hispanic voters— potentially giving her a leg up over Sanders and his white base—though her campaign last week tried to lower expectations. (In a statement Clinton herself criticized, a staffer suggested Sanders could do well in Nevada because it's "nearly 80 percent white.") As my colleague Emily DeRuy reported earlier this week, young Latino voters in particular represent a crucial target for the Democrats in Nevada. The state's fast-growing Asian American population—it's doubled since 2000—is also a focus of the Democratic campaigns. According to a recent Associated Press report, "as Nevada's caucuses draw closer there's been a surge in activity aimed at attracting Asian voters," with the Clinton campaign performing "the most sustained outreach."
Figuring out who'll show up to vote in Nevada is a challenge for campaigns and pollsters alike. The contest is closed—so only registered Democrats and Republicans can caucus—but that doesn't mean turnout and voter preferences are easy to predict. Not only do caucus voters often make voting decisions at the last minute, but they can utilize same-day registration. And as the Los Angeles Times reports, 17-year-old Nevadans whose birthdays fall between the caucuses and the general election are allowed to participate in the caucuses. "For a campaign like Sanders', powered in part by the energy of young, first-time voters, that's a good thing." Yet Sanders's campaign could also find it challenging to appeal to the state's typically more moderate voters.
Nevada is so tricky to survey that many pollsters don't even try. (Don't believe it? A quick glance at RealClearPolitics shows the lack of polling on both Democrat and Republican candidates.) Aside from the difficulties the caucus system presents, surveying in Nevada can be pricey, because the large Hispanic population means polls should be conducted in English and Spanish, the Las Vegas Sun reports. There's no university poll surveying the state, as in other early-primary states like South Carolina. And the composition of the state's electorate makes it hard to gauge. Here's the Sun:
[I]t's also difficult for pollsters to guess the demographics of those who turn out. Not only does Nevada have a diverse population, but a transitory one, too. Young voters, or those who are new to the state, may not make it through the screening process for likely voters, said David Damore, UNLV political science professor, adding that polls in Nevada tend to skew older and more Republican.

"It's a very challenging environment for Nevada," Damore said. "It's a microcosm of all the issues that are facing the polling industry."
Nevada's geography presents quirks as well. More than 70 percent of the state's residents live in Clark County, home to Las Vegas, which gives the interests of these urban, service-industry-oriented voters particular weight. Indeed, Nevada's contest represents the first time urban voters will be given a voice in the Democratic race. Boston's WBUR recently wrote that the "path to victory in Nevada's Democratic caucuses this Saturday goes straight down Las Vegas Boulevard." As in 2008, caucus sites are being set up directly on the Strip at a handful of casinos: the Rio, Paris Las Vegas, Caesars Palace, Wynn Las Vegas, Harrah's, and New York-New York. The Culinary Union, often described in news reports as singularly "powerful," backed President Obama in 2008 and hasn't endorsed a candidate this cycle. It's working on get-out-the-vote efforts among its 57,000 members, most of whom work in the Las Vegas area and Reno. The union describes itself as the "largest immigration organization" in the state and touts the high percentage of women and Latino members it represents (55 percent and 56 percent, respectively).
As crucial as these Sin City-area voters are, they're not the only ones to whom the Democratic campaigns must pay attention. Though Democratic voters aren't as common in the state's more rural areas, those counties have disproportionately high delegate counts—and in 2008, Obama won more Nevada delegates than Clinton because he had more support in the hinterlands.
Part of the rational for bumping up Nevada's place in the primary calendar was its location, as Nevada can stand in for other western states and make sure their interests are represented relatively early in the campaign cycle. The son of Senate Minority Leader Harry Reid, who was Clinton's Nevada state chairman the last time she ran, said in 2007 that some issues are "transcendent in the West—water, public resources, public land. ... As political messages are developed here, those messages will be used throughout the primaries and general elections." Ralston echoed similar sentiments in his 2007 interview with Woodruff, but maintained that Nevadans' concerns reflect those of the rest of the country, too: health care, Iraq, and the economy. Eight years later, those concerns probably haven't changed much, as Obamacare, the Islamic State, and wage stagnation are fresh in voters' minds.
In many ways, Nevada's landscape couldn't seem more different than, say, Iowa's. But beyond their shared caucus system, the two states have another quality in common—and it could make a difference this Saturday. Both states use bizarre methods to break ties in their Democratic contests. In Iowa, that's done by a coin toss, that most conventional tie-breaking tactic. Nevada's method has more style: In a tie, the winning candidate is the one whose supporters draw the highest card from a freshly shuffled deck. "And aces," the state party wrote in a memo, "are high."
---
Related Videos