Why Mike Huckabee Lost in 2016
The GOP presidential contender had little to offer voters desperate for something new.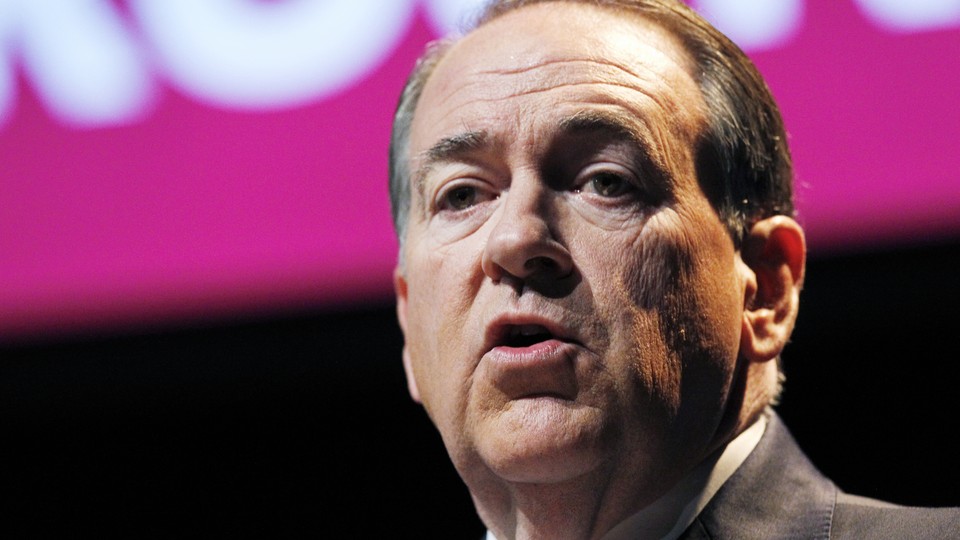 Mike Huckabee, the Republican presidential candidate who once claimed victory in Iowa, dropped out of the 2016 race on Monday night after failing to gain traction in the first-in-the-nation nominating contest.
The presidential contender had hoped to replicate past success. Instead, Huckabee seemed washed up in an election where voters are desperate for something different. Sure, Huckabee could point to his 2008 Iowa caucus win, made possible by strong support from evangelical voters, as potential evidence of viability. But why would Christian conservatives, or Republican caucus-goers in general, throw their weight behind a candidate who won Iowa and then failed to win the White House? Voters weren't willing to give the GOP contender a second chance in 2016. After barely registering in the Iowa vote count, the former Arkansas governor took to Twitter to exit the race. The message was brief: "I am officially suspending my campaign. Thank you for all your loyal support."
For some prominent evangelicals, defecting from Huckabee was strategic. When Liberty University president Jerry Falwell Jr. endorsed Donald Trump in January, he signaled that the old formula for picking elected officials hasn't worked for Christian conservatives. "For decades, conservatives and evangelicals have chosen the political candidates who have told us what we want to hear on social, religious, and political issues, only to be betrayed by those same candidates after they were elected," Falwell said. At one time, Falwell had been willing to throw his weight behind Huckabee. He proudly endorsed the candidate, an ordained Southern Baptist minister, in 2007. But this time around, Huckabee looked like part of that old, failed formula, and voters rejected him as a result.
Huckabee suffered indignity after indignity as it became clear that 2016 was not his race. Evangelical leaders defected from the candidate they once supported. There was Falwell. Then there was Bob Vander Plaats, president of the social-conservative organization The Family Leader, who endorsed Ted Cruz, despite having chaired Huckabee's Iowa campaign in 2008. Meanwhile, Huckabee was reduced to trailing Trump in a last-ditch effort to win attention. After failing to qualify for the GOP primetime debate last week, he showed up along with fellow GOP candidate and previous Iowa caucus winner Rick Santorum at a veterans' fundraiser Trump hastily organized after a spat with Fox News. The candidates looked ill at ease when Trump called them up on stage. At one point, the crowd erupted into cries of of "U-S-A, U-S-A." Huckabee waited for the raucous cheers to die down before saying: "In my mind, I was hearing you say, 'Go, Huck, go.'" The crowd laughed at the idea.
Huckabee didn't have the national profile or political relevancy of Trump, a former reality-television star, or Cruz, a sitting senator. That also proved to be a problem in 2016, which quickly became a national race. The election season has so far been shaped by national cable news coverage and polling. Huckabee's failure to deliver a strong performance in national polls amid a crowded GOP field pushed him off the prime-time GOP debate stage as primary season dragged on, relegating him to a series of events derided as "kids' table" debates.
At times, Huckabee seemed unable to hide his dissatisfaction with the turn the race had taken. "I think some people drained the water from the pool after we jumped in," Huckabee joked to National Review last month. The terrain that the candidate once claimed victory on shifted in 2016. In the end, Huckabee failed to gain a foothold.