Claire McCaskill's Cancer Diagnosis
While Congress makes a "moonshot" effort to fund new research on the disease, the Missouri senator will be working through her own health problems.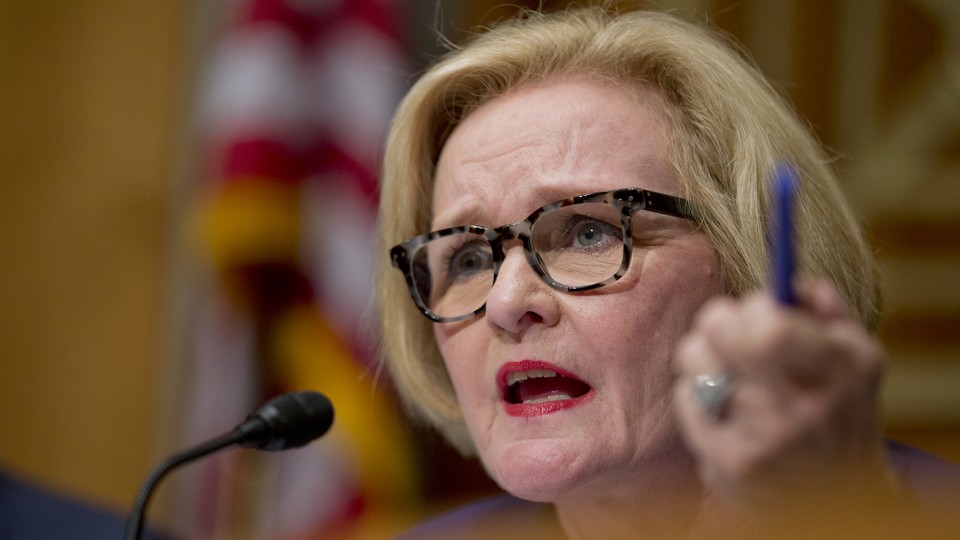 The U.S. Congress has grappled, on an unprecedented level lately, with the question of how best to fight cancer. Lawmakers have debated how the federal government should fund medical research, and Vice President Joe Biden has been in their ears promoting his "moonshot" to end the disease. Now, one of their own announced Monday that she was recently diagnosed with breast cancer: Missouri Senator Claire McCaskill.
In a short afternoon post on the social network Tumblr, McCaskill wrote that she will be in St. Louis for the next three weeks getting treatment. "It was detected through a regular mammogram," the two-term senator wrote. "It's a little scary, but my prognosis is good and I expect a full recovery."
McCaskill herself has supported breast-cancer-related legislation. She was one of more than 20 senators to cosponsor the Breast Density and Mammography Reporting Act of 2015, which would "require breast density reporting to physicians and patients by facilities that perform mammograms." Breast density can "mask" cancer during screenings, and if patients have access to density reports, they can follow up with their doctors and figure out if they need more tests.
That legislation wasn't the only occasion lawmakers took to unite around combating cancer in 2015. Last year saw a renewed, bipartisan push to fund medical research. Congressional appropriators allocated the biggest funding bump for the National Institutes of Health in more than a decade in the 2016 omnibus spending package, and in the House, members overwhelmingly supported the 21st Century Cures Act, which would increase funding for and remove barriers to research, on a bipartisan basis.
The vice president has had a big impact in this area as well. When he announced in the fall that he wouldn't be running for president, Biden launched a "moonshot" effort to ramp up work into fighting cancer, and he and his staff have been holding meetings with stakeholders to figure out where investments can best be made. His efforts followed the death of his son Beau Biden from brain cancer in the summer. At a visit to Duke Cancer Institute earlier this month, Biden suggested he could "marshal federal government resources and use his office to bring together disparate parties," my colleague David Graham reported at the time. During last year's omnibus negotiations, he lobbied appropriators to give the NIH more money. President Obama's 2017 budget includes dedicated funding for the "moonshot" as well, though some advocates are worried about the overall funding levels for research and how the president plans to pay for initiatives like Biden's project.
Lawmakers have been so dedicated recently to medical-research issues, in part, due to their own firsthand experiences: Beyond personal diagnoses like McCaskill's, lawmakers have family members, friends, and constituents who are affected by disease. One research advocate told me late last year that lawmakers have been affected by "the steady drumbeat of loss of life." Illnesses like cancer have no partisan affiliation, and while fighting them might involve, say, squabbles over how best to fund research, the merit of fighting them in the first place isn't up for debate.