Liz Cheney Makes Nice
The former vice president's daughter is taking a second shot at Wyoming politics after a disastrous Senate run left her branded a carpetbagger. Why her campaign for the House might have better luck.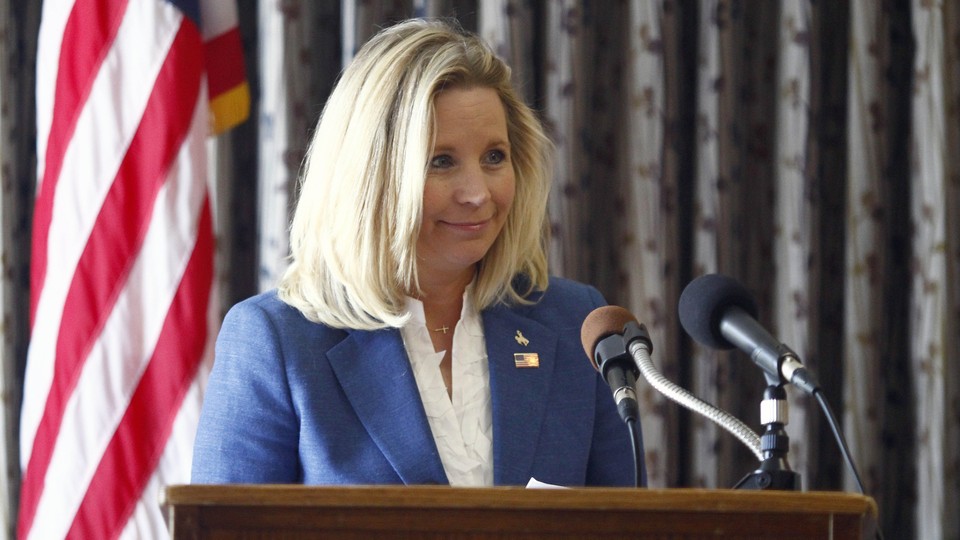 Just when you thought this political season could not get any more thrilling, the race to replace retiring Representative Cynthia Lummis as Wyoming's lone House member has gone from DKDC to OMG. That's right: Liz Cheney has announced her return to elective politics.
Former Vice President Dick Cheney's elder daughter, current standard-bearer for perhaps the most provocative brand in politics, is once more casting her eyes toward Capitol Hill. Having learned a thing or two from her short but bitterly divisive Senate run against Mike Enzi in 2013, this time around Cheney is not looking to oust a well-liked Republican incumbent. But that doesn't mean the race for this safely Republican seat will lack drama. The Cheneys rarely open their mouths without a bit of controversy tumbling out. And according to those on the ground in Wyoming, not all the scars have healed from Liz Cheney's last rodeo.
Definitely look for this campaign to generate less intraparty—not to mention familial—friction than her Senate candidacy. How could it possibly compare? In six short months, Cheney's challenge to Enzi managed to tick off an impressive array of Republicans in both Washington and Wyoming. Despite the allure of the Cheney family fund-raising machine, multiple party officials and activists stepped up to delicately suggest that Liz was behaving just the teensiest bit like an entitled princess. Particularly memorable that September was the public clash with the Cheney clan's pal former-Senator Alan Simpson, who at one point was repeatedly told to "shut up" by Liz's mom, Lynne.
Juicier still was the sibling smackdown between Liz and her sister, Mary, that went prime time in November. A married lesbian, Mary took umbrage at Liz's vocal opposition to marriage equality. Public remonstrations were exchanged, including harsh Facebook posts by Mary and her wife, Heather Poe. The next thing you know, the sisters weren't speaking, and the Cheney family holidays were a bust.
Three years on, marriage equality isn't the hot topic it once was. With Liz Cheney targeting an open seat—once held by her dad, adorably enough—party officials aren't in such an awkward spot. Back in Wyoming, she has spent the past couple of years working the political dinner circuit and making nice. Al Simpson is back in the family fold. (Lynne was reportedly the last to crack.) And a House run seems, in general, less uppity than gunning straight for the Senate.
That said, word out of Wyoming is that plenty of folks still bear a grudge. "The political establishment hates her guts," says one local reporter. "I don't have enough hours in the day to listen to people talk to me off the record about how much they hate her." It's not Cheney's policies, clarifies the reporter, so much as "the whole carpetbagger thing."
Indeed, while Cheney likes to talk about how she's a "fourth-generation Wyomingite," she lived in the state only a few years as a child before buying a house there in 2012. Shortly after Cheney's Senate announcement in July 2013, Representative Lummis herself mused to reporters, "It is a unique strategy to live your entire life elsewhere and then come to a state a year before you're going to announce you're going to run for that state's highest office."
"For her to come back to Wyoming because it serves her more than it serves us—I think that's the feeling she has to overcome," says a former elected official (Republican, of course) with decades on the state political scene. It was bad enough that she didn't bother living here until she wanted to run for office, he notes. "She bought a residence in Jackson Hole of all places, which is not really considered much a part of Wyoming as far as the natives feel." Then there was the dustup over Cheney purchasing an in-state fishing license in 2012 despite not yet meeting the residency requirements. "Those are the sort of things that people measure your integrity by," says the former official. "What do you do to regain people's trust when you've pulled a stunt like that?"
Wyoming Republican operative Bill Cubin is among those not so jazzed about Cheney's candidacy. "The last race really put a sour taste in people's mouths about her," says Cubin, who's advising the rival campaign of state lawmaker Tim Stubson. "She assumed she could come back from Virginia, buy a house in a resort town in northwestern Wyoming, and that people would just fall all over themselves to support her because her last name is Cheney. I think it was hubris, I think it came across that way, and I think that has stuck."
Cubin isn't the only member of his family with this take. His mother, Barbara, who once held the House seat Cheney now covets (and who is now backing Stubson), recently told the Casper Star Tribune that many rank-and-file Republicans are still grumbling about Cheney: "I think they feel they were at the worst lied to and at the best manipulated because she claimed to be from Wyoming and had been here a short time."
Still, the Cheney brand goes a long way in Wyoming—as will the fistfuls of money the family is expected to rake in from outside the state. Going up against "a name like Cheney, you've got a really uphill battle," says the former elected official. And her famous name will be especially valuable, he observes, in what is shaping up to be a crowded primary. (Already, eight Republicans have voiced their desire to succeed Lummis.)
"If she works hard and keeps her nose to the grindstone and doesn't break any hunting or fishing laws this time, she'll become the nominee," predicts Ron Bonjean, a veteran Republican strategist with Wyoming ties. "She's got high name ID. She's from a strong and highly beloved Wyoming family. She's got an impressive fundraising apparatus. And there's an increased sense of her being part of Wyoming." The carpetbagger charges will resurface, allows Bonjean. But after Cheney's Senate debacle, he says, there is a widespread sense that this race is "the right move to make" and the one she should have been focused on all along.
The assumption is that Cheney did her due diligence this time, alerting state political leaders of her intentions. (The offices of Lummis, Enzi, and Senator John Barrasso are not commenting.) Still, Cheney wears her ambition about as subtly as Hillary Clinton, and nobody thinks she'd be content in the House for long. "A lot people speculate that she's going to be in the House for a little bit, then go after one of these Senate seats," says the reporter, noting that this unsettles some of Enzi's and Barrasso's people. "I don't think they're embracing her with open arms."
At this stage, all of Wyoming's congressional delegation is staying mum on the primary. State political observers do note, however, that Lummis's daughter is the campaign chair for one of the non-Cheney contenders, State Senator Leland Christensen. So some interesting fault lines may once again emerge as the race heats up.
And that's before the famously combative Cheney even throws her first punch.