A Changing Latino Electorate
What the Nevada caucuses revealed about the minority vote.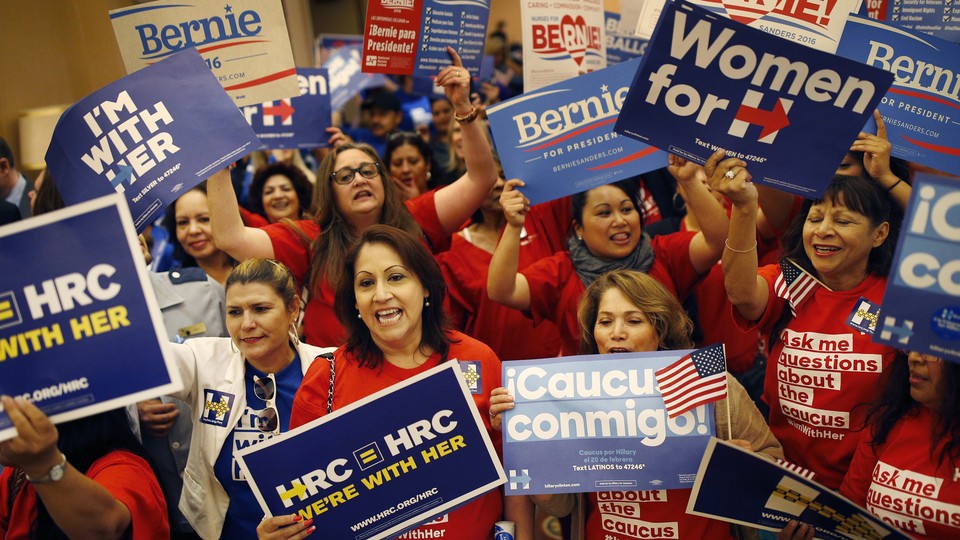 Donald Trump walked away from the Nevada Republican caucuses with a victory—and a new talking point for the campaign trail. CNN's entrance polls found that 8 percent of caucus goers were Latino—and that 45 percent of them backed the real-estate mogul. The two Cuban American senators also seeking the Republican nomination trailed far behind. "You know what I am really happy about? I've been saying it for a long time: 46 percent with Hispanics, number one with Hispanics," Trump exulted.
Latinos also made up 19 percent of Democratic caucus goers. The entrance polls showed Sanders appearing to take the lead among Latinos, coming out eight points ahead of Clinton. Shortly after the results rolled in, the Sanders camp sent a release to reporters titled "Sanders Wins Latino Vote in Nevada."
Both boasts proved problematic. Edison Research, which conducted the Nevada entrance polls, interviewed people at 25 polling places across the state. Like other such polls, it's subject to selection biases and problems with its sample sizes, which grow more acute for smaller subgroups like Latino voters. And an analysis by Nate Cohn at The New York Times found that in areas of Nevada where there was a greater concentration of Latinos, Clinton took the vote—strongly suggesting that the Democratic entrance poll got it backward.
But one thing Nevada clearly showed was that no candidate could afford to take Latino support for granted.
The first two contests of the race were in Iowa and New Hampshire, which are predominantly white states. The Republican primary in South Carolina similarly featured an electorate that was 96 percent white. The candidates are now facing a Latino electorate, that will factor significantly into both contests, and again in November. In Nevada, Latino voters, who comprised just 5 percent of Republican voters in 2012, were back up to their 2008 level of 8 percent on Tuesday night.
The NALEO Educational Fund projects a 17 percent increase in Latino voter turnout for the general election—a nearly 9 percent jump from 2012. That bump reflects an electorate with a new swath of Millennials, who make up 44 percent of Latino eligible voters expected in 2016. The median age of U.S.-born Latinos is 19, according to the Pew Research Center. Univision, a Spanish-language news outlet, is working to encourage increased voter turnout through a series of initiatives, like advertisements on their video and digital platforms, according to a New York Times report. Several states lie ahead where Latino voters could prove decisive, particularly Texas and Colorado, where they make up a large portion of the population.
On the Democratic side, Sanders will try to ramp up support among minorities by appealing to Millennials in an effort to close in on Clinton, who has fared well with Latinos and African Americans. In Nevada, Sanders did particularly well among Latinos younger than 45, garnering 70 percent of their support versus Clinton's 27 percent. For Republicans, renewed efforts to court Latinos are also likely as the primary progresses into states like Texas. But if Nevada provides any lesson, it's that Cruz and Rubio can't just bank on their on Cuban heritage to win Latino voters.
In 2012, 71 percent of Latinos backed Obama, and just 27 percent favored Mitt Romney. With their share of the electorate projected to increase this November, all the candidates will be trying their best to win them over.