The Divergent Fates of Christie and Kasich
There was only room for one moderate, sitting governor telling it like it is.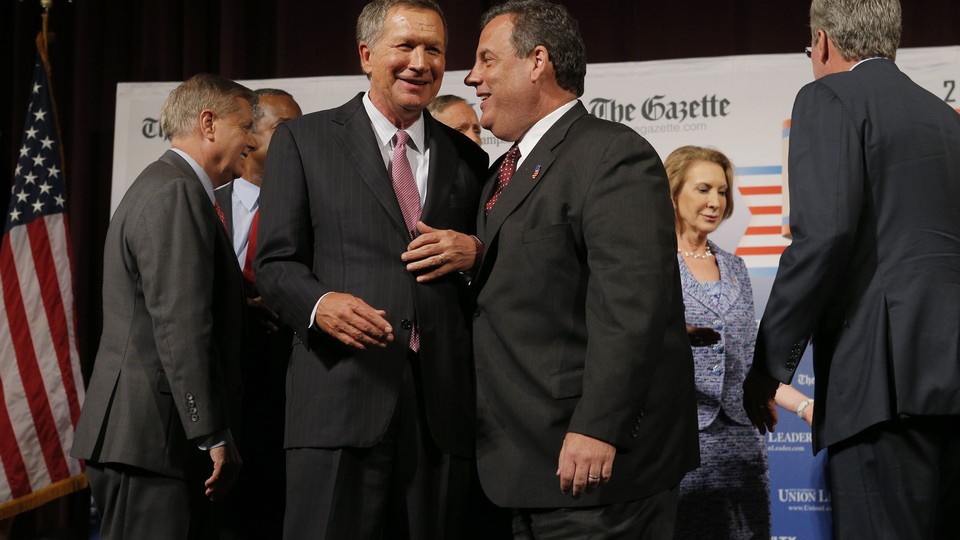 John Kasich and Chris Christie shared a similar road to the Republican nomination for president. On the trail and in debates, they'd tout their experience as governors of not-so-red states; speak candidly, but not as candidly as Donald Trump; and, most importantly, use the New Hampshire primary as a jumping-off point to a real national campaign.
But in New Hampshire, that road forked. Kasich, who placed second, gets to move on to South Carolina next, and is hoping to really shine once the race hits Midwestern states next month. Christie, a disappointing sixth, dropped out early Wednesday evening, betrayed by the state where he'd invested so much time and money. Few candidates in the race have looked so alike and yet seen their fates diverge so sharply. The field might have room for many candidates, but it's only got one spot for a moderate executive who's just trying to tell it like it is.
It's not clear, in the post-primary haze, exactly what went wrong for Christie or right for Kasich. And it'd be disingenuous to suggest the Ohio governor's slice of supporters had all previously been torn between him and Christie. But the candidates were certainly gunning for the same kind of voter there in New Hampshire: those middle-of-the-road independents and conservatives that are a hallmark of the contest; the same kind of voter who wouldn't necessarily begrudge candidates with a history of aisle-crossing positions, like support for Common Core or Medicaid expansion. Both men also hoped to provide a responsible alternative to Trump's brand of brash talk—equally blunt, but more thoughtful.
It's possible voters simply took more kindly to Kasich's version of the moderate truth-teller brand—one that's sunnier and less cut-throat than the New Jersey governor's. That's certainly the version of Kasich that his campaign is actively promoting. Last summer, a Kasich senior adviser with New Hampshire ties told the Newark Star Ledger that Kasich's "mood and approach" are right for the moment. "He has a nice way with people," the adviser said. "He's inclusive, he's open and highly practical, and a successful governor." As a two-term governor and former congressman, Kasich sells himself as someone who can do the hard work of governing-as-a-Republican—balancing budgets, cutting taxes—while bringing both sides of the aisle together. Voters may have been attracted to his vow of positivity when nearly everyone else seemed to be yelling. In an interview Tuesday with CNN, a bubbly Kasich told reporters that he's "having the time of my life."
That this side of Kasich dominates his public persona is a testament to the candidate and his campaign. The sunny, cheerful Kasich sounds different from the one my colleague Molly Ball described in a profile last summer. Yes, that Kasich balanced budgets and took moderate positions and promoted compassionate conservatism, but he also alienated people as he did it. In Molly's words, he can be "kind of a jerk":
But while Kasich can be rude—and at times even genuinely nasty—he is also prone to spontaneous displays of empathy, frequently becoming emotional as he talks about the plight of people "in the shadows." To his allies, these traits are two sides of the same coin. They describe Kasich as a sort of heartland Chris Christie—brash, decisive, authentic—without all the baggage. … Like Christie, Kasich can be a compelling speaker; he's a good storyteller, and his brusqueness gives him a similar sort of anti-charisma.
Christie, on the other hand, didn't have the benefit of relative obscurity, and so couldn't tailor his image on the fly. (He'd tell you he wouldn't have wanted to change it, anyway.) Like the New Jersey governor himself, Christie's reputation was big. Thanks to the New York and D.C. media markets on either side of New Jersey, his successes and failures were often national news. He was the former governors' association chairman who was asked to run for president in 2011, and the one who fights with constituents at town halls. The guy who was lauded, then criticized, for his handling of Superstorm Sandy—who hugged the president and, some suspected, gave him the 2012 election. The leader whose zero-sum-brawler status was solidified by the Bridgegate scandal, and who's appeared on late-night TV much more than your average governor. In New Hampshire, Christie couldn't escape that history, as Bridgegate and his recent handling of a snowstorm in New Jersey followed him to campaign events.
Christie, also couldn't get his larger-than-life personality out front in the race. Though he was supposed to be 2016's real indignant truth-teller, Trump would come to out-yell him. During the last debate, Christie launched a last-ditch effort to take Marco Rubio down for the team, a move Trump himself praised. But Christie wasn't rewarded for it: He sank Rubio but also sank himself. He didn't seem to be harsh enough to siphon away angry voters from Trump, nor was he ever kind enough to be his foil. Perhaps Christie should've been more Kasichlike—off-the-cuff, but civil—to win over undecided voters in those last, fierce days in New Hampshire.
When Christie bowed out from the race Tuesday night, he listed the ideals he tried to espouse on the trail: "that speaking your mind matters, that experience matters, that competence matters and that it will always matter in leading our nation." He added that his message "was heard by and stood for by a lot of people, but just not enough" to win. It's easy to imagine the difficult task Christie had in writing that sentence, in his last communication to supporters after a very long primary race. He must have realized he had a rival in Kasich who'd promoted very similar ideals—and that "a lot of people" had, instead, chosen to vote for him.