A Shooting in Kalamazoo
At least six people are dead, and a 45-year-old suspect is in custody.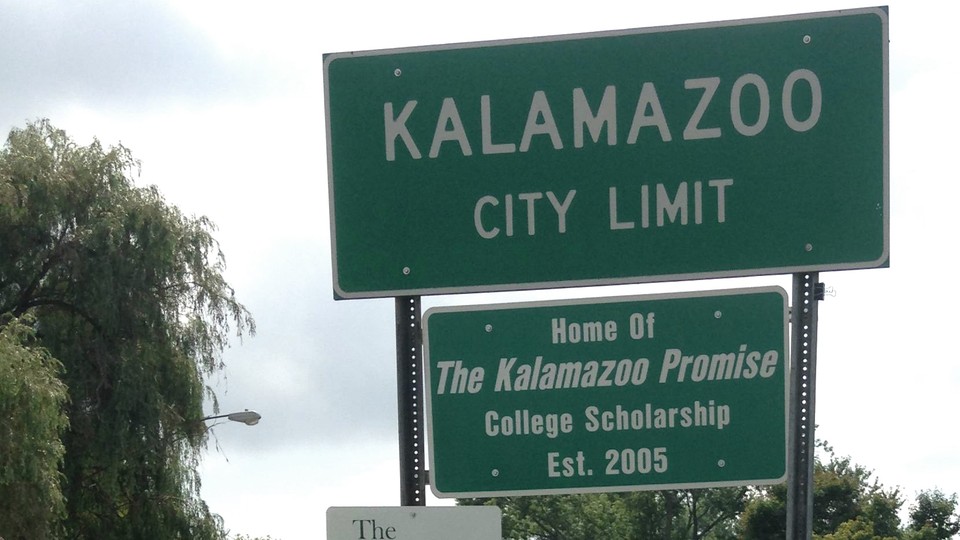 On Saturday night, a gunman in Kalamazoo, Michigan, drove around in his car killing people at random in a spree that spanned several hours and left at least six victims dead.
"The rampage began about 6 p.m. Saturday outside an apartment complex on the eastern edge of the Kalamazoo County, where a woman was shot multiple times and seriously wounded," the Washington Post reported. "A little more than four hours later and 15 miles away, a father and son were fatally shot while looking at vehicles at a car dealership. Fifteen minutes after that, five people — including a 14-year-old girl — were gunned down in the parking lot of a Cracker Barrel restaurant."
Said a police spokesman, "We have 9, 10, 11 shell casings at each of these scenes." Police arrested a 45-year-old man with no known criminal history for the murders.
The motive for the shootings is unknown.
Over the last decade there have been more than 200 mass killings in the United States, using the FBI threshold of four or more victims in a single incident. "Well-known images from Newtown, Aurora and Virginia Tech capture the nation's attention," USA Today reported in a thorough investigation into the phenomenon, "but similar bloody scenes happen with alarming frequency and much less scrutiny." Still, mass killings account for just 1 percent of murders nationally.
A majority begin with domestic disputes. Most victims know their killers. But the earliest reports from Kalamazoo suggest that most or all of Sunday's victims did not know the killer or one another. Like the D.C. sniper killings of 2002, the seeming randomness of the murders has many in the community and beyond on edge.
On Reddit, a commenter wrote that despite being on the other side of the state,  "what I can't get out of my head is all the endless times my dad used to take me out at night (because no annoying sales guys) to look at cars at the local dealerships. It was always kinda peaceful, well lit lot, only ones there. Something so vivid in my head, a good memory with dad, bonding experience kinda thing, talking cars. Ugh. I want to say I can't imagine. But the problem is I can, I absolutely can imagine this all way too clearly. Sometimes my mom came along too, probably would've been the one to stay in the car. Fuck this. People should not have to fear living their lives, just stepping out of their home, going to a car dealership..."
Said another:
Ever since the Batman shooter, my wife has been terrified about going to the movies on midnight screenings or opening day. We generally wait a week or two after movies come out before going to see them and even then we go during the week. Like how sad is that? We can't even go to something as simple as the movies without fear of being shot. The most recent Lafayette one nearly drove her to never set foot in a theater again.
On YikYak, students at Western Michigan University expressed their gratitude to police for apprehending a suspect so quickly, and complained that administrators at their Kalamazoo campus didn't send out an alert to warn them about the gunman in town: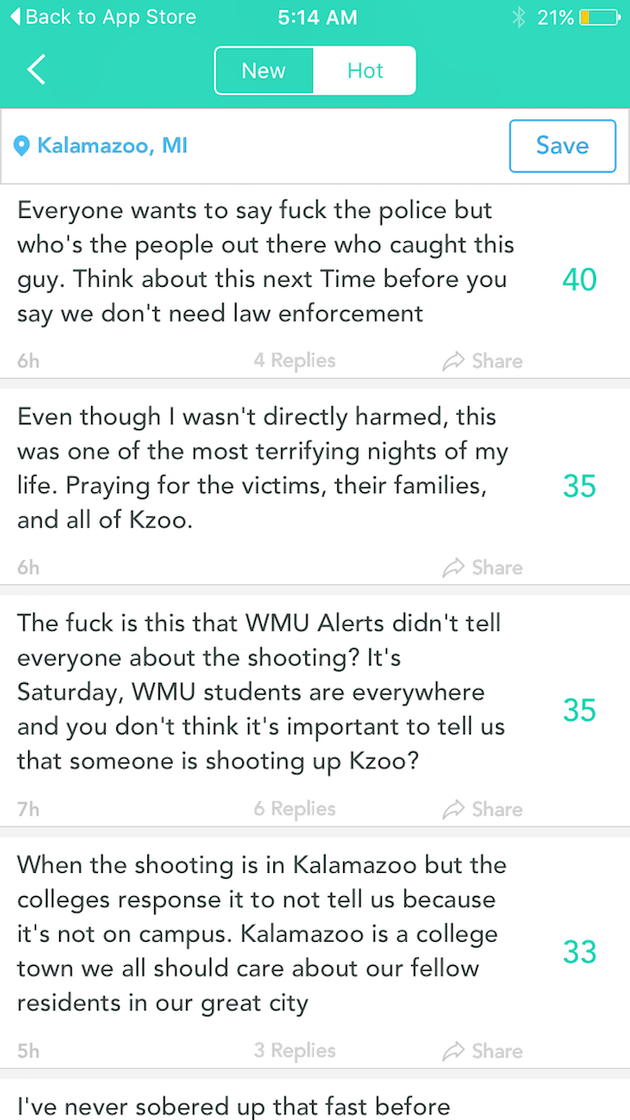 Crime has fallen dramatically in the last couple decades. But these killings can't help but stoke anxiety many feel as they watch the unlucky few who are devastated by them. The suspect's name and photograph are publicly available, but at this stage don't add anything to the story. So I've chosen to exclude them, lest others get the idea that they can get their name and face before the public if only they slaughter fellow humans. I don't know if denying infamy would reduce mass killings.
But isn't it worth trying?