Trump's Two Victories in New Hampshire
He bridged traditional GOP divides, while his opponents have not yet displayed broad appeal.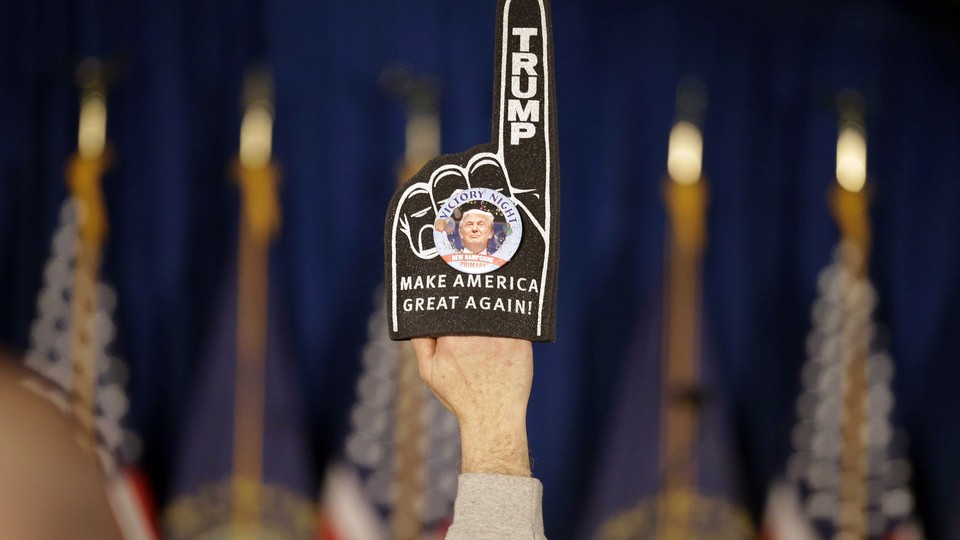 NASHUA, New Hampshire—Donald Trump won twice in New Hampshire last night: once because he transcended many of the Republican Party's historic divides, and a second time because the voters most resistant to him remained fragmented.
With his commanding New Hampshire win, Trump demonstrated again that his maverick appeal has replaced many of the party's traditional fissures with a new dividing line based more on class and education. Equally important, the results virtually ensured that the voters most resistant to both Trump and Iowa winner Ted Cruz—mostly white-collar, mainstream conservatives—will remain divided. Their split will persist at least through the critical South Carolina primary approaching on February 20, and possibly through the Super Tuesday cascade of contests on March 1.
"That lane has to be clarified quickly, before March 1," said the veteran Republican pollster Glen Bolger, who is not committed to any candidate in the race. "There has to be some unanimity by then or Cruz and Trump have the potential to pull pretty far ahead in terms of delegates."
The polarizing nature of Trump's candidacy means he could still face difficulty as the race narrows and the share of the vote needed to win correspondingly rises. But his favorable ratings among Republicans have steadily increased since he announced his candidacy last summer, leading many to reexamine their assumptions that he faced a hard ceiling of support. "I used to say that anybody who voted for one of the other candidates will never be a Trump supporter," said Bolger. "I don't think that is the case anymore."
And none of Trump's rivals have yet shown the ability to assemble a coalition broad enough to derail the New Yorker, whose New Hampshire victory was distinguished not only by its magnitude but its breadth. Florida Senator Marco Rubio, the candidate many insiders believed best positioned to unify an anti-Trump coalition centered on mainstream conservative voters, instead proved the night's big loser, tumbling to a fifth-place finish after a disastrous debate performance.
In his sweeping victory, Trump won men and women; voters in all age groups; voters in all income groups; Republicans and independents; voters who described themselves as very conservative, somewhat conservative, and moderate; evangelical Christians and non-evangelical Christians; and those with and without four-year college degrees—though his appeal notably lagged among both evangelicals and better-educated Republicans.
Two other points underscore the sweep of Trump's New Hampshire rout. Compared to his showing in Iowa, he improved his vote share among virtually every one of the groups for which comparable figures are available. In New Hampshire, Trump ran at least 10 percentage points better than he did in Iowa among men; voters in every age group younger than 65; those without a college degree; Republicans and independents; and both very- and somewhat-conservative voters. The only major group in which he lost ground compared to Iowa was moderates, among whom his support declined by a statistically insignificant 2 percentage points (from 34 to 32 percent).
The other compelling measure of Trump's reach was the consistency of the support he enjoyed. He won something close to one-third of almost every major group, with strikingly little variation across constituencies that usually align with competing candidates in GOP races. He won, for instance, exactly the same 35 percent among Republicans and independents. Measured by ideology, his vote varied only from 35 percent among very conservative voters to 36 percent among the somewhat conservative and 32 percent among moderates. The gender gap in his backing was modest: Trump carried 37 percent of men and 32 percent of women.
Only three groups varied from this pattern. In Iowa, Trump ran best with those over 65; in New Hampshire they were his weakest age group.
The other two variations that emerged in New Hampshire will likely prove more consequential because they reinforced patterns that appeared in Iowa (and have also marked polling both nationally and in other early states). Each points to the opportunity for a rival to mobilize a significant party faction against Trump, but also captures their failure to entirely do so to this point.
In last week's caucus, Trump ran seven percentage points better among voters who were not evangelical Christians than among those who were; in New Hampshire that gap widened to 10 percentage points. Trump carried both groups on Tuesday night, but reached just 27 percent among the evangelicals, who constitute only about one-fourth of the New Hampshire Republican electorate. That signals the opportunity available to Cruz, who won most evangelicals in Iowa and finished a close second behind Trump among them in New Hampshire. Evangelicals will cast a majority of the ballots in many of the Southern and border states voting in early March, and to stop Trump, Cruz will likely need to establish a substantial advantage among them.
The second variation in Trump's New Hampshire showing points to the opportunity available to candidates at the opposite end of the GOP's ideological and cultural spectrum from Cruz. In the Granite State, Trump absolutely dominated Republicans without a four-year college degree, capturing fully 41 percent of them. That was up sharply from his 28 percent in Iowa, and more than triple the share of his nearest rival. Even in Iowa, Trump won a solid 37 percent of blue-collar voters who were not evangelicals; he benefited in New Hampshire because evangelicals likely represented a much smaller share of working-class Republicans than they did in Iowa.
In Iowa, Cruz repelled Trump's early polling inroads among blue-collar Republicans who were evangelicals. Figures on how that group voted in New Hampshire aren't yet available, but Cruz will need to continue that success to compete not only in Southern but also many Midwestern states where those working-class evangelicals are often the largest block in the electorate.
As he has throughout his unconventional candidacy, though, Trump on Tuesday showed markedly less strength among Republicans with advanced education. He carried 29 percent of voters with at least a four-year college degree, 12 points below his showing among voters without a degree. That reinforced the pattern evident in Iowa, where Trump's showing among voters with a degree was seven points lower than his number among those without one.
But in New Hampshire, Trump benefited because better-educated voters fragmented among an array of center-right choices that included John Kasich (19 percent) Jeb Bush and Marco Rubio (12 percent each), Chris Christie (8 percent) and even Carly Fiorina (5 percent). Together those alternatives attracted nearly twice as many college-educated Republicans as Trump did; but they splintered those voters so thoroughly that none could approach the front-runner's total with them. Bolger noted that those candidates cumulatively outpolled Trump but added:  "That's not how we score these things. Republicans need some clarity or else we are going to waltz down the road with Trump."
Viewing the race from an outsider's perspective, the veteran Democratic pollster Stanley B. Greenberg notes that Trump, whose appeal is fundamentally secular, is benefiting because no other candidate is running as a social-issue moderate who could attract centrist voters. "Whereas I used to think [Trump] had a 30 percent ceiling, I don't think that is true anymore, because the moderates in the party are voting for him—at least he is getting a fair chunk of those," Greenberg said. "Because the moderate candidates are so weak, Trump as the more secular candidate ends up getting votes he should not get." As long as Trump holds that many moderate voters, Greenberg argues, it may be impossible for a mainstream conservative to mobilize a big enough base to fully join the businessman and Ted Cruz in the race's top tier.
Indeed, the common story in New Hampshire for the rest of the field was the failure to mobilize a coalition broad enough to truly threaten Trump. That judgment applies equally to Cruz, the Iowa winner.
Most analysts believe that in message, money, and organization, Cruz should be a much more competitive candidate than the evangelical favorites in the past two races: Rick Santorum in 2012, and Mike Huckabee in 2008. But so far, Cruz has not shown a broader appeal than either man.
Cruz won Iowa last week the same way Santorum and Huckabee did: by mobilizing and establishing a big margin among evangelical Christians. But like both of his predecessors, even while winning Iowa, Cruz lost voters there who were not evangelical Christians. For Huckabee and Santorum that foreshadowed a crippling inability to ever expand much beyond the evangelical beachhead. In New Hampshire, at least, Cruz showed the same weakness. While Cruz carried 23 percent of New Hampshire evangelical Christians in the exit poll, he won just 8 percent of voters who were not evangelicals. That was virtually identical to the 2008 New Hampshire showing for Huckabee (28 percent of evangelicals and 6 percent of non-evangelicals) and the 2012 numbers for Santorum (23 percent of evangelicals and 6 percent of non-evangelicals.) In Iowa and New Hampshire, Cruz also displayed a narrow ideological reach: In both states, he won less than half as much support among voters who described themselves as somewhat conservative as he did among those who identify as very conservative. In stark contrast to Trump's ideological balance, Cruz carried just 9 percent of moderates in Iowa and only 4 percent in New Hampshire. Viewed by ideology, his numbers in New Hampshire again virtually matched Santorum's four years ago.
If Cruz can't run better among voters who are not evangelicals or very conservative, he will suffer the same fate as Huckabee and Santorum, each of whom failed to expand far enough beyond a string of socially conservative Southern and plains states to truly contest the nomination.
Kasich, whose second-place finish in New Hampshire made him the night's other big winner besides Trump, faces the opposite problem. Kasich's support is lopsidedly concentrated among moderates, many of them well educated and upper-income. In fact, across many of the key groups, Kasich's support on Tuesday closely tracked the 2012 New Hampshire showing of Jon Huntsman, another moderate Republican whose campaign was also directed by Kasich's chief strategist, John Weaver.
Last night Kasich won 19 percent of college graduates and 12 percent of those without degrees; for Huntsman the comparable numbers were 20 and 13. Kasich carried 28 percent of moderates (compared to 24 percent for Huntsman), 14 percent of somewhat conservative voters (Huntsman won 13 percent), and just 7 percent of very conservative voters (compared to Huntsman's four). Kasich won 18 percent of independents (Huntsman carried 22) and 14 percent of Republicans (Huntsman carried 10).
That thin sliver of the Republican coalition wasn't enough to sustain Huntsman much beyond New Hampshire four years ago, and Kasich will quickly need to advance beyond it if he is to remain relevant this time.
Jeb Bush didn't run especially well with any group in New Hampshire, but he performed just well enough with several to retain his viability as a competitor for the GOP's mainstream conservative, largely upscale wing. Bush showed signs of a pulse with the overlapping groups any centrist Republican would need: women (13 percent), college graduates (12 percent), moderates (14 percent) and somewhat conservative voters (10 percent).
Yet even that meager showing gave Bush supporters plausible hope that he can consolidate more of those mainstream conservative voters in South Carolina and beyond. The reason was the collapse of the evening's big loser, Marco Rubio. After Rubio emerged with momentum from his unexpectedly strong third-place finish in Iowa, many Republican analysts believed New Hampshire offered him the opportunity to squeeze out his rivals and emerge as the clear choice of the mainstream conservative block to challenge Trump and Cruz.
Instead, Rubio ran an unswervingly ideological campaign in New Hampshire, marked by caustic attacks on President Obama and punctuated by his meltdown at last Saturday's Republican debate, when he robotically repeated an anti-Obama talking point four times. Rubio tumbled to fifth place and saw his vote among somewhat conservative voters collapse from 29 percent in Iowa to 12 percent in New Hampshire, while his support among moderates tumbled from 28 to 8 percent. (His vote among very conservative voters, by contrast, was virtually unchanged from Iowa to New Hampshire.) Rubio shows no sign of shifting direction. On Tuesday, his campaign issued a fund-raising appeal signed by communications director Alex Conant with the inflammatory declaration: "We are the only campaign who is exposing President Obama for his deliberate actions to destroy our country. "
As I wrote earlier this week, "The defining gamble of Rubio's bid is that…mainstream conservative voters will ultimately consolidate around him, even though he has planted himself conspicuously to their right." That gamble failed spectacularly in New Hampshire. And now Rubio, who most GOP leaders hoped would unify mainstream conservatives against Trump and Cruz, faces the risk that he will be pushed to the margins of the race in South Carolina by Bush, who is well-organized there.
However improbable it seemed even in January, South Carolina offers Bush an opportunity to begin consolidating the mostly upscale mainstream conservative voters most resistant to Trump and Cruz. Yet even with Christie likely to exit the race soon, the continued inability of anyone to fully unify that wing of the party only benefits Cruz and especially Trump—who has displayed a much wider reach across the party than any of his opponents. After Rubio's epic fail in New Hampshire, the center-right, white-collar GOP faction that picked John McCain and Mitt Romney as the party's last two nominees remains without a clear choice. And that increases the odds the party will nominate Cruz or Trump, the two candidates most Republican strategists believe would face the toughest climb in the general election.