Meet the Voters of Houston's 'Ellis Island'
In restaurants and storefronts lining the city's commercial strip, immigrants reflect on the presidential race in their adopted homeland.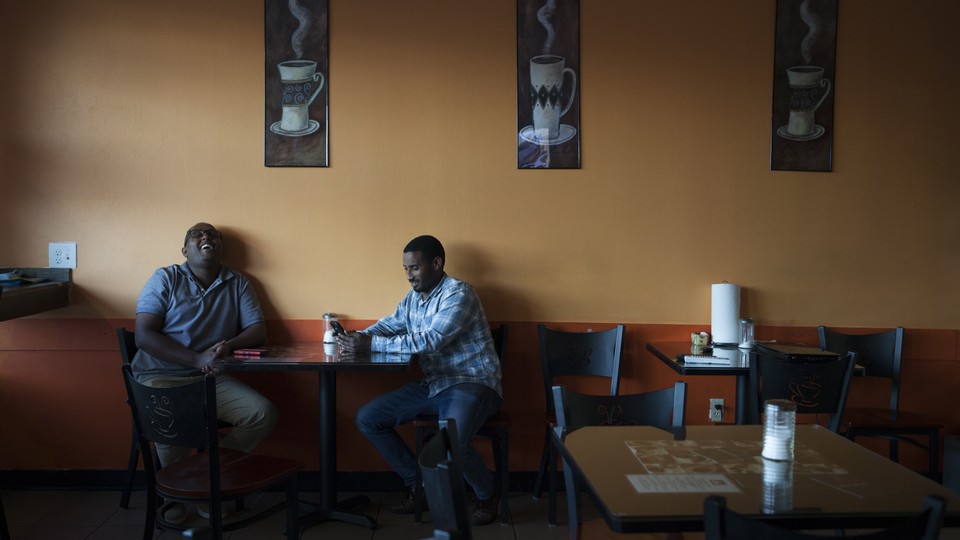 HOUSTON—To drive down Hillcroft Avenue is to see this city's rich immigrant history unfold in the Pakistani pool halls and El Salvadoran pupuserias that line this 8-mile artery west of downtown.
Nowhere else in Houston, one of the United States' most diverse cities, does a more multicultural mix of residents and business owners converge, a fact the approaching March 1 presidential primary has made starkly clear. Voters in what locals have dubbed the "Ellis Island of Houston" hail from Ethiopia and India, Lebanon and China. Some have been here 50 years, others less than a decade. But, like immigrants before them, all have arrived with hopes for the future shaped in part by the political and social structures of the communities they left behind. The result is a panoply of views about who is fit to serve as president, what his or her priorities should be, and whether the political process is worth engaging in at all.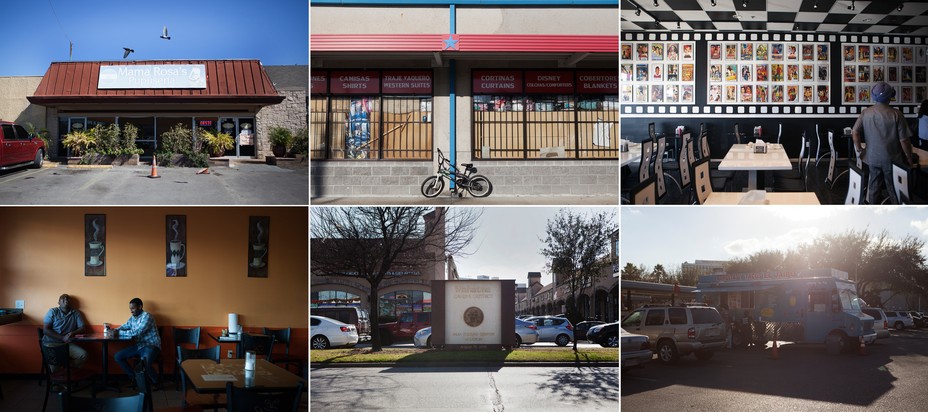 What stands out in conversations with voters along Hillcroft's strip malls and mosques is this: People who view the diversity and amorphous nature of the neighborhood in positive terms are generally critical of Republican frontrunner Donald Trump's exclusionary views on immigrants and Muslims. Those who view their community (if they feel a part of a Hillcroft community at all) and its variety of viewpoints with some trepidation express support for Trump's campaign promise to "make America great again." One shop owner who feared that publicly revealing her favorable views about Trump would harm her business blamed the media for mischaracterizing his viewpoints as racist, and said she was inspired to cast a ballot for the first time because she feels he will restore order and prosperity to the United States.
The voices of the voters along Hillcroft Avenue illustrate the push and pull between a nostalgia for what America once was and a sense of optimism as to where the country is headed.
"[This election] has been crazy," said Gita Daswani, in her store, Trendy Treasures. "Normally, I'm a Republican but this year I'm tilting Democrat. I don't see anything going on with the Republicans and I don't want to say it, but they're bitching about everything. I'm tired of seeing them call each other names. Trump is a loose cannon who can blast off at any time."
Daswani plans to vote for Hillary Clinton, "because of her experience with foreign affairs. I personally feel like this election is an important one because of all that's going on [in the world]."
Qiyamah Bari works at the Islamic Education Center and Al-Hadi School off Hillcroft, which serves 265 students, preschool through 12th grade.
"I don't know who I'll vote for, but I can tell you not Trump for sure," said Bari, who is passionate about education, the Black Lives Matter movement, prison reform, and combating poverty.
"I'm just trying to feel everybody out," she said.
Abdirisaq Abdulle, 25, arrived in the United States in 2009 after fleeing his war-torn home country of Somalia. He works at a fashion and home-decor store on Hillcroft Avenue and believes that the United States' welcoming refugee policies have set a good example for the rest of the world. Abdulle feels the divisiveness caused by biting anti-immigrant rhetoric during this election will change not only the way other countries see the United States, but how Americans view one another.
"There are always bad and good people," Abdulle said. "If you start dividing the people, that's when the nation is destroyed."
Shireen Virani has lived in Houston for 32 years, and says her vote will go to Hillary Clinton, because "she's realistic."
Among the issues most important to Virani in the election are healthcare and immigration.
"There are so many well-trained and well-educated immigrants who should be allowed to be here," Virani said.
​Muhammad Rehan, 39, was born and raised in Pakistan. He moved to Houston in 2007 and owns Thredz, a Pakistani clothing store. Rehan is eligible to vote, but says he doesn't plan to, and he doesn't think his vote will make a difference.
"I know people love to talk [about politics] but I have three kids, a full time job," says Rehan. "Why put your nose in other peoples' business? "
Martha Calderon, 22, works at her mother Rosa's restaurant, Mama Rosa's Pupuseria. She's not sure if she will vote, but is aware of Donald Trump's comments regarding immigration.
"Immigration includes others, but [Trump] is focused on Mexican Americans," says Calderon. "[I think we need] more jobs, school loans, help for immigrants that are working."
Mian Bari, 66, is a retired car wash owner who has lived in Houston for 36 years.
"[Donald Trump] doesn't have common sense," says Bari. "He's an idiot and a liar."
Bari favors Ted Cruz or John Kasich, but has not made up his mind yet. Most important to Bari is that people to exercise their right to vote.
"As an American, you have a voice. You should use it," insists Bari.​ "I don't care who you vote for, [but] you must vote."
Asif Idrees, 44, from Karachi, Pakistan, has lived in Houston for 20 years, and owns a perfume and luggage store on Hillcroft. After closing most days, he plays snooker at a pool hall down the street with mostly Indian and Pakistani men. He is voting for Hillary Clinton, who he feels cares more about healthcare and small-business owners than other candidates.
Plus, said Idrees, "The country is ready for a lady president."