Why Clinton Is Connecting With Black Voters—and Sanders Isn't
The mothers of slain black men and women are stumping for Clinton at grassroots events for African Americans, while her rival relies on huge rallies.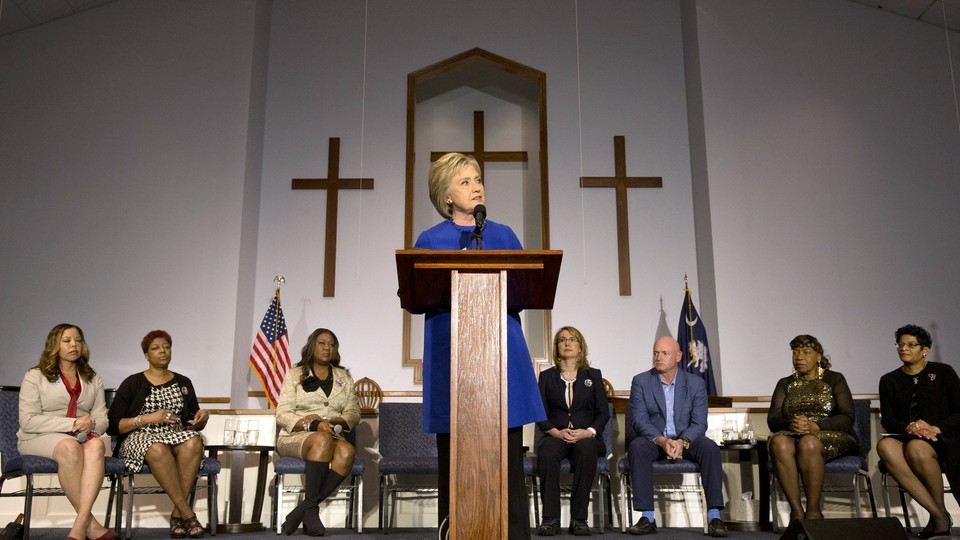 BENNETTSVILLE, S.C.—Everyone agrees that African Americans are the pivotal demographic in Saturday's South Carolina Democratic primary. But the Bernie Sanders and Hillary Clinton campaigns are working to court that group in sharply divergent ways. It's the difference between huge rallies and small gatherings. Upstate versus Pee Dee. Anecdote versus abstraction. Their approaches are as different as night and day—or, one might say, black and white.
Over the last few months, Sanders has incorporated a great deal about race into his stump speech. His discussion of racism in America is abstract—it deals with arrest rates and incarceration figures, wealth gaps and unemployment rates. Though Clinton is often described as a policy wonk and derided for her (very real) failures as a retail politician, she has cleverly chosen to focus more on concrete and personal stories as a means of addressing race, a strategy that was on display in the Palmetto State this week.
On Monday evening, Clinton was on the other side of the country in Hollywood, at a pair of glitzy fundraisers. But 75 or so people were backed into the Marian Wright Edelman Public Library in Bennettsville for a campaign event, where the mothers of Trayvon Martin, Sandra Bland, Dontre Hamilton, Jordan Davis, and Eric Garner were making the case for Clinton. A community room overflowed with people—standing room only, with people standing in the hall, craning their necks to get in, as the mothers took turns telling their wrenching tales of loss.
The stories, though by now familiar from media accounts and surveillance videos, were freshly horrifying, told in person by the victims' mothers. Each woman related how her son had been killed, and then how Clinton had reached out to her. They told stories about phone calls, personal letters, and half-hour meetings that stretched on for hours.
"Hillary took it upon herself to listen to me when none of the leaders decided to lay in the street with us, march in the street with us, pour our hearts out and ask for help. Hillary heard my cry," said Maria Hamilton, whose son Dontre was shot and killed by a Milwaukee police officer in 2014. "When Hillary called me in March, and her staffer told me I didn't have to rally people in the street to shut her rally down, that she would talk to me, it changed my life."
"We don't need any more members in this club. The membership is too high for this club," said Gwen Carr, whose son Eric Garner was choked to death by a New York City police officer in 2014. "She has proved to us, one by one, that we do matter in her campaign. We are endorsing her because she endorsed us."
Everyone in attendance seemed to know one another, and they were all enthusiastically ready for Hillary. The local state representative emceed the event, and she hailed her Alpha Kappa Alpha sisters for working to register new voters at local high schools. The police chief and sheriff (both black) attended. It felt like going to church: Particularly emotional moments elicited a chorus of "That's right"s and "Amen" and "Mmhmm"s from a crowd that hung on every word.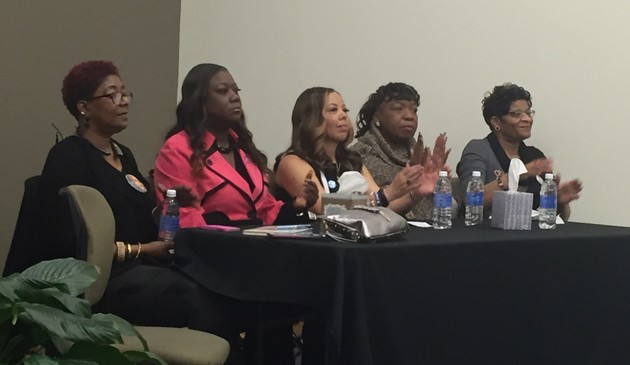 Several hours earlier, I dropped by an event at Friendship Baptist Church in Aiken, all the way across the state, near Augusta, Georgia. Ben Crump, the attorney who represented the families of Trayvon Martin, Michael Brown, and Tamir Rice, was there, along with Billy Murphy, the attorney who represented Freddie Gray's family (and who famously played himself on The Wire). So was activist Gregg Greer. State Representative Bill Clyburn, whose more famous cousin Jim had endorsed Clinton a few days earlier, stopped by. The event wasn't quite so packed—there weren't more than 25 or 30 people, though it was also midday on a Monday. Almost everyone in attendance qualified for Social Security.
The Bennettsville and Aiken meetings were part of a coordinated statewide push. There were 10 such events, featuring either the lawyers or the mothers, across South Carolina over the last three days, each of them at a church or community center. They're designed to be smaller events. (Clinton joined the mothers Tuesday night in Columbia.)
Compare that with Sanders's approach. The Vermont senator came to South Carolina Saturday night after losing to Clinton in Nevada. Sunday morning, he stopped by a black church in Columbia, then headed to Greenville for a rally. It was a massive event—there were more than 5,000 people at the Bon Secours Wellness Arena. But few of them were African American—certainly a smaller proportion than the 55 percent of the Democratic primary vote that blacks comprised in 2008. Geographically speaking, that's no surprise. Greenville is the center of South Carolina's Upstate, which is less than 20 percent black. But after the Sunday rally, Sanders left to campaign elsewhere. He came back for a Tuesday-night town hall in Columbia and held a press conference Wednesday morning before jetting out again. Sanders appears to have decided to focus more energy on states holding March 1 nominating contests.
Clinton holds a huge lead with black voters in South Carolina in polls ahead of Saturday's Democratic primary—as much as 47 points, in an NBC/Wall Street Journal poll. The difference in Sanders's and Clinton's approaches to black voters is in part a reaction to those results—if Sanders had more of a chance to win them, he'd likely spend more time on it—but it also helps explain the gap.
It isn't that Sanders isn't talking about race issues. Despite the overwhelmingly Caucasian crowd, he talked at length about racial disparities in Greenville. Sanders was introduced by a local black politician, former NAACP President Ben Jealous, and the actor Danny Glover. He railed against police brutality, mass incarceration of black men, unequal prosecutions for drug use, and more.
There's little doubt that Sanders cares about these civil-rights questions, nor that his supporters do. His fans are passionate about stopping racism. "The fact that he's a white man who admits that white privilege exists and wants to get rid of white privilege—that's huge," Jonathan Bussey, a young white man, told me as he waited for Sanders to speak.
You're just more likely to meet someone like Bussey at a Sanders event than you are a young black man. The African Americans who attend the Greenville Sanders rally tended to say they there for the same reasons that whites are there: Because they feel that the economy is rigged, the health-care system is insufficient, and Bernie is the most honest candidate and the one who was most concerned with helping the little guy.
Ralph Morton, whose gray hair matched his gray suit, told me he thought pundits and the Clinton campaign were counting black votes before they were cast, predicting a replay of the 2008 primary, where her support eroded quickly and she lost. "I think the same thing might happen to her again," he said. "It's just like Jeb Bush thought he was going to be a shoo-in because of past support. He got toasted."
Does that parallel really make sense? The key difference between 2008 and 2016, of course, is Barack Obama. While there were persistent media questions about whether Obama was "black enough" for black voters, voters answered them resoundingly in the affirmative. Obama proved adept at codeswitching, changing his register and vocabulary and jokes to connect with African Americans and eventually winning them over.
What Barack could do, Bernie can't so easily pull off. Sanders speaks in generalities and attacks systemic injustices, while Clinton focuses on the pain of individual lives. By befriending women like Hamilton and Carr, she is able to connect her policies to real stories. By convincing them she cares about them, she produces a squadron of surrogates with powerful stories to take into black communities.
"Nobody made—I don't think they could have made us, I don't think they could have persuaded any of these mothers to vote for Hillary Clinton against their own will," Sybrina Fulton, Trayvon Martin's mother, said in Bennettsville. "This was a conscious decision we made." (There was evidently some sensitivity about that impression. Geneva Reed-Veal, Sandra Bland's mother, closed the event with a rousing call to vote, and then added, "I'm with her. All my sisters are with her. And please tell the people we are not being exploited!")
That might not come through as clearly in debates, but it was warmly appreciated at the South Carolina events. Attendees said over and over that they were supporting Clinton in large because of her long familiarity with the black community. They said they felt she knew them and their people—not just the statistics, but the people. Sanders speaks to racism; Clinton speaks to black people.
These attendees uniformly respected and appreciated Sanders. His problem in winning them is the same as his problem across the country: unfamiliarity. The more people get to know Sanders, the more they tend to like him—he has some of the highest favorable ratings in American politics—but many people still don't know who he is. It's a point Billy Murphy hammered home in Aiken.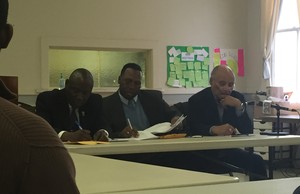 "I like Bernie Sanders. The problem is I just met him!" Murphy said, peering owlishly over the rimless reading glasses he likes to wear low on his nose. "I haven't lived with Bernie Sanders like I've lived with the Clinton family. I know substantially more about Hillary Clinton and she knows substantially more about communities of color."
And then Murphy turned the knife, demonstrating why he's so effective in front of a jury.
"Bernie posted a very interesting picture about how he was marching with the civil-rights movement, but we didn't hear much from Bernie after that," he said. "I'm sure he has his heart in the right place."
That sentiment is a toned-down version of the comments from Representative John Lewis that caused a ruckus earlier this month. "I never saw him, I never met him," Lewis said. "I'm a chairman of the Student Nonviolent Coordinating Committee for three years, from 1963 to 1966. I was involved in the sit-ins, the Freedom Rides, the March on Washington, the march from Selma to Montgomery, and directed their voter-education project for six years. But I met Hillary Clinton. I met President Clinton."
Their argument isn't that Sanders doesn't care. It's just that they don't think he has the hands-on experience. The point is to remind black voters that the Clintons have been there for them for decades. Clinton may not be able to turn out 5,000 voters for a single event, but her deep ties to the black community give her a huge base of surrogates who can go out to small, grassroots events where they can appeal directly to African Americans.
"The president trusted her—our beloved Barack Obama—with one of the most important jobs in her administration," Murphy said, in case anyone had forgotten that the president is black. And later, he got a hearty, knowing response for what sounded like an implication that Republican opposition to Obama is racist: "I've never seen a Congress whose avowed purpose was preventing the president of the United States from achieving his goals."
Later on, Crump harkened back to Clinton's work establishing legal aid in Arkansas, and said she understood problems like direct filing, when teenagers are moved to adult courts. "We know who that affects most when they start talking about direct filing," Crump said. "They ain't direct filing little Billy, they're direct filing little Junebug and Leroy and Shaniqua. It ain't a new fight for her."
It's hard to imagine either Clinton or Sanders coming off as well at these events as these surrogates do. Clinton has been mocked for drawling when she campaigns south of the Mason-Dixon Line. When Sanders dropped by a black church on Sunday, delivering his normal spiel, he was met with polite indifference. Perhaps his bigger problem is that the worshippers were indifferent to his black surrogate, Ben Jealous, too.
None of this is to say that the voters who showed for the events didn't have hesitations about Clinton. In Aiken, Shirley Abney wondered where the candidate was. "I am disappointed she has not been here herself," Abney said. "She's sent some good people, but she needs to be here herself." (A nervous young white staffer who was coordinating the event quickly chimed in that Clinton was coming to South Carolina Tuesday.)
There's also still ambivalence about Bill Clinton, whose comments about then-Senator Barack Obama alienated many African American voters in 2008, en route to handing Obama a Palmetto State win. "Let's make sure that we don't run away from her because we're looking at what Bill's campaign did," Reed-Veal warned in Bennettsville.
The Clinton White House legacy has also been tarnished, especially among the new generation of criminal-justice reformers, by the tough-on-crime law he signed into law. When one of the two younger men in the audience in Aiken asked about three-strikes laws, Murphy was quick to say that Bill Clinton had asked for forgiveness for the law and Hillary Clinton had said, "Never again." But several people in the audience were ready to excuse the law as a product of its era. "It was a different time," they said, pointing to the fear of crime in the late 1980s and early 1990s.
That reflects the one cleavage in the black vote in South Carolina: between young and old. The crowd in Aiken was especially elderly; the crowd in Bennettsville was more evenly distributed, but it leaned older, too. Clinton retains an edge among younger African Americans in the state, but it's much smaller than her overall lead, as The Wall Street Journal reports. One reason may be that younger black voters don't have the same memories of the Clinton years, good and bad: There's none of the rosy recollection of 1990s prosperity, and they don't have memories of the crack epidemic that help them rationalize or excuse the crime bill.
Notably, Eric Garner's daughter Erica has endorsed Sanders, participating in a powerful four-minute video on his behalf. I asked Carr what accounted for the family split. She chuckled. "Everyone picks their own candidate. They got their own mind," she said in a thick Brooklyn accent. "You just got to look at the candidate's track record."