Who Do Americans Believe Is Best Suited to Fix the Economy?
Despite partisan divides, people generally agree on one thing—disappointment with the federal government.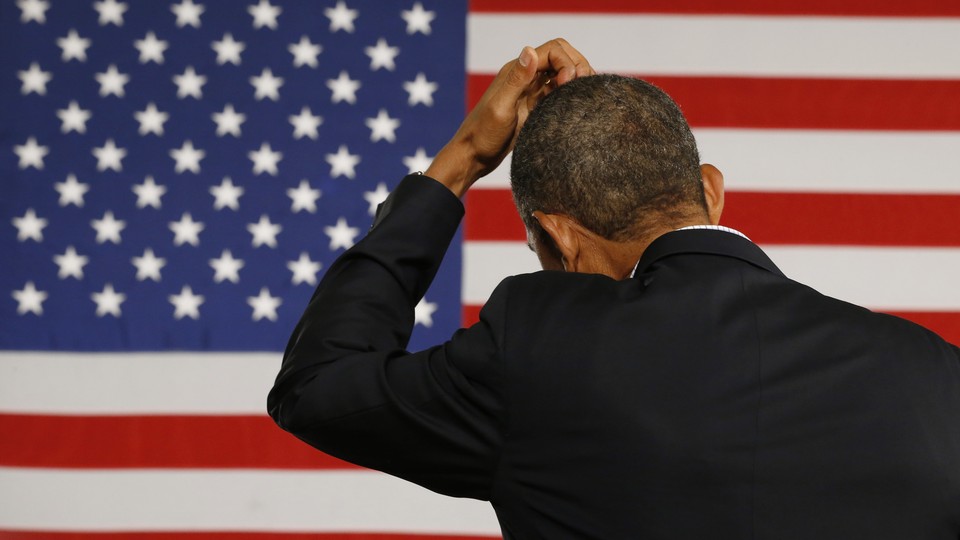 The election season is exposing deep rifts in how Americans believe political leaders should address the country's most pressing issues.
And although divisions exist even among those within the same political parties, people seem to agree on one thing: they distrust government and banks. The most recent Allstate/National Journal Heartland Monitor poll asked Americans who they trusted most to improve economic opportunity and security for people like them. Amid the presidential election frenzy, only 18 percent of respondents said they trusted elected officials in Washington, D.C., the most to fix the economy, down from 31 percent of people in 2009. More than a third do not trust any major institution—elected officials, labor union, investment banks, major corporations, national banks—to make improvement in their lives.
"The only person that I can trust with my money is me," says William Luffle, a 27-year-old accountant. He thinks that by being in control of his own finances he has a better chance to achieve the things he deems important: Buying a home and paying his bills. "I would prefer to have my money in my pocket. I feel that people as a whole would better invest their money for their own benefit."
Forty-six year old Anita Tarver echoes the feeling of distrust. "Politics is really hard, you just can't trust it. Being a disabled veteran there's a lot of things I've seen that get swept under the rug," she said. Even when asked about other major institutions like banks, unions, and corporations, she told me, "I deal with them but I don't trust them."
Overall more than half of Americans (61 percent) believe that most of the progress tackling the country's major challenges is happening at the state and local level—more than double those who said it was happening at the national level. Currently, American's overall trust in the federal government is at its lowest point in the last half century, according to a poll by the Pew Research Center.
---
---
Luffle, who is a Republican, noted that in his home state of New York the local levels of government have had success with state-specific regulations like cutting taxes, and that he trusts lower levels of government more. That's part of the reason he prefers governing to remain at the local level rather than broad federal mandates.
Thirty-six percent of people surveyed said that not only is the government not the solution to current. economic problems, they are the source of them. A slightly larger percentage of Americans, 39 percent, thought that while they would like to see the government play a more active role in the economy, they're not sure they trust the government to do so effectively.
Despite the overall pessimism toward elected officials and the federal government as a whole, Americans still said that the government plays an important role. Democrats leaned more heavily toward government playing an active role in regulating the economy. They also said they hoped for public-service agendas focused on investing in education, infrastructure, and research. They also said that the free-market economy creates more problems than opportunities because it leaves too many people in poverty. Conversely, 80 percent of Republicans were optimistic about the free-market opportunities. More than half of Republican respondents thought the government couldn't be the answer to an ailing economy, and nearly three-quarters supported agendas that focused on tax cuts, looser regulations on businesses, and assistance for those that wanted to start new ones.
Tarver, a Democrat, believes that while the federal government isn't trustworthy they still serve a purpose in maintaining order in the U.S. economy. "Everyone is trying to get a step up, but they can't govern themselves. Somebody always has to answer to somebody so you can be accountable," she said. "If there's no checks and balances we're always going to have problems."

Those that hoped for an economic agenda focused on social investment were more likely to say that the national economy was in excellent or good condition, and saw the possibility for improvement. Those who favored tax cuts and business incentives were much more pessimistic about the U.S. economic climate.  Among those who believe the economy will become worse over the next 12 years, 60 percent believe the government agenda should focus on cutting taxes, reducing regulations of business, and helping people start their own businesses.
---
---
Echoing the division among political parties, younger respondents were less likely to see opportunities in the free market, and supported agendas that invested in education and social programs. Only 36 percent of Millennials supported the more conservative agenda compared to 47 percent of Generation X and 52 percent of Baby Boomers. This may be indicative of the pressure younger respondents feel from student-loan debt or not being as established in their careers, while older Americans are perhaps more focused on the possibilities of economic autonomy.
---
*The latest Allstate/National Journal Heartland Monitor Poll is the 25th in a series examining how Americans are experiencing the changing economy. This poll, which reprises central questions that the survey explored mostly in its first two years to document how American attitudes have changed since the Great Recession, surveyed 1,000 adults by landline and cell phones from Jan. 2 to Jan 6. 2016. The survey has a margin of error of plus or minus 3.1 percentage points. The survey was supervised by Ed Reilly and Joseph McMahon of FTI Consulting's Strategic Communications practice.