When Did Rick Snyder Learn About Legionnaire's in Flint?
Michigan's governor says he only found out in January, but newly revealed emails show his aides were aware of the fatal outbreak nine months ago.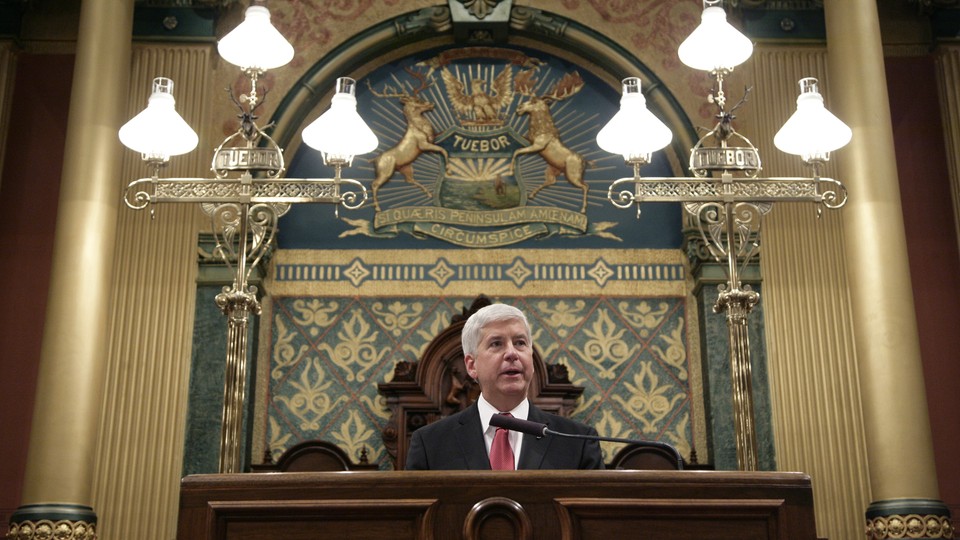 It's getting increasingly harder for Michigan officials to claim ignorance about the poisoning of the city of Flint.
According to newly revealed emails, an aide to Governor Rick Snyder learned nine months ago of an outbreak of Legionnaire's disease tied to Flint's water supply. Ten people died from the bacterial infection, which Snyder made public in mid-January. At the time, he said he'd only become aware of the outbreak a couple days earlier. The emails don't prove that's false, but they shows that Snyder probably should have known about it.
"The increase of the illnesses closely corresponds with the timeframe of the switch to the Flint River water. The majority of the cases reside or have an association with the city," a Genesee County health official wrote to the state Department of Environmental Quality and to Flint's state-appointed emergency manager on March 10. "This situation has been explicitly explained to MDEQ and many of the city's officials … I want to make sure in writing that there are no misunderstandings regarding this significant and urgent public health issue."
Three days later, DEQ's spokesman, Brad Wurfel, wrote to DEQ Director Dan Wyant as well as to a Snyder aide, noting the Genesee county official had "made the  leap formally in his e-mail that the uptick in cases is directly attributable to the river as a drinking water source," which Wurfel called "beyond irresponsible."
That fits with a pattern of state officials insisting that what was happening in Flint was either not a problem or at least not their problem. When high levels of chlorine in the water produced a high concentration of carcinogens called TTHMs, a state official wrote, "It's not 'nothing.' But it's not like it's an eminent [sic] threat to public health." In another email, Snyder's then-chief of staff acknowledged the problems in Flint, but tried to present the problem as a matter for local officials.
The main story of the Flint poisoning is not Legionnaire's or TTHM but lead poisoning, which can create long-term developmental disabilities in children and other health problems. The problems began when Flint began drawing its water from the Flint River, rather than from the Detroit Water Services District; the river water, which has a higher concentration of chlorides, corroded Flint's pipes, so lead remains a problem even now, after the city returned to Detroit water.
Throughout the crisis, Snyder has protested his own ignorance about the problems. Several state officials, including Wyant and Wurfel, were forced to resign over the scandal. But a steady stream of messages—including a large cache released by Snyder's office—have shown that whatever Snyder personally knew, people in his office knew about the crisis in Flint months before it became a national story and brought about state and federal emergency declarations. While citizens of Flint begged for help, the problem wasn't that no one was listening. It's that the people who heard didn't have the political will to do anything about it.
For Snyder, the drip-drip forces him to walk in the paths of executives before him, from Chris Christie to Rahm Emanuel, who have argued that though their aides were well-versed on topics, they were not.