Ferguson Weighs a Federal Plan to End Its Abusive Policing
The consent decree would impose sweeping reforms on a municipality that systematically violated the rights of its residents for years. Is it willing to pay for them?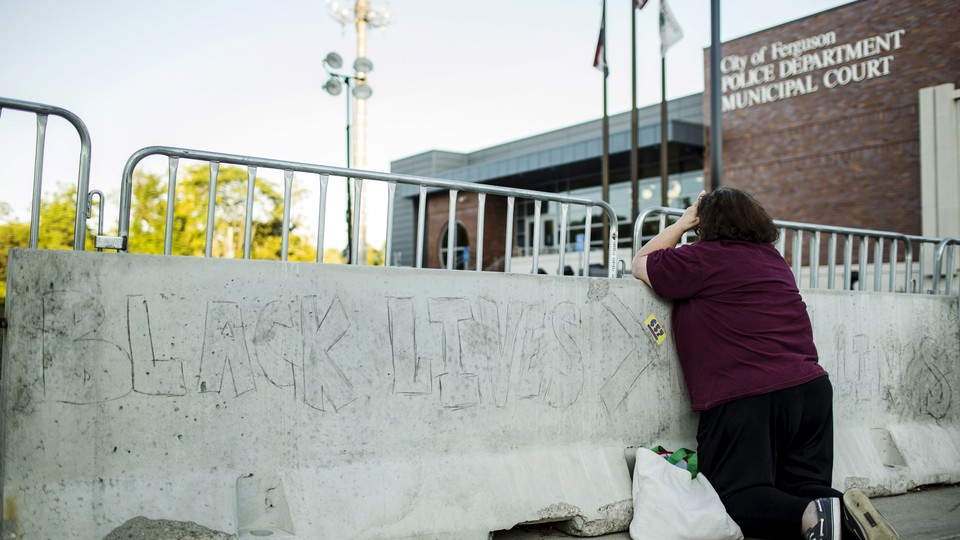 Nearly a year ago, the Department of Justice documented widespread civil rights violations in Ferguson, Missouri, where city officials, police officers, and a compromised judge ran a corrupt system that balanced the municipal budget on the backs of the poor, fleecing them for minor infractions and imposing harsh penalties for late payment. After years of jaw-dropping abuses, rights violations, and needless brutality, much of it directed at black residents, the city was poised for an eruption when Officer Darren Wilson shot and killed 18-year-old Michael Brown.
Protests, civil unrest, and more police abuses followed.
Last week, DOJ's expensive plan for reforming the oppressive system was made public. Cash-strapped city leaders now face a defining choice: "Ferguson can approve the agreement, trusting that voters will approve two tax increases in April that will provide some relief," The St. Louis Post-Dispatch reports, "or it can reject it, hoping to prevail in a lawsuit the Justice Department would almost certainly file against the city." Either course will leave the city in dire financial straits.
The 131-page agreement is already the product of protracted negotiations with the city, and includes the following mandates to be overseen by an independent monitor:
Order every cop in Ferguson to attend a series of meetings with small groups of residents where a neutral facilitator will lead discussions about police interactions; establish neighborhood committees to advise police; and formulate a two-year plan to transition to a new model of "community policing," where officers are assigned to year-long foot or bike patrols in one neighborhood.

Agree to ensure that all employees "reasonably expected to regularly interact with the public" are given body cameras equipped with microphones.

"...make body-worn and in-car camera recordings publicly available to the maximum extent allowable under Missouri law and consistent with individual privacy rights."

Change the municipal code so that its provisions and penalties are clear, consistent with the Constitution, and do not overly burden the city's residents.

Decline prosecution "in all open cases not yet adjudicated that were initiated prior to January 1, 2014." And "eliminate all pending charges, fines, and fees related to Failure to Appear violations without requiring a defendant to make a bond payment, appear in court, or take any other action."

Overhaul all police training under the supervision of a federal monitor and increase the amount of annual in-service training that police officers must complete.

Address racial and gender bias; revise the policy governing police responses to allegations of domestic abuse and sexual assault; consider sustained bias complaints in hiring and promotion decisions; and collect better data on racial profiling.

Stop enforcing laws to generate revenue; carrying out random warrant checks; fabricating reasonable suspicion; fudging police reports; and racial profiling.

Adhere to best practices in all police stops, frisks, and other searches.

Prohibit citation and arrest quotas.

"The City will require... every FPD officer regardless of rank, who observes or becomes aware of any act of misconduct by an employee against a member of the public report the incident to a supervisor for appropriate documentation and investigation. The failure to report an allegation of misconduct, as defined in this agreement, will result in discipline, up to and including termination."

Stop arresting people for minor code offenses.

Do not interfere with the right to assemble or to record police.

Emphasize deescalation and adopt best practices, as specified at length in the document, around use of force; as well, "all officers using force above unresisted handcuffing will be required to document the use of force in writing before the end of shift, and to immediately report the use of force to a supervisor."  

Pass sweeping reforms to the Ferguson Municipal Court system, including independence from the city prosecutor, an impartial judge, and an end to the practice of using municipal court warrants as a means of collecting civil court debt.

Develop a "crisis intervention" model to govern calls involving the mentally ill.
There's a lot more to the full agreement.
City Councilman Mark Byrne told the New York Times that it could cost $800,000 to implement in a city that's been running a multi-million dollar deficit.
Be that as it may, public safety is properly seen as a municipality's foremost responsibility, and far from safeguarding the lives and liberty of its poorer black residents, the city has spent years damaging their lives and flagrantly violating their liberties. Submitting to DOJ's recommendations is its surest path to a just future without further unrest or the pariah status Ferguson will keep if it fights these reforms.
A vote is scheduled for February 9.