Goodbye Jeb Bush, Hello Donald Trump
The former Florida governor was once considered inevitable. Now, with growing establishment support, the former reality star-turned-White House hopeful looks like he could be.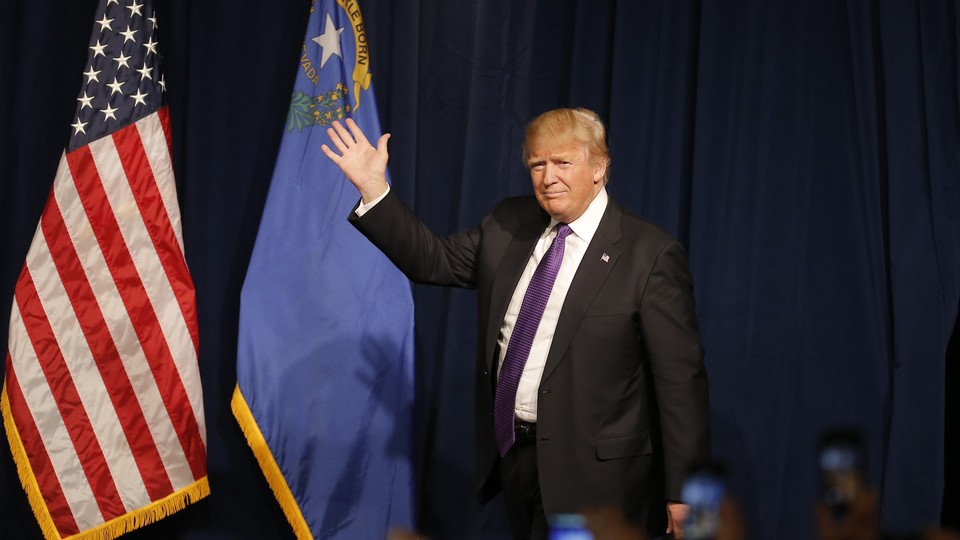 Reaching a milestone in his campaign, Donald Trump scored his first Capitol Hill endorsements on Wednesday from Republican Representatives Chris Collins of New York and Duncan Hunter of California. "I think he will unite our party much quicker than most people think," Collins said in an interview, predicting that Republicans will quickly coalesce behind Trump. What's more, Collins added that plenty of members of Congress are already in Trump's corner, even if they haven't made their admiration public. "A number of members are supporting Trump but have different unique reasons why they're not ready to step out and endorse him," he said. That's a stark contrast from the prevailing notion that the Republican establishment is anti-Trump.
The endorsement is especially notable since Collins previously endorsed Jeb Bush, a reminder of how quickly things have changed in a so far highly unpredictable presidential race. When Bush entered the race, he seemed like the safe bet, the Republican Party's best hope at taking back the White House. Bush had deep ties to the political establishment, and the money to muscle his way across the finish line. Trump had money, but, as a former reality-television star-turned-White House hopeful, he was the outsider, a total long shot.
The political reality looks very different now. At this point in the race, Trump is starting to look inevitable in a way that Bush once did. The former Florida governor dropped out of the race over the past weekend after failing to gain traction. Trump, on the other hand, is on a winning streak after notching victories in New Hampshire, South Carolina, and Nevada. That string of victories appears to be convincing some Republicans that Trump, a candidate who has seemingly challenged nearly every sacred cow of conservatism, may now be the party's best shot at defeating the Democrats in 2016."What I expect is the Trump train, the juggernaut, is going to be unstoppable very quickly," Collins said. "People are then going to say: 'Of course I'm going to support Mr. Trump for president, he's our presumptive nominee. He's got it locked up.'"
Though many may have thought Bush's voters would defect to Marco Rubio, Collins isn't the only former Bush backer who now wants to see Trump win. Interviews with voters who once supported the former Florida governor indicate that at least some have also switched to Team Trump. For certain Republican voters, it simply makes sense. Even if they don't see Trump as the perfect candidate, and even if he wasn't their first choice, they believe he may be the best hope to win back the White House.
Patrick Digan, a 23-year old from Florida, was planning to vote for Bush until he dropped out of the race. It was hard for him to see Bush flail around so much. "He always seemed like he was the punching bag," Digan said in an interview, telling me that his earliest memory of taking part in politics is putting up George W. Bush campaign signs in his neighborhood as a kid. When Bush exited the field, Digan switched his loyalty to Trump. The decision was based on a mental calculation that Trump is the candidate with the best chance of winning the general election. "What's the easiest way to put a Republican in the White House? What's the best possible chance?" Digan said, outlining his rationale for converting to Trump. "I think he's got the best chance of the three [Trump, Cruz, and Rubio] to beat Hillary [Clinton]." At one time, he thought that Bush was the candidate with the best shot of beating the Democratic candidate. Now Digan believes that candidate is Trump.
James Risner, a 19-year-old who lives in Georgia, originally thought Trump's candidacy was sort of a joke. At the start of the race, he wanted to see Bush win because "he wasn't Ted Cruz crazy or John Kasich soft … and he seemed like an excellent candidate." But after a while, as Trump continued to do well in the polls, Risner changed his mind. "He's a nice guy," Risner said of Trump. "I think he means well, and I also think he's going to do what he says he's going to do." Risner wants to see Trump face off against Clinton, and he predicts that if that happens, Trump will win. "I want someone to flat out accuse her of being a criminal," Risner said. "Donald Trump's going to win by tearing Clinton down, and that's the way I want him to win."
There are, of course, plenty of Republicans who openly revile Trump. His opponents have loudly argued that he'll eventually suffer defeat as the field narrows, and that he won't be able to significantly expand his devoted following. As the race drags on, however, Trump appears to be amassing more support. After winning roughly a third of the vote in the South Carolina Republican primary, Trump won the Nevada caucuses with 45 percent of the vote after Bush had exited the race and the field narrowed. The results of the election to date lead to an inescapable conclusion that, at least for now, Trump's appeal extends much further than his competitors would like to think.
As he explained his support for Trump, Representative Collins made a general-election appeal. "We are united in saying this country can't survive the administration of Hillary Clinton," he said. "She is a uniting force for the Republicans to say, 'Anybody but Hillary Clinton.'" Collins also argued that Trump and Bush have more in common than meets the eye. To hear him tell it, both have executive experience, Bush as Florida governor and Trump as a businessman. "I've always been very consistent," Collins said, noting that when he endorsed Bush "Trump wasn't even on the scene at that point."
Trump seems likely to win converts as long as he keeps winning primary contests. The more that Trump looks like an inevitable front-runner, the more incentive party elites have to try and forge a connection with the business mogul. (Hope Hicks, a spokesperson for Trump, said the campaign is grateful for the endorsements and support of voters who decide to back Trump. Collins says the candidate even called him up to thank him personally.) Of course, all this could change, particularly if Trump appears to falter. For now, however, voters across the country who previously stood with other GOP candidates may rally around Trump if they believe he's the most electable candidate in the race.
After all, everyone loves a winner.