DeRay for Mayor?
A high-profile Black Lives Matter activist is taking his fight to the polls, joining the race to become the next leader of Baltimore.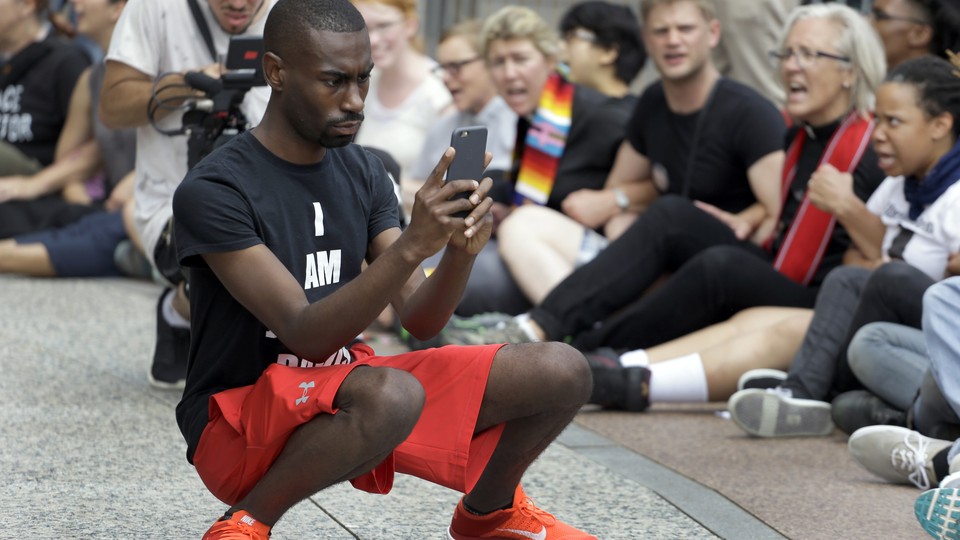 Black Lives Matter leader DeRay Mckesson wants to become Baltimore Mayor DeRay Mckesson.
The ubiquitous 30-year-old activist submitted paperwork to become a candidate just ten minutes before the filing deadline on Thursday night, according to The Washington Post.
Shortly thereafter, Mckesson formally announced his candidacy on Medium. "I have come to realize that the traditional pathway to politics, and the traditional politicians who follow these well-worn paths, will not lead us to the transformational change our city needs," he wrote. Instead, he envisioned a city "that is both aspirational and grounded in reality." He added that he plans to unveil his full platform in the coming weeks.
A Baltimore native, Mckesson first emerged on the national scene as an activist documenting the protests in Ferguson, Missouri, in 2014. Mckesson then traveled throughout the country as a series of high-profile police shootings of unarmed black men and women punctuated a national discussion on law enforcement and race. His ubiquity soon made him one of the movement's most prominent figures. Mckesson's high-velocity Twitter account, alternating between news bulletins and koans on black life in America, became a hub of Black Lives Matter media and organizing.
Before embracing activism full time, McKesson worked as a school administrator in Baltimore and Minneapolis. In recent months, he and other top Black Lives Matter organizers turned their attention to Campaign Zero, a ten-point set of policy proposals to reduce police violence in America. His fame drew meetings with Hillary Clinton, Bernie Sanders, and White House officials, as well as visits to "The Late Show with Stephen Colbert" and countless other media appearances.
While Mckesson is the first civil-rights activist of his generation to seek higher office, he follows in well-worn footsteps. John Lewis, Julian Bond, Andrew Young, Marion Barry, and Jesse Jackson are among the most prominent figures in the civil-rights movement in the 1950s and 1960s to win major elections, and countless other activists of the era also sought transitions into governance.
But Mckesson, who is running as a Democrat, joins an already crowded field of candidates. Twelve other Democratic hopefuls are jockeying to replace outgoing mayor Stephanie Rawlings-Blake, who announced last September she would not seek reelection. Among the other candidates are former mayor Sheila Dixon, who resigned in 2009 as part of a plea deal in an official misconduct case, and Nick Mosby, a city council member and husband of Baltimore state's attorney Marilyn Mosby.
Because the city is a Democratic stronghold, the winner of the party's primary on April 26 will almost certainly be elected mayor in the October general election.