The Democrats Schedule More Presidential Debates
After a dead heat in Iowa and a lot of arguing, there will be at least one debate a month between now and May.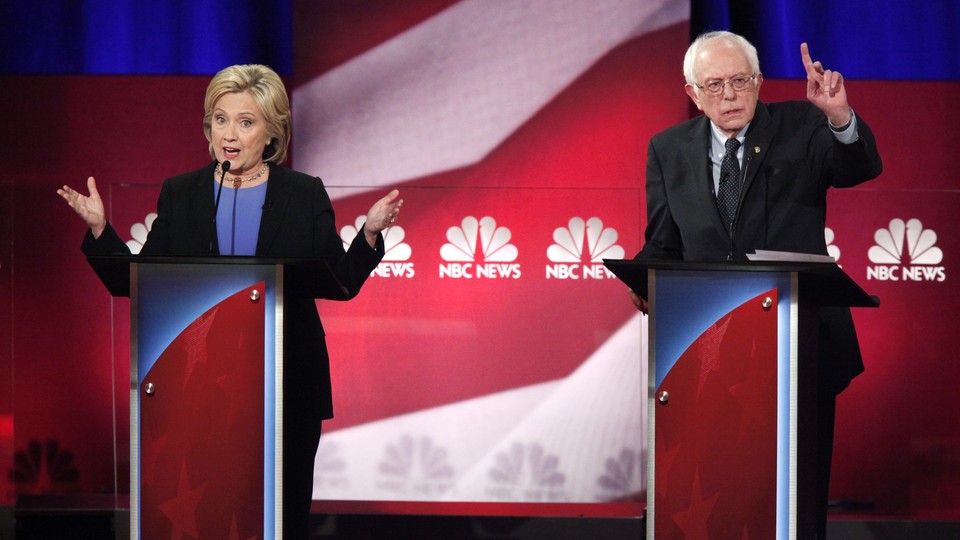 Bernie Sanders got his wish, mostly: He'll have four more chances than expected to debate rival Hillary Clinton this year. But the devil is in the details.
After very public quarreling over the number of contests the Democrats would hold, the Sanders and Clinton camps have agreed to appear at six total debates this winter and spring. The Washington Post reports that the new debates will happen in Manchester, New Hampshire, tomorrow evening; in Flint, Michigan, next month; in Pennsylvania in April; and in California in May. The candidates were already scheduled to appear in two contests, including one next week in Wisconsin.
The new debates have been in the works for a little while now; the campaigns have lately been arguing about the particulars. The debate in New Hampshire had been set up but not yet sanctioned by the Democratic National Committee; as of Wednesday, the Post reports, that debate and each of the additional debates had been approved. But the Sanders campaign said their candidate would only agree to attend in Manchester if Clinton agreed to follow certain conditions for the subsequent debates.
"We are continuing to negotiate with them not just about the debate Thursday night," a high-ranking Sanders staffer told The Hill this week, "but about the other debates that we have said need to be agreed to in order to put the whole package of debates together." One such condition was that they hold a debate in New York; so far, Sanders hasn't gotten his wish on that. Clinton, by contrast, pushed for a debate to be held in Flint, in part, to keep national focus on the city, which is undergoing a public-health crisis related to its water supply. Now, one will be held there. Clinton had previously called the back-and-forth on the debates "hard to follow," insisting that her camp had met Sanders's conditions only to find he'd added more.
The Sanders and Martin O'Malley camps have long suggested that the DNC has been rigging the primary in Clinton's favor, including in its scheduling of the debates. O'Malley was vocal in insisting more debates be scheduled, and the Sanders campaign accused the DNC of hiding the debates so fewer people would watch. In a December fundraising pitch, Sanders's campaign manager said the committee had its "thumb on the scales" in support of Clinton's candidacy: "You see that fact evidenced in their decision to bury [t]he Democratic debates on weekends." One recent Democratic debate was held on a Sunday night during a three-day weekend.
Today's news must be frustrating for O'Malley, who could have used more national exposure, especially after a poor showing in Iowa that precipitated his departure from the race. Whether Sanders will be totally pleased is yet to be decided, too: Not only did he not get his New York debate, but it's not yet clear whether or not each of the additional contests will be held during the workweek.