Clinton Tries to Stop the Sanders Surge
After the New Hampshire landslide, the Democrats will debate for the first time on equal footing.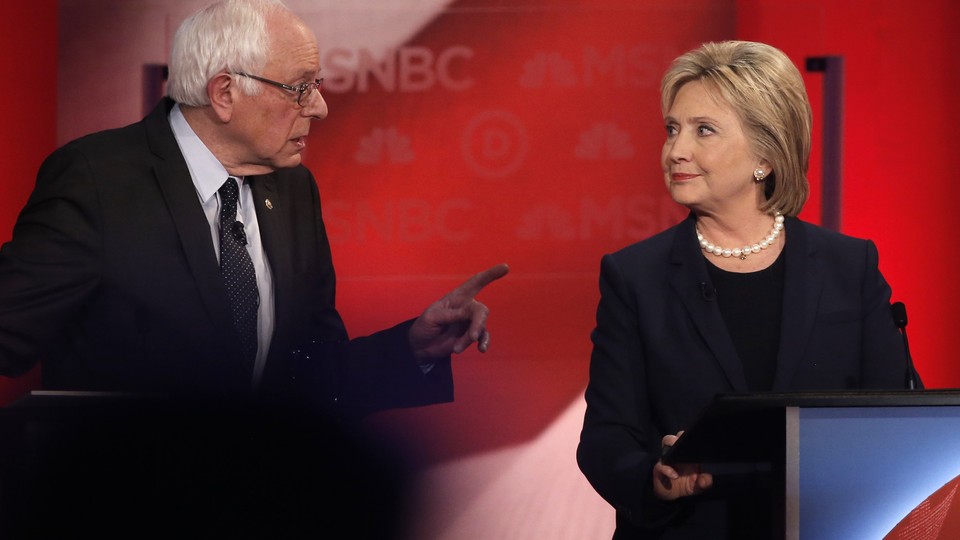 Who's the Democratic front-runner now?
When Hillary Clinton and Bernie Sanders meet in Milwaukee tonight, you might think it's Sanders. The sixth Democratic debate comes just three days after the Vermont senator's landslide win in the New Hampshire primary, and the only question seems to be just how aggressive Clinton will be in going after him.
The former secretary of state was clearly humbled, if not outright humiliated, in the state that had once given both her and her husband new life in past presidential campaigns. Sanders had been expected to win handily, but his 22-point margin was even larger than forecast and cut across almost all demographics: Not only did he dominate among his core group of younger voters, but he even won among women overall, according to exit polls.
While the debate airing on PBS will take place in Wisconsin, the candidates' focus is in Nevada and South Carolina, which hold their contests on February 20 and 27, respectively. And unlike Iowa and New Hampshire, the key constituencies will be minority voters. Immediately after claiming his Granite State win, Sanders flew to New York to meet with the Reverend Al Sharpton in Harlem. Clinton responded by announcing the endorsement of the Congressional Black Caucus's political action committee. At its press conference on Thursday, Representative John Lewis offered this withering assessment of Sanders's role in the civil-rights movement: "I never saw him. I never met him."
Some Democrats have complained that issues of policing, criminal justice, and immigration have gotten short shrift in previous debates, but that shouldn't be the case with Thursday's telecast being moderated by PBS. Clinton will also hope for a focus on foreign policy, which in the past has forced Sanders off his core message of inequality. The Clinton campaign also criticized him for missing a Senate vote this week on North Korea sanctions, suggesting it underscored his lack of interest in foreign policy. (Sanders released a statement saying he supported additional sanctions.)
And if the last Democratic debate, just a week ago, was a referendum on which candidate was the true progressive, this one could turn into a referendum on President Obama. With an eye toward South Carolina's large bloc of African American voters, Clinton has sought to link herself closely to the president, while in an interview on MSNBC, Sanders suggested he would provide more "presidential leadership" in working with Congress. (Clinton spokesman Brian Fallon replied on Twitter that this was "absurd.")
Just how worried should Clinton be? A couple weeks ago, the thinking among most pundits had been that after a narrow win in Iowa, she could weather a defeat in New Hampshire because of her "firewall" in Nevada and South Carolina, where the diverse electorate is more favorable to her. And that may well still be the case. But the Clinton campaign has projected more nervousness in recent days. After the New Hampshire landslide, it immediately began to downplay her chances of a big victory in Nevada while arguing that the really importance races were not until the bigger states that voted in March. And there's already been talk about the nearly 400 superdelegates that Clinton counts in her corner, which could provide a buffer against more Sanders victories—if they don't start to peel away. The obvious worry is the snowball effect: Will the enthusiasm behind Sanders extend beyond his base of young, white voters and pick off black and Latino voters as well? Is the support for Clinton softer than it appears?
With the recent addition of four more Democratic debates, complaints about the schedule have died down. But after their matchup in New Hampshire a week ago, this will be the last meeting for Sanders and Clinton until after Super Tuesday on March 1. Clinton may still have the advantage, but Thursday is a key moment for her to stop the Sanders surge.