Could Dolly Elizondo Be the First Texan Latina in Congress?
Elizondo is vying to replace Ruben Hinojosa in Congress, but she'll have to mobilize unlikely voters to get there.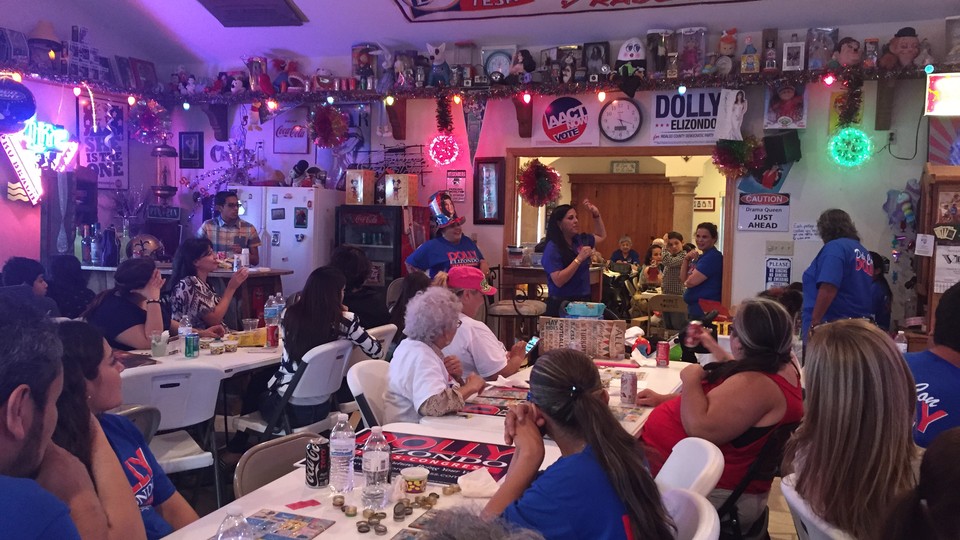 McALLEN, Texas—A group of women in this border town are trying to accomplish something that has never been done. They want to send a Latina from Texas to Congress. But to succeed, they'll have to mobilize a community of voters who have traditionally felt alienated from politics and who have largely stayed away from the ballot box.
In an impoverished region where large campaign contributions are something of a rarity, Dolly Elizondo's best leverage is her own backstory.
Born and raised in the Rio Grande Valley, Elizondo married at 19 and settled into what she thought would be a life of homemaking and raising babies. By 29, she was divorced, with a 3-year-old and a 1-year-old to raise, and no college degree. Armed with the memory of her own mother taking night classes while raising four children, Elizondo enrolled in community college. She would eventually graduate from the University of Texas-Pan American and take up teaching. On Fridays after school, she would round up her kids (Christina, 28, now a lawyer, and Carianna, 25, a nutritionist in Austin) and sell real estate as a part-time side gig. She was good at it, and eventually, she switched careers, pulling out her teacher retirement money to purchase a real-estate company in 1997. Two years later, she would become the first woman south of San Antonio to become a certified commercial-investment manager.
With her career taking off and her kids in school, Elizondo, now 52, wasn't thinking about running for political office. But after Republican Rose Vela beat incumbent Democrat Fred Hinojosa in 2006 to win a seat on the 13th Court of Appeals, which covers this region, Elizondo and several of her friends decided they needed to do something about the area's lack of any real infrastructure for turning out women voters. So they formed Hidalgo County Democratic Women, and, Elizondo quips, "I was 10 minutes late to the first meeting, so I was voted president." Two years later, she was elected county Democratic Party chair.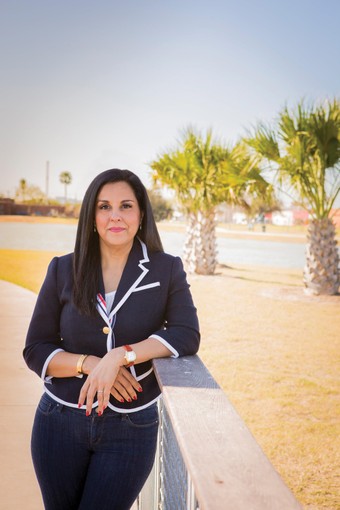 "I think that was the start of what this is now," she says during an interview at a fundraising event, as the sound of 75 women playing lotería, a Mexican game of chance not unlike bingo, echoes in the background. Elizondo still lives in Mission, a city just west of McAllen whose southern border abuts Mexico, and her backstory rings familiar with voters here. "Women here have my story," Elizondo says.
It has little in common with the privileged upbringings of most of the lawmakers on Capitol Hill, though, which is exactly why her supporters have put their lives on hold ahead of the March 1 primary to try to get her elected. There is a sense among women in the valley that Washington doesn't care much about them or their families, and the idea of having someone who looks like them on Capitol Hill is a rallying point. Her campaign, running lean with just five full-time staffers and spending abilities much more modest than some of her opponents, hopes it is enough to drive formerly apathetic locals to the polls.
"Dolly is one of us," Sara Lopez, who has known Elizondo for 30 years and is hosting the fundraising event, says. An ardent Hillary Clinton supporter who was devastated by her loss to President Obama in 2008, Lopez came out of self-imposed political retirement to champion Elizondo's campaign. In less than two weeks, they will know whether it was worth it. The district Elizondo would represent is overwhelmingly Latino and Democratic, and whoever clinches the primary is almost certain to be the victor come November.
This particular election presents an unusual opportunity for a newcomer like Elizondo. Congressman Ruben Hinojosa announced he would retire this year after two decades representing the district, which runs in a narrow, jagged fashion from northeast of San Antonio down 250 miles to McAllen. And while many of the women at the lotería event have favorable things to say about Hinojosa, they think it's time a woman held the seat. "Guys don't get it," says Sandy Cavazos. "It's the good old boys." "It's about having a seat at the table," said another, who did not want to be identified, but said she had come as an undecided voter and would leave an Elizondo supporter.
But the contest is a tough one that has pitted Elizondo against six other Democrats, one with much deeper pockets, another with name recognition that carries real weight down here, and another, Ruben Ramirez Hinojosa, who has been campaigning under the same name as the well-liked outgoing congressman despite having no ties to the family. Attorney Vicente Gonzalez has put more than $700,000 of his own money into the campaign, a sum Elizondo can't begin to match and one that has allowed him to reach a wide swath of voters with ads. Sonny Palacios serves on the local Edinburg School Board and comes from a family that has long owned businesses and held public office in the area.
Elizondo acknowledges that the other Democratic candidates hold similar positions on most issues (making college affordable, passing comprehensive immigration reform, expanding job opportunities), which means if she can't differentiate herself enough by sharing her backstory, it will be difficult to set herself apart when it comes to specific political positions.
No reliable polling exists for the race, but an internal survey of likely primary voters from late January shows Elizondo, Gonzalez, and Palacio in a virtual three-way tie, each with 16 percent. A late-May runoff after the initial March 1 primary is highly likely, and Elizondo says she expects to be part of that contest.
There is a good chance she is right. Elizondo has secured what could be a powerful endorsement from EMILY's List, the national organization that backs female Democrats who support abortion rights. The day of the fundraiser, the group has staff on the ground helping Elizondo's team plot the final days of the primary. Both former state Senator Wendy Davis and New York Senator Kirsten Gillibrand have backed Elizondo. Hillary Clinton is expected to step up presidential campaign activity in Hidalgo County in the coming days, and Elizondo's camp is hoping to piggyback on some of the momentum.
Still, only about 20 percent of Hidalgo County voters cast ballots in the 2012 primaries, and many of the people Elizondo would like to mobilize simply aren't engaged. While the district extends farther north, the overwhelming majority of its residents live in the county. Since Elizondo cannot pour hundreds of thousands into far-reaching campaign ads, she is focusing her attention on making calls and knocking on doors locally, and relying on surrogates to spread her campaign message in the north. "It's hard for me to be everywhere," she acknowledges.
Whether it is enough to secure a win is unclear. The campaign's own internal poll shows Palacios has more name recognition, but Elizondo hopes that sharing her personal story with as many potential voters as possible, focusing specifically on Latinas, will propel her to victory. But she acknowledges that Republican presidential front-runner Donald Trump's negative comments about Mexican immigrants may make would-be voters too nervous to participate in the election at all.
Still, Elizondo, who likes to garden and run when she's not campaigning, has already picked out a town house in Washington, D.C., looked into relocating several of her beloved rescue dogs ("Can they come to the Capitol?" she wonders aloud), and fantasized about playing shortstop in the annual congressional women's softball game.
As the fundraiser winds down, Lopez leads the women in a rousing chant of "Dale con Dolly," which translates roughly to "We're with Dolly." Elizondo looks on, acutely aware of the weight of representing not just her district, but a cohort of women who think she has a chance to elevate their voices and opinions to a position of power. When she addresses the crowd, Elizondo speaks as if she will be taking the entire community with her. "We're going to go to Washington," she shouts, to cheers.
"We would've never thought one of us would be running for a seat in the U.S. Congress," she says of her family's hope for her future when she was a child. "Now, young women are looking at me and thinking that could be me."