Clinton and Sanders Go One-on-One in New Hampshire
The two Democrats have the stage to themselves for the first time, as they argue over which of them is the true progressive.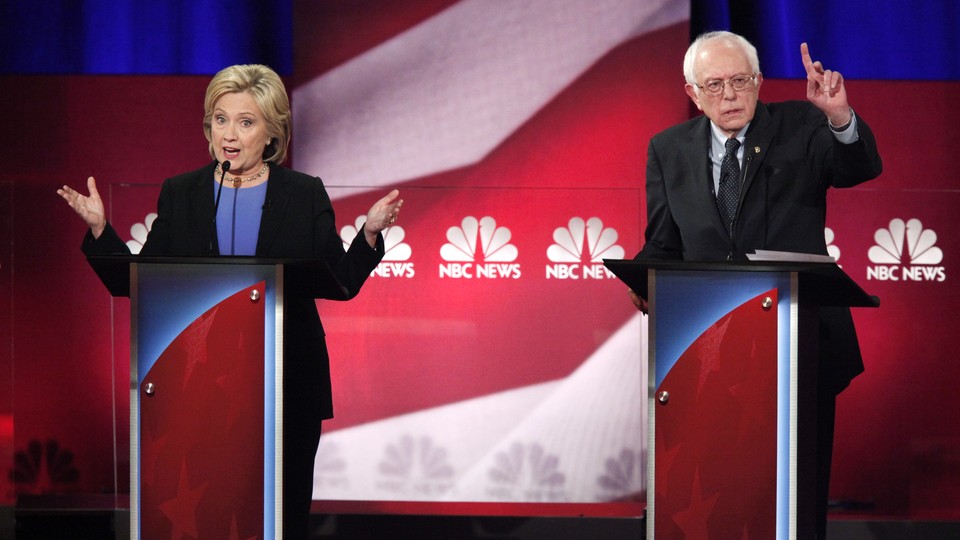 Sorry, Marty. It's down to Hillary and Bernie now.
With Martin O'Malley out of the presidential race, the two remaining Democratic candidates will go head-to-head for the first time on Thursday night, launching a two-person contest likely to stretch to Super Tuesday and beyond. The 9 p.m. debate on MSNBC was only confirmed on Wednesday, after Clinton, Sanders, and the Democratic National Committee agreed to add four additional match-ups to the two remaining contests that were previously scheduled.
Presidential candidate debates in recent elections have often come with a theme—the economy, for example, or national security and foreign policy. Thursday's event is ostensibly open-ended, but it will probably focus on one over-arching question: What does it mean to be a progressive?
That's been the topic of discussion in the three days since Clinton defeated Sanders by the thinnest margin in the history of the Iowa Democratic caucuses. Defending his comfortable lead in the New Hampshire polls, Sanders has begun to question Clinton's progressive credentials. The dispute began on Tuesday, when a reporter asked Sanders if he considered his rival a progressive. "Some days, yes," he replied. "Except when she announces that she is a proud moderate, and then I guess she is not a progressive."
Ouch.
The Clinton camp didn't take kindly to that. "You're progressive enough, Hillary," tweeted Jennifer Palmieri, the campaign's communications director. It was a none-too-subtle reference to Barack Obama's infamous backhanded compliment from 2008, when he told Clinton during a New Hampshire debate, "You're likable enough."
Sanders ran with the contrast, however, embracing the argument that his supporters have been making for months: He's the authentic liberal, and Clinton is a progressive when it's convenient. In a tweetstorm on Wednesday, Sanders unleashed a litany of examples of where he believed the former secretary of state had strayed from the cause, including her vote for the Iraq war and her past support of the Trans Pacific Partnership and praise for the Keystone pipeline (both of which she ultimately opposed.)
Sanders concluded with a tweet listing more than 20 other policy-related complaints about Clinton (although it was most notable for the sly inclusion of the words "pleads guilty" right after her name).
As my colleague Clare Foran noted, Sanders made his argument in person at a town-hall forum Wednesday night on CNN. Clinton responded by saying that based on his standards, if she wasn't a progressive, then neither is President Obama nor Vice President Biden. She even invoked the late liberal icon, Senator Paul Wellstone.
Sanders and Clinton will be able to continue the discussion face-to-face on Thursday night, and for the first time, they won't have to worry about being interrupted by O'Malley, the former Maryland governor who dropped his bid after winning less than 1 percent of the vote in Iowa. The debate at the University of New Hampshire came together at the last minute as a part of the agreement for the candidates to hold four additional debates over the next few months.
Both candidates are coming off strong performances during Wednesday's forum, although it's likely that Clinton will look for a re-do on her answer about earning $675,000 in paid speeches from Goldman Sachs. "I don't know. That's what they offered," she said awkwardly Wednesday, drawing cringes from Democrats and Republicans alike. She has moved swiftly to lower expectations for her performance in Tuesday's Granite State primary, even claiming that some people urged her to skip the state.
Given Clinton's strength in South Carolina, New Hampshire isn't a must-win state for her. But the debate over progressivism is fundamental in a Democratic Party that has moved significantly to the left in the two decades since her husband won his second term. The word "liberal" might not be fully rehabilitated, but the progressive label is now as important to Democrats as conservative is for Republicans. The question of Clinton's bona fides was bound to explode eventually, and as the two remaining Democratic contenders share the stage alone for the first time, Thursday night seems as good a night as any to fully air it out.