A Very Bad Night for Chris Christie
The New Jersey governor's less-than-stellar showing in the New Hampshire primary will make it hard for him to carry on.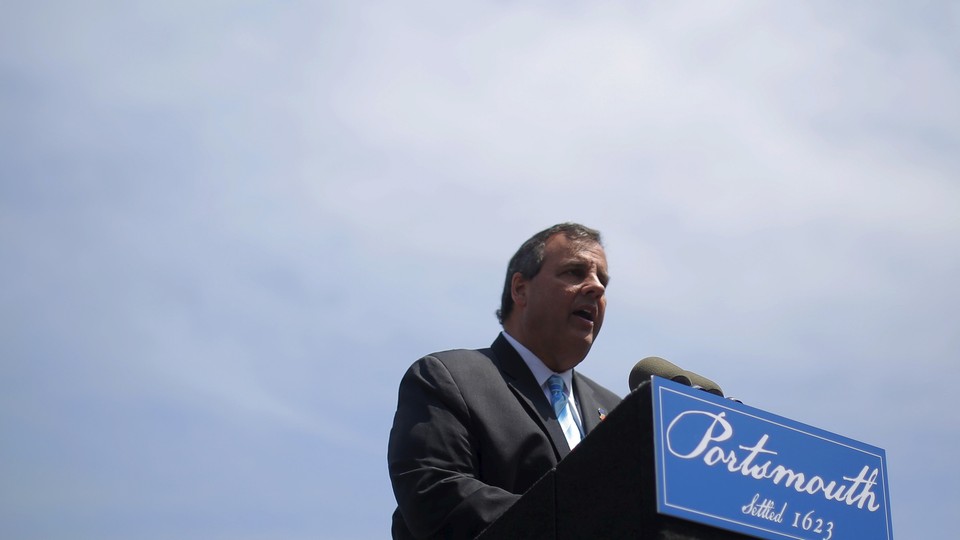 Updated on February 10, 2016
For Chris Christie, the 2016 race has been leading up to New Hampshire.
The New Jersey governor, and increasingly long-shot Republican presidential hopeful, had pinned his hopes on a strong showing in the New Hampshire primary. But on Tuesday evening, the results were disappointing for the governor. Donald Trump was declared the winner of the GOP primary shortly after the polls closed, a blow to Christie, who warned that a victory for the real-estate mogul could jeopardize the state's first-in-the-nation primary status. (Bernie Sanders, meanwhile, was named the winner of the Democratic primary.) In fact, Christie didn't even finish in the top five. A nearly complete vote tally shows him trailing Trump, John Kasich, Ted Cruz, Jeb Bush, and Marco Rubio.
Speaking to supporters Tuesday evening, Christie announced that he'll go home to New Jersey where he'll wait to see how the final vote shakes out before making a decision about what comes next. He indicated he should be ready to make that decision by Wednesday, and it sounds very likely that he may soon drop out of the 2016 race. The governor attempted to sound upbeat, but his disappointment shone through: "We came here to say that speaking your mind matters, that experience matters, that competence matters," Christie said. "That message was heard by a lot of folks, and it was stood for by a lot of folks here in New Hampshire, just not enough, not enough tonight."
A dismal showing in New Hampshire is a blow for the governor who had hoped to ride a wave of momentum after a strong performance in Saturday's GOP debate held in Manchester. Christie's breakout moment arrived when he went after Rubio, accusing the senator of rigidly sticking to script. The critique went viral, with "MarcoBot" videos popping up across the Internet. Christie pointed to the confrontation as a pivotal moment. "Saturday night changed everything," he gushed to Today after the debate. And CNN reported roughly two-thirds of GOP primary voters were influenced by recent debates. But while Christie may have taken Rubio down a peg, it seems he didn't do much to improve his own standing with voters.
It wasn't for a lack of trying. Christie seemingly exhausted every tactic to win the state. He worked hard to appease voters, spending countless hours answering their questions in town halls, playing the retail-politics game long seen as a key to victory in New Hampshire. He talked up the amount of time he has spent in the state. And he even used intimidation to get his way, warning voters that if they reward a candidate like Donald Trump who has spent comparatively less time glad-handing, New Hampshire risks sending a message that candidates don't have to spend much time on the ground in the state to win. In a dramatic plea, Christie even got down on one knee, as if he were going to propose, to convince a New Hampshire voter to side with him.
Christie swallowed his pride, and congratulated Trump on Tuesday, though he made clear that he doesn't believe the real-estate mogul has sewn up the GOP nomination. "The race will continue down the road in South Carolina, and other states as we move forward, but for New Hampshire, they have chosen their candidate tonight, and he deserves congratulations for that," he said.
The governor has already suffered defeat this primary season. A week earlier, at the Iowa caucuses, Christie performed poorly. He captured only a slightly higher percentage of the GOP vote than Rick Santorum, who dropped out of the race a few days later, and Jim Gilmore, who didn't make the cut for Saturday's Republican debate and took to Twitter to talk about puppies instead. But that was more or less to be expected in a state where social conservatives hold so much sway. In New Hampshire, Christie's campaign thought they had a better chance.
There, Christie tried to appeal to voters as a serious candidate, one with the experience and grit to handle the job of commander-in-chief. He also positioned himself as more moderate than some of his Republican rivals.
Still, even as Christie talked himself up, traces of doubt crept in. "We want to do very well, but I don't think anything is do or die tonight after the performance we had on Saturday night," he said during his segment on Today in anticipation of the primary. In the end, a breakout debate performance and time spent on the ground weren't enough to secure a victory.
Christie's campaign suffered blows from negative television advertising paid for by Rubio allies. He also had to fight it out for the title of establishment Republican with John Kasich and Jeb Bush, making his attempt to position himself as a more viable and reasonable alternative to Trump and Cruz more difficult. What's more, Christie also had a challenge that nearly every other candidate in the race had to contend with, too: the difficulty of competing for airtime in an election where the airwaves have been commandeered by Trump.
The governor attempted to put things in perspective on Tuesday after results had started to trickle in. "I have both won elections that I was supposed to lose, and I've lost elections I was supposed to win. What that means is you never know," he said. "It's both the magic and the mystery of politics that you never quite know which is going to happen." Taking stock of his less-than-stellar New Hampshire showing, Christie will have to think seriously about his plans for the days and weeks ahead. Voting looms ahead in Nevada and South Carolina, two states where it's not clear that he will fare much better.