Carly Fiorina Gets Shut Out
An intense lobbying effort from the former Hewlett-Packard executive didn't convince ABC News to let her into the next Republican debate.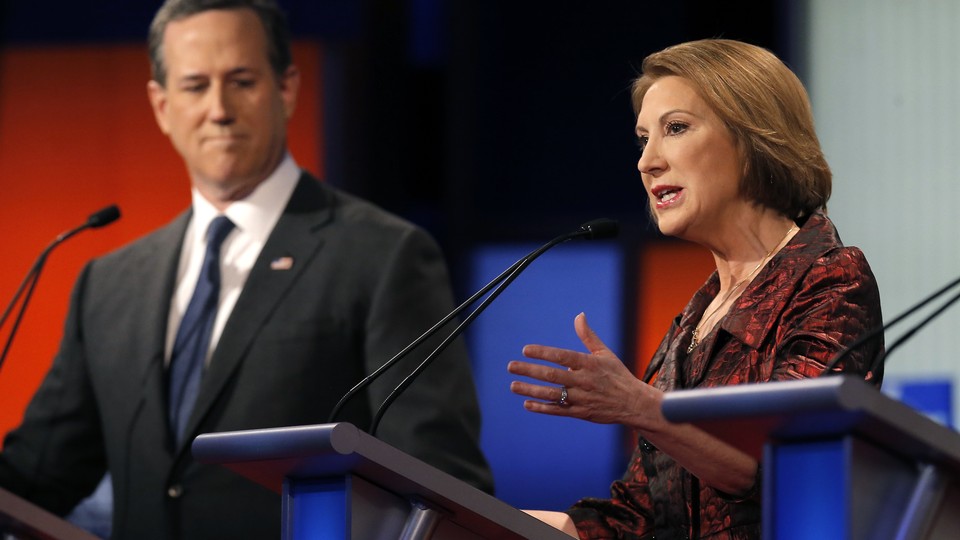 Carly Fiorina didn't make the cut.
After a vigorous lobbying effort, Fiorina failed to convince ABC News to let her on Saturday's GOP debate stage. The network too announced which candidates qualified on Thursday afternoon more than two hours later than it said it would. That led journalists and other interested parties on Twitter to speculate whether the delay meant good things for Fiorina, who wasn't polling as high as she needed to make the grade.
But in the end, just seven candidates will appear on stage in Manchester, New Hampshire, this weekend: Jeb Bush, John Kasich, Ben Carson, Chris Christie, Donald Trump, Marco Rubio and Ted Cruz. Aside from Fiorina, the only other declared candidate who didn't qualify is former Virginia Governor Jim Gilmore.
This news is bound to be frustrating for the Fiorina camp. A poll out of New Hampshire earlier this afternoon, from CNN and WMUR, showed her tied with Christie in sixth place; if that survey had been the only one ABC News considered in determining which candidates qualified, she'd be in.
For Fiorina, the campaign to get onstage Saturday was no small fight. In the summer and early fall, her well-reviewed debate performances translated to bumps in the polls, and no doubt she was hoping this last debate before the New Hampshire primary would similarly give her a boost. This also wasn't the first time Fiorina lobbied a network to admit her to a debate after she didn't meet initial criteria. After qualification rules for a September contest forced her to the undercard, she insisted she was unfairly left out, because CNN had used outdated polling to determine which candidates should made the cut. CNN adjusted the qualifications, and she was able to compete. Fiorina also nearly missed the first undercard debate, until Fox opened it up to all declared candidates who didn't make the main-stage cut.
By Thursday afternoon, Fiorina had a few prominent Republicans in her corner: Newt Gingrich, Mitt Romney, and Senators Kelly Ayotte and Ben Sasse all said she should be allowed to debate. Senator Ted Cruz said Thursday afternoon that "she deserves to be there." Ben Carson suggested on Twitter late Thursday that all candidates should be let in. Ayotte's statement in particular was a big get, given that her home state is hosting the contest. She wrote Thursday that "exclud[ing] her … while she is outperforming one of the other debate participants in New Hampshire polls, undermines our role in the primary process."
The Fiorina campaign's beef with ABC News is about the metrics it used to determine which candidates would qualify for Saturday's event. For the first time this cycle, there will only be one, main debate—no undercard. The network determined that in order to merit a lectern on stage, candidates had to either place in the top six in an average of New Hampshire primary polls selected by ABC News; place in the top six in an average of national polls chosen by the network; or place in the top three in the Iowa caucuses. It's not clear which polls ABC News used to make its decision, but Fiorina's averages on RealClearPolitics, at least, didn't cut it.
Fiorina has argued that all eight declared candidates should be allowed on stage. (She doesn't include Gilmore, who hasn't waged the most traditional campaign, in her count.) In an interview with Meet the Press Daily's Chuck Todd Wednesday evening, Fiorina said it's "odd" that the qualifications for debates "keep changing," especially now that the field is much smaller than it once was. She's suggested, like Senator Rand Paul did last month, that the media is manipulating the debate process. In a letter Wednesday to the Republican National Committee—a body, she told Todd, that's supposed to ensure "voters hear from their candidates"—Fiorina described why she's more qualified than some of the candidates who are scheduled to debate on Saturday night:
To review, we beat Governors Christie and Kasich in Iowa this week when voters actually had their say. This campaign has the same number of delegates as Governors Bush and Kasich while Governor Christie has zero. We're ahead of Dr. Carson in New Hampshire polling. We are 6th in hard dollars raised and have twice the cash on hand as either Governors Christie or Kasich. We are already on the ballot in 32 states, and there is a ground game with paid staff in 12 states. Yet, all of these candidates will be invited to the ABC debate. I will not.
The RNC letter and interview with Todd were just two elements of her lobbying campaign: She made her case in other interviews and tried to gin up support on social media. A pro-Fiorina super PAC, CARLY for America, launched a petition on her behalf, which she and her staff also promoted.
Gilmore and Fiorina aren't likely to comfort each other in their shared struggle. Gilmore sent a letter to ABC News Thursday calling himself more qualified than Fiorina to debate, and insisted that "especially" if the network modifies "requirements" for Fiorina, it should modify them for all candidates. The missive criticizes her "unseemly lobbying," and though Gilmore was making a similar request, he said he would not "use her tactics to try to intimidate one of America's great networks."
The Gilmore campaign characterized ABC News' decision as "the same old thing of networks trying to pick candidates. At this point we are used to it and looking forward to the vote in New Hampshire next week." The Fiorina campaign hasn't yet released its reaction.