Carly Fiorina Drops Out
After a seventh-place finish in New Hampshire, the former Hewlett-Packard CEO is done.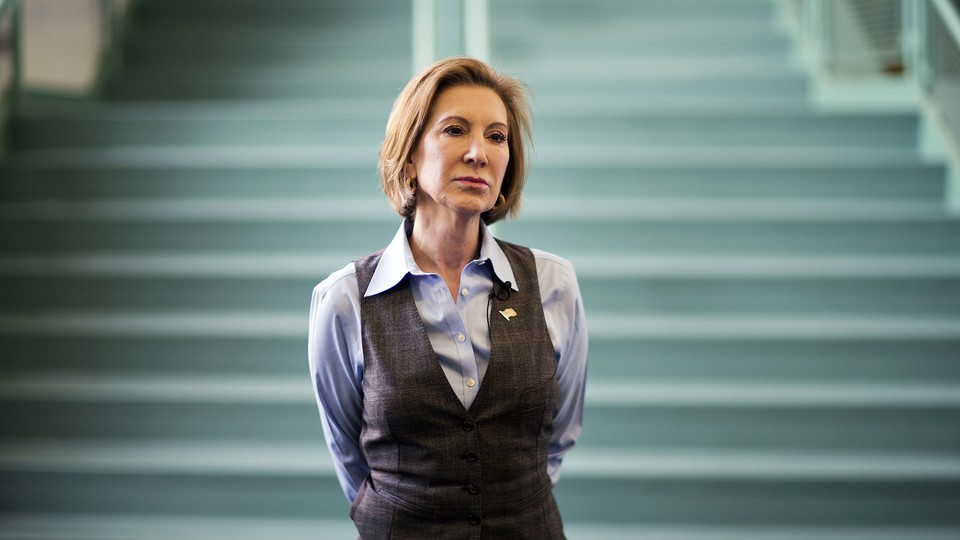 New Hampshire always has its casualties, and Carly Fiorina is its first. She's expected to be followed shortly by New Jersey Governor Chris Christie.
In a statement Wednesday afternoon, the former CEO of Hewlett-Packard announced she is suspending her campaign after a seventh-place finish in the first-in-the-nation primary state. Tuesday night, Fiorina insisted she'd keep fighting, but on Wednesday, she conceded it won't be on the trail.
"Election after election, the same empty promises are made and the same poll-tested stump speeches are given, but nothing changes," Fiorina wrote. "I've said throughout this campaign that I will not sit down and be quiet. I'm not going to start now."
Fiorina's last week on the campaign trail was a tough one. After finishing seventh in Iowa, she did not qualify for the main debate stage last Saturday—a major blow for a candidate whose poll numbers and name recognition once spiked after her well-received debate performances. In response, Fiorina launched a lobbying effort, with the support of some high-profile Republicans, to get ABC News to reconsider their qualifying criteria. When they didn't, Fiorina blamed the network and the Republican National Committee for unfairly influencing the race. She no doubt ties her numbers in New Hampshire to being sidelined on Saturday night.
But New Hampshire was really just the last straw for a campaign that had more valleys than peaks. Fiorina launched her campaign eight months ago, her second effort to seek elected office after a failed bid to unseat Senator Barbara Boxer of California back in 2010. She positioned herself as a tech-savvy leader with a (disputed) rags-to-riches story who would bring private-sector smarts to Washington. She was also part of the 2016 primary's trio of political outsiders, along with Ben Carson and Donald Trump.
Part of Fiorina's problem was that she never had a core constituency of voters to rely on. She wasn't an establishment candidate, waiting for voters to lose their appetite for untested contenders. She wasn't going to attract the powerful evangelical vote in Iowa. And she wasn't enough of an outsider, like Trump seems to be, for voters' imaginations to latch on to. (Well, their imaginations or their lesser angels.)
She saw small bursts of success early on in the overinflated primary, thanks to those well-reviewed debate performances. And she was particularly talented at retail politics, with her ground game supplemented by a super PAC that bore a lot of a campaign's traditional burdens. As she repeatedly emphasized on the trail, many Americans had never heard of her before she hit prime time, and solid performances translated into improved polling. After appearing in the first undercard debate in August, she "broke through" to qualify for the main stage for the second contest, in September. But, as my colleague David Graham pointed out in October, a lack of debates in mid-fall led to some lost mojo, and Fiorina hasn't really seen a surge since. In New Hampshire, according to exit polling, many voters waited until the last minute to choose their favorite candidate, and roughly two-thirds said Saturday's debate was a significant factor in their choice. Fiorina wasn't even on the stage.
In the debates, as on the campaign trail, she always had her eyes on the general election. Fiorina seemed to mostly ignore her fellow candidates—save the requisite fight with Donald Trump—preferring to volley criticism most often at Hillary Clinton. For much of the last few months, her critiques of Clinton in the campaign seemed relatively tame. ("You may not have decided who you're going to vote for, but you would love to see me debate Hillary Clinton" is a common line; as is a crack about Clinton's frequent flying.) But at the last debate she appeared in, just ahead of the Iowa caucuses, Fiorina went personal, alleging that Clinton doesn't like spending time with her husband. It was a low, if inevitable, moment in this increasingly volatile race, and one that seemed light-years away from the above-the-fray figure Fiorina cut at the beginning of the race.
In her announcement Wednesday, she lobbed one final volley the Clinton campaign's way. Fiorina seemed to condemn Clinton supporter and former Secretary of State Madeleine Albright's assertion that "there's a special place in hell for women who don't help each other," though she didn't reference Albright by name. "To young girls and women across the country, I say: Do not let others define you," Fiorina wrote. "Do not listen to anyone who says you have to vote a certain way or for a certain candidate because you're a woman. That is not feminism."
She concluded the criticism with a description of what a true feminist is, and it seems to dovetail with precisely how Fiorina interprets her life story: "A feminist is a woman who lives the life she chooses and uses all her God-given gifts. And always remember that a leader is not born, but made. Choose leadership."