Bill Clinton Goes on the Attack
The former president's heated assault on Bernie Sanders is a reminder of how the Clintons have long reacted to any opposition.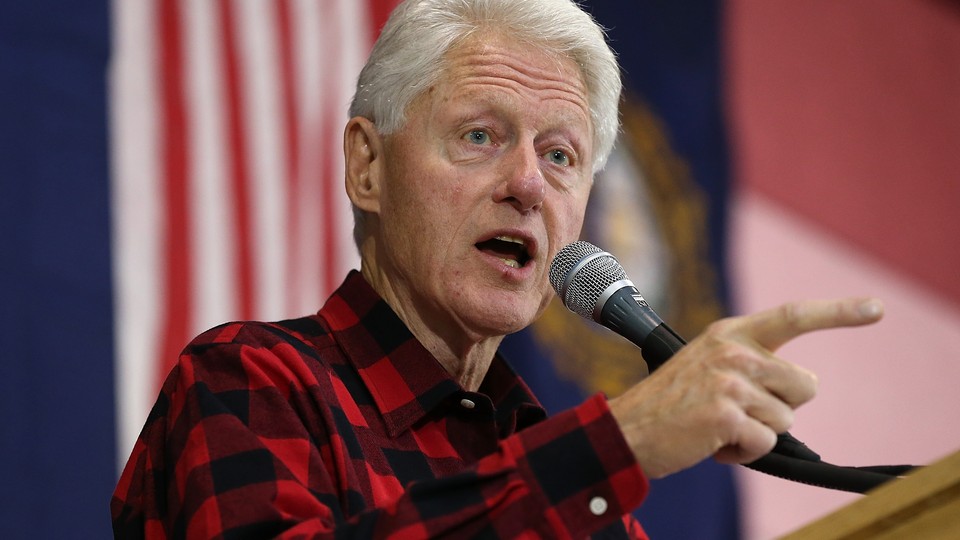 One of my oldest Hillary Clinton memories: Twenty-six years ago, I stood in the second-floor rotunda of the Arkansas Capitol half-listening to a news conference by Tom McRae, an earn­est Demo­crat chal­len­ging Governor Bill Clin­ton for re-elec­tion. Then I heard it: Click. Clack. Click. Clack. Click. Clack.
The sound of Hillary Clinton's low-heeled shoes on a hid­den marble hall­way jarred McRae, who in 1990 was Bill Clinton's biggest obstacle to a fifth term and a presidential bid two years later. The first lady of Arkansas rounded the corner and stormed his news conference. "Tom!" she shouted. "I think we oughta get the record straight!"
Wav­ing a sheaf of pa­pers, Hillary Clinton un­der­cut McRae's cri­ti­cism of her husband's record by point­ing to McRae's past praise of the gov­ernor. It was a brutal sand­bag­ging. "Many of the re­ports you is­sued not only praise the gov­ernor on his en­vir­on­ment­al re­cord," she said, "but his edu­ca­tion and his eco­nom­ic re­cord!"
McRae's primary cam­paign was toast. Bill Clin­ton was one step closer to the White House.
Over the years, I've told this story to warn people about underestimating Hillary Clinton, a fierce advocate for her husband, her causes, and her own political career. As she proved in the New Hampshire primary eight years ago, Hillary Clinton is best when backed into a corner.
Now she's back in New Hampshire, trailing Vermont Senator Bernie Sanders by double digits, and I'm hearing echoes of the McRae news conference. This time, the roles are reversed: Bill Clinton is attacking Hillary Clinton's rival.
"When you're making a revolution you can't be too careful with the facts," the former president said Sunday in Milford, New Hampshire.
In a 50-minute harangue, Bill Clinton portrayed Sanders as hypocritical, "hermetically sealed," and dishonest. He described the attacks by Sanders supporters upon Hillary Clinton and her backers as "sexist." He accused the Sanders campaign of theft and lies, and mocked the populist's central argument: "Anybody that doesn't agree with me is a tool of the establishment."
The only thing missing was a sheaf of papers quoting Sanders praising Hillary Clinton. Wait for it. As Jonathan Martin of The New York Times reported, the Clintons are just getting started.
Mr. Clinton's comments represented an escalation in the language that he and Mrs. Clinton's campaign have used to attack Mr. Sanders, who has maintained a sizable advantage in the polls here. Mr. Clinton made headlines in 2008 for fiercely defending his wife, and leveling tough attacks on Senator Barack Obama, but he has been largely restrained so far in this campaign.
After his wife lost the 2008 Iowa caucuses and before she won New Hampshire, a frustrated Bill Clinton said the story of Obama's long-held opposition to the war was bogus. "This whole thing is the biggest fairytale I've ever seen." After his wife lost the South Carolina primary, Bill Clinton dismissed Obama's victory by noting that Jesse Jackson had won the state in 1984 and 1988.
Bill Clinton was accused of race-baiting, a hurtful charge. He had long prided himself on being a champion of the African American community, and enjoying strong support from black voters in Arkansas and during his presidential races.
Personally, I never considered Bill Clinton the least bit prejudiced. Although I understood the criticism, I always thought his attacks on Obama had less to do with race than with the Clintons' outsized sense of entitlement.
For all their strengths—all their accomplishments and good intentions—there has always been a less attractive side of the Clintons. They can't fathom why anybody would challenge their motives, doubt their veracity, or criticize their policies. The Clintons' self-conceptions are yoked to their sense of public service and joint commitment to making lives better—and they believe their ends justify their means.
If you're not for them, you're not just an opponent—you're beneath contempt. That's why when Hillary Clinton confronted McRae for leaving her husband's cabinet to mount his primary challenge, she didn't just attack his record, she said, "I've been really disappointed in you as a person, Tom." It's what led her to call Monica Lewinsky a "narcissistic loony tune." It's what led her to list, only half in jest, her enemies: "In addition to the NRA, the health insurance companies, the drug companies, the Iranians; probably the Republicans."
This is what apparently drives Bill Clinton today. He loves and respects his wife, and he thinks she's entitled to the presidency. Damn anybody who disagrees—even the people of New Hampshire who saved his career in 1992 and gave new life to hers 16 years later.
"Is it good for America?" Clinton asked about Sanders's slapped-together health-care plan. "I don't think so. Is it good for New Hampshire? I don't think so." He continued: "The New Hampshire I knew would not have voted for me if I had done that."
The New Hampshire he knew discounted the attacks against him and pushed him toward the White House. It's the only New Hampshire he understands.