What Is the Point of Joe Biden's Cancer 'Moonshot'?
The vice president has launched an effort to "end cancer," but the White House is only asking for $1 billion.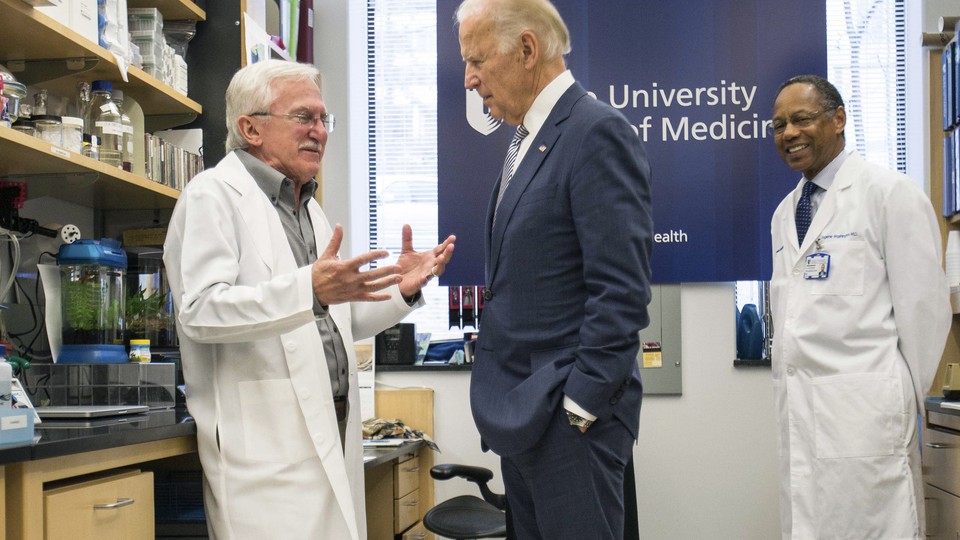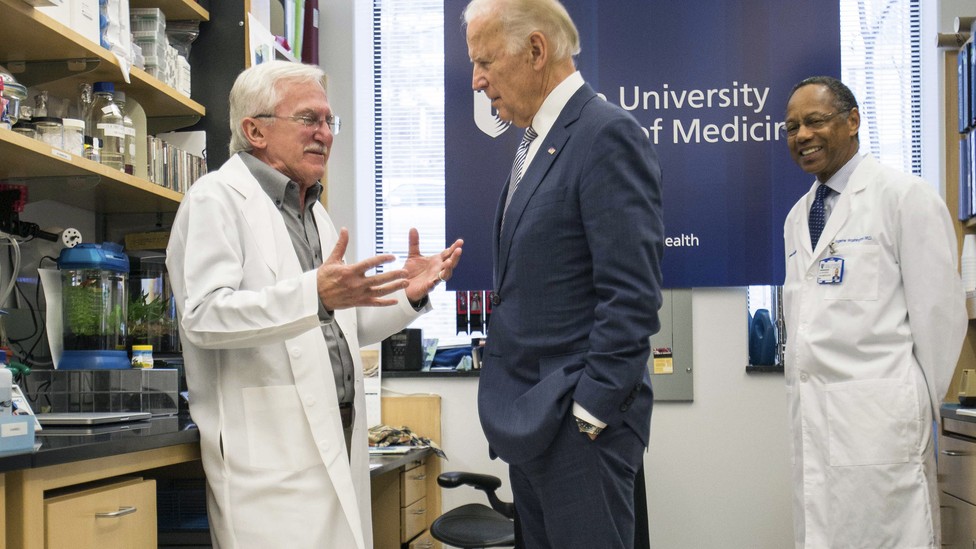 DURHAM, N.C.—No one doubts the sincerity of Vice President Joe Biden's "cancer moonshot" initiative. That's the cause that Biden announced he'd pursue in October, when he decided not to run for president, and it's one inspired by the life and death of his son Beau Biden, who died of brain cancer last year.
But is the plan even really a "moonshot"? After all, the Obama administration has asked for just $1 billion in funding for the initiative in this year's budget—a budget that is already more aspirational than realistic—and top researchers have questioned the impact that amount can really have. (For reference, $1 billion is between a third and a fifth the cost of a new pharmaceutical.) In a visit to Duke University on Wednesday, Biden's first since the budget's release, he offered a glimpse of what he hopes to do. The vice president isn't proposing a massive new government effort to fund or conduct research—like a second Apollo program—but rather, promising to cut through red tape and bring together various players to enable greater cooperation.
"The science is ready," Biden proclaimed, a phrase he repeated a half-dozen times over the course of 80 minutes. "I believe we can make much faster progress—as an outsider looking in—if we seek greater collaboration, greater sharing of information. In short, breaking down some of the research that is trapped inside of silos, and share information with drug companies, and drug companies being willing to be more forthcoming in sharing information."
The vice president suggested that what he lacks in scientific knowledge—he joked that he'd become an attorney because he wasn't smart enough to be a scientist—he makes up for in his ability to marshal federal government resources and use his office to bring together disparate parties, a skill honed over four decades in Washington.
"Maybe the only thing I'll be able to do with any dispatch is be a convener and maybe help negotiate some of the transitions that have to take place," he said. Biden said the president had told his Cabinet, "Do what Joe tells you."
During last month's State of the Union address, Obama announced that he was giving Biden wide latitude to pursue the project. "Because he's gone to the mat for all of us on so many issues over the past 40 years, I'm putting Joe in charge of Mission Control," the president said. "For the loved ones we've all lost, for the families that we can still save, let's make America the country that cures cancer once and for all."
Biden's remarks came during a roundtable discussion at the Duke Cancer Institute. Before that, he toured laboratories and met with three Duke doctors, including Paul Modrich, who shared the 2015 Nobel Prize in chemistry. (The publicity-shy Modrich—who declined pleas to return from vacation for a press conference when he won the Nobel—attended the roundtable but did not participate. A pool reporter overheard him telling the vice president, "I'm just a biochemist.")
"Money is necessary and critical, but it's not the answer to do what we have to do," Biden said, though he also claimed to have spoken with three philanthropists who wanted to donate $1 billion or more to cancer research. He said a common story he'd heard during meetings with hundreds of oncologists since embarking on the moonshot went something like this: There are two drugs made by two different companies that treat the same cancer, both somewhat effectively, but the clinicians think the pair would be most effective in concert—if only they could get approval. "The overwhelming inclination of all of you is if you combine the two it may be better, but getting that done is like, y'know, getting a nuclear deal with Iran, only we were more successful. The science is ready. We have to figure out a way to share information more."
Biden also lamented the many parallel efforts to achieve the same goals that were going on in the cancer space. In some cases, there are several drug companies working on similar drugs to treat similar cancers—all spending huge sums, but not working with each other, all in hopes of reaping a windfall. Several participants spoke about the need to make it easier to let patients join clinical trials. And a common theme was the necessity of better sharing of crucial data that allows breakthroughs. There many troves of such information, but little mechanism for combining them. Biden, fresh from the World Economic Forum, offered one example.
"I met in Davos with three, four incredibly competent, advanced groups that … are all about to spend hundreds of millions of dollars, in aggregate well over a billion dollars, for them to have their own data collection," he said. "And I asked them all whether or not—and they're gonna meet with me a week Friday—whether they'd be willing to meet with me alone in a room at the vice president's residence and answer a question: Why?" (Biden added an entirely unnecessary disclaimer: "I'm not being facetious. I'm being deadly earnest.")
The vice president sees himself as a vanquisher of red tape. Alluding to Ronald Reagan's famous formulation of the nine most terrifying words in the English language, Biden said, "I'm from the federal government. We need advice on where we can be helpful." He begged researchers to bring intractable problems to him. "Where you view the government as being a bureaucratic stumbling block ... I promise you I will clear it away," he said. One participant praised the Food and Drug Administration's relatively recent Breakthrough Therapy Designation, which fast-tracks review and approval of promising treatments. "I promise we're going to do more," Biden said.
Despite his repeated insistence on being an outsider, the vice president's immersion in the language of cancer treatment—a product of his son's illness and his own involvement since—was clear throughout the conversation, and during the lab tour he expressed familiarity with the researchers' work.
Biden being Biden, there was also plenty of time for folksy expressions and stories. "I hang around with a lot of Nobel laureates," Biden said. "Actually, I've gotten to know more Nobel laureates than you can imagine. It's one of the great advantages of this job as vice president, they hang out with you." Later, when a roundtable participant noted that she worked at the University of North Carolina at Chapel Hill, Duke's arch rival, Biden cracked that he deserved a Nobel Peace Prize for bringing the two schools together. He gushed over the role of nurses and practically glowed as he repeatedly pointed to a young woman who had been cured by injecting modified poliovirus into her glioblastoma, a type of brain tumor similar to Beau Biden's.
Whether Biden can really do as much to break down the barriers between academic disciplines, between different drug companies, between drug companies and researchers, and between all of them and the federal government, remains to be seen. But there's something to be said for the approach. While it might be derided as "incremental"—a dirty word these days in the Democratic presidential race that Biden opted not to join—many of the highly lauded government "wars" (against poverty, against cancer, against terror, against drugs) have proven to be ignominious failures.
"I said I believe that we need an absolute national commitment to end cancer as we know," Biden said. "I'm not naive, I didn't think we could 'end cancer.' I'm not looking for a silver bullet. There is none."
That could be taken as a recognition of reality, or it could be taken as a cop-out, a surrender to political limitations. But it's hard to question Biden's commitment. He said he intends to devote the rest of his life to the cause, even after leaving office. He also told a story about a letter he'd received from Victoria Reggie Kennedy, Senator Ted Kennedy's wife, after Beau Biden's death. She had sent him a letter that Joe Kennedy, Ted's father, had sent to a grieving friend who'd lost his son. Joe Kennedy's son and namesake had died during World War II when his plane went down. Joe Kennedy counseled his friend that there was no way to kill the pain of losing a son, but that he had found solace in trying to work for the things that had made Joe Jr. tick. For Joe Biden, working to knock down the silos of the cancer-research world seems to be the best way to keep Beau Biden's memory alive.