Bernie Sanders Wins New Hampshire
He's made the once-impossible seem possible—and now all bets are off.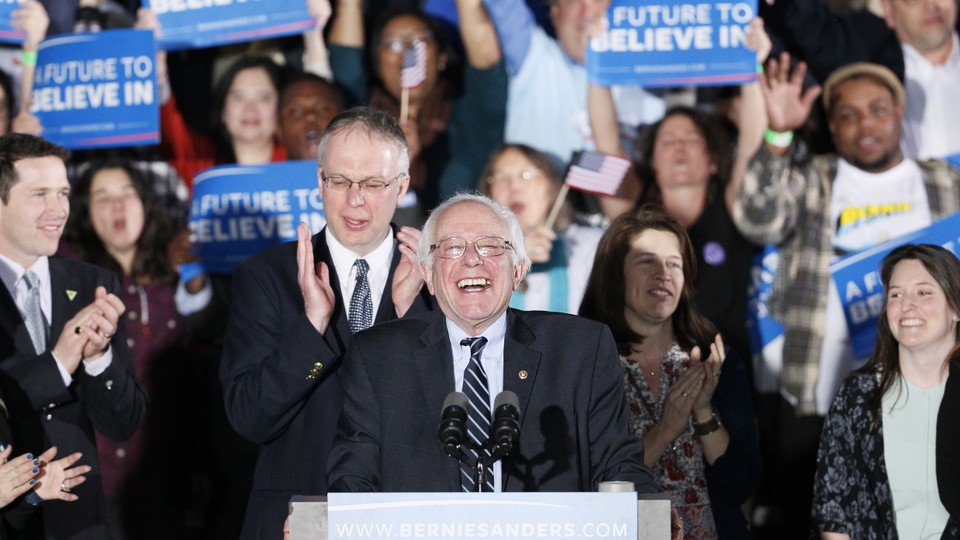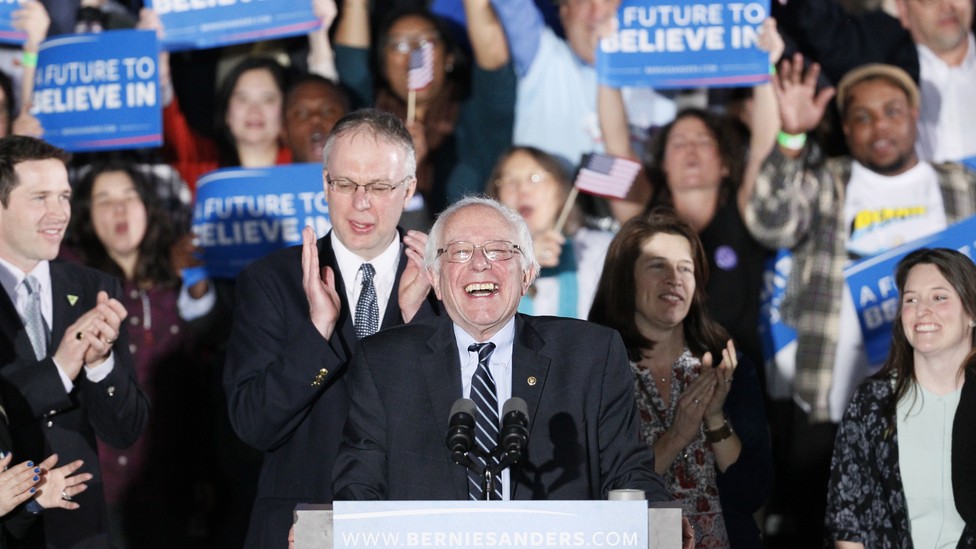 CONCORD, New Hampshire—"Thank you, New Hampshire!" a somber but clearly gratified Bernie Sanders said to a crowd of thrilled supporters in a high-school gymnasium. The 74-year-old democratic socialist from Vermont had just resoundingly won the New Hampshire Democratic primary, dealing an astonishing blow to the Hillary Clinton juggernaut, casting the race into turmoil, and dramatically highlighting the dissatisfaction of the party base with its establishment.
Sanders's win, he said, had sent a message to the country: "That the government of our great country belongs to all of the people, and not just a handful of wealthy campaign contributors and their super PACs!" The contest, he noted, had inspired record turnout, powered by a force that he implied would make him a better general-election candidate than his rival—"the energy and the excitement that the Democratic Party will need to succeed in November."
But Sanders also made a pitch for party unity. The acrimony between Sanders and Clinton in recent days has had some Democrats worrying that it will be hard to bring the party together behind the eventual nominee, whoever it is. "We will need to come together in a few months and unite this party and this nation, because the right-wing Republicans we oppose must not be allowed to gain the presidency," he said.
The supporters at Sanders's primary-night celebration were exultant at the outcome, one that seemed far-fetched mere months ago. "So this is what a victory party is like!" said Renny Cushing, a bushy-bearded, five-term state representative from Hampton. Cushing had voted in 11 New Hampshire Democratic primaries, never for a winner. The list of doomed liberals he'd supported included Jesse Jackson, Tom Harkin, Jerry Brown, and Barack Obama (who lost the 2008 New Hampshire primary but, of course, went on to win the election).
"This is going to send a message through the whole country," Cushing told me. "No more business as usual! Enough is enough!"
That is certainly what the Sanders campaign is hoping. The next contest for the Democrats is the Nevada caucuses, a state which Clinton won in 2008 with strong backing from the powerful Democratic machine. Clinton is also thought to have an advantage among nonwhite voters, and the Nevada Democratic electorate is heavily Latino. Then it's on to South Carolina, where Clinton hopes to do well with the state's heavily African American Democratic electorate.
But Sanders hopes his win in New Hampshire has changed the game and will prompt voters in those other states to give him another look. By winning, he's made the once-impossible seem possible, and now all bets are off. Sanders heads to New York on Wednesday, where he will tape The View and hold private meetings. On Thursday, Sanders and Clinton will debate in Milwaukee.
Both campaigns expect a heavy emphasis on the minority vote going forward. As Clinton campaign manager Robby Mook wrote in an election-night memo: "We believe that Hillary's unique level of strength among African Americans, Hispanics, women and working families of all backgrounds—combined with the most data-driven and targeted campaign ever waged—will net the delegates in March needed to put her on a clear path to the nomination."
While Clinton has the support of many black and Hispanic leaders, Sanders was recently endorsed by NAACP President Ben Jealous, who has already been campaigning for him in South Carolina; it was Jealous's first presidential endorsement. Clinton won the nonwhite vote in New Hampshire by a single percentage point, 50 percent to 49 percent, according to CNN's exit poll. The Sanders campaign believes there may be a generational divide among African Americans, with the younger activists of the Black Lives Matter movement breaking from the establishment of civil-rights-era leaders to support him—similar to the generational divide among Democratic women that the New Hampshire primary laid bare.
Sanders spoke here for nearly half an hour, hitting most of the policy themes of his regular stump speech. But it was hard to begrudge him for going long: There's a chance this moment will be the high point of his entire political career. That's not how Sanders sees it, of course. He closed with a look forward: "Now it's on to Nevada, South Carolina, and beyond!"
Clinton hardly could have imagined it a few months ago, when Mook was predicting a "no drama" campaign. (Now, a shakeup may be in the offing.) One thing is certain: A major fight for the Democratic nomination lies ahead.