Bernie Sanders's Case Against Hillary Clinton
Facing an intense fight for the Democratic nomination, the presidential candidate is going on the offensive. Will it hurt or help?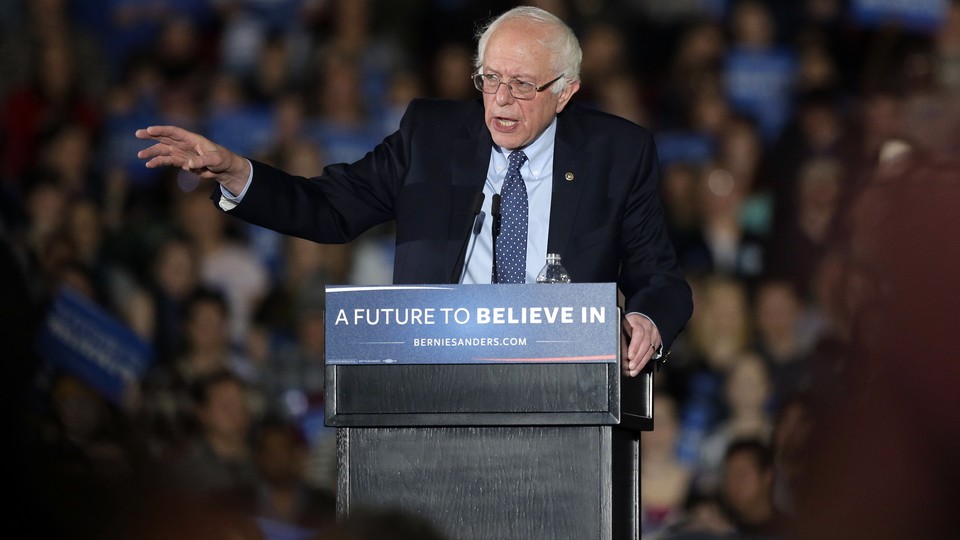 Bernie Sanders may not come out and say it directly—but he wants you to know that Hillary Clinton can't be trusted.
The fight to win the Democratic nomination increasingly looks like an uphill battle for the Vermont senator and self-described Democratic socialist. So Sanders is trying to convince voters he's the best choice to sit atop the Democratic ticket by drawing a sharp contrast with his White House rival. Sanders has long suggested he's more trustworthy, and therefore a better candidate, than Clinton. To make that case, he has highlighted her ties to Wall Street and described his track record as more consistently progressive. Now, Sanders is putting a finer point on that argument by doubling down on a critique of his competitor and promising to keep it up.
On Monday, Sanders stressed his opposition to big money in politics and trade deals he believes benefit corporations at the expense of workers during a speech in Boston, and took pains to paint Clinton as his opposite on both counts. The speech sent a clear message. To hear Sanders tell it, he's the candidate who can be trusted to protect the American middle class, while Clinton cozies up to wealthy elites. "The people of the United States need to know the difference between hastily-adopted campaign rhetoric, and the real record and long held ideas of the candidates," Sanders said at the event, promising that he will continue to "contrast my record to Secretary Clinton's" in the weeks to come.
It makes sense for Sanders to go on the offensive. He notched a win in the New Hampshire primary earlier this month, but suffered defeat at the Nevada Democratic caucuses over the weekend. Looking ahead, the primary race doesn't seem likely to get easier for Sanders. Clinton is considered the favorite to win the rapidly approaching South Carolina Democratic primary given her popularity with black voters, a key demographic in the state. In March, Sanders will face off against Clinton on Super Tuesday, a series of contests that could prove a make-or-break moment for his insurgent campaign.
The strategy is not without risk, however. Effective political candidates point out ways they differ from their rivals. But Sanders has made promises not to run a negative campaign, and Clinton allies are likely to point to his latest plea as evidence of hypocrisy. If that happens, it wouldn't be the first time the Clinton campaign has accused Sanders of "going negative." Highlighting his opposition to big money in politics also opens Sanders up to fresh attack. That's because he can't actually stop super PACs from supporting him, and a nurses union super PAC  has already spent hundreds of dollars to support his candidacy.
As the primary drags on, Sanders needs to expand his appeal and increase his name recognition. Since his critiques of Clinton largely reiterate points he has made before, it is hard to say if the effort will broaden his appeal. If Sanders keeps it up, though, the strategy will certainly garner him attention, and that could introduce his message to voters previously unfamiliar with it. There is also reason to believe that Sanders's effort will tap into a vein of existing voter belief. New Hampshire exit polls show that voters who valued honesty and trustworthiness overwhelmingly backed Sanders over Clinton, while Clinton won voters who said that experience mattered most. If nothing else, the senator's critiques are sure to fire up his loyal fans.
At his Monday press conference, Sanders suggested that Clinton may well be in the pocket of Wall Street and special interests, and talked up his own reliance on small-dollar fundraising. "Here is the truth, and a very profound difference between Secretary Clinton and myself," Sanders said, "Secretary Clinton has a number of super PACs, which today are raising very, very large sums of money from Wall Street and other powerful special interests." Sanders also implied that Clinton can't be trusted to stand with American workers by highlighting his record on trade policy. He talked up his opposition to trade deals that he believes unduly benefit corporations, and called into question the sincerity of Clinton's opposition to the Trans-Pacific Partnership, a Pacific Rim nation trade pact. Clinton came out against the deal, which Sanders opposes, during her 2016 bid, but expressed confidence in negotiations over the trade agreement as secretary of state.
Sanders framed his critiques in service of a broader argument that he's the true populist candidate. "What the American people have got to determine is which candidate, whose life work is about standing up to the billionaire class, standing up to Wall Street, standing up to corporate interests," Sanders said. "That's what this campaign is essentially about."
Of course, Clinton has her own case to make. She has suggested that she alone has the experience as well as the judgement needed to tackle a wide array of challenges facing the nation and keep the country safe. She has implied that she is the more serious candidate, and argued that she can actually get things done. Clinton allies have also pointed to Sanders's record on gun control, foreign policy, and immigration as areas of weakness. That criticism isn't likely to let up either. The Clinton campaign convened a press call on Monday where Connecticut Governor Dan Malloy criticized Sanders's votes on gun legislation, including the senator's record of voting against the Brady Handgun Violence Prevention Act.
Now that Sanders has promised he'll continue to contrast his candidacy with Clinton's, the question becomes how far he'll go. The Democratic 2016 race has looked downright cordial compared to the vitriol and insult-trading on the Republican side, an animosity stoked by GOP front-runner Donald Trump. But the relationship between Sanders and Clinton has nevertheless grown increasingly strained as the primary fight drags on. And that strain is sure to intensify.